Although St. Patrick's Day has long been celebrated in Ireland, the tradition of holding a parade on March 17th didn't begin here. It actually developed among those who left Ireland and settled in faraway places.
These parades have evolved over the years and many countries have created their own unique traditions.
We need your consent to load this YouTube contentWe use YouTube to manage extra content that can set cookies on your device and collect data about your activity. Please review their details and accept them to load the content.Manage Preferences
This year, RTÉ are celebrating the event with a virtual parade, while EPIC The Irish Emigration Museum is contributing to the virtual celebrations by taking a look at parades of the past...
The very first St Patrick's Day parade
Until recently, it was believed that the first St Patrick's Day parade was held in Boston in 1737. But a few years ago, historian Michael Francis discovered it actually took place over a hundred years earlier, in a Spanish colony that was located in modern-day Florida.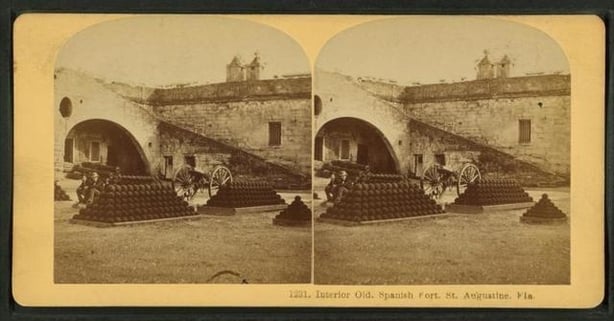 In 2017, Francis spent months studying a 2,000-page bundle of colonial documents in Spain's Archivo General de Indias. As he read through old inventory lists and accounts, two words jumped out at him: 'San Patricio'. The saint's name was mentioned on St. Augustine's hefty gunpowder expenditure report for 1601.
As it turns out, the town didn't just use gunpowder for defense. Firing artillery was also a common part of public celebrations and, during this period, it was used to honour St. Patrick - or San Patricio.
Not every saint was honoured with religious processions. But it would appear St. Patrick held a special significance for the local people of St. Augustine. Records identify him as the official 'protector' of the city's maize fields.
Michael Francis, who discovered the documents, told The Washington Post that residents gathered together to honour St Patrick in 1601. As they moved through the streets, the town's fort fired its cannons and the marchers carried images of the saint. Afterward, they would have continued the celebrations with food, drink and music.
He also wrote that the procession would have included "a blend of Spaniards, Africans, Native Americans, Portuguese, a French surgeon, a German fifer, and at least two Irishmen."
He believes that Padre Ricardo Artur - aka Fr. Richard Arthur - was responsible for the saint's popularity in St. Augustine at this time. The Irishman, who may have been born in Limerick before travelling the world as a soldier, was one of the first parish priests in America and served St. Augustine from 1598 until 1606. When he disappears from the town's records, so do references to St. Patrick's Day processions.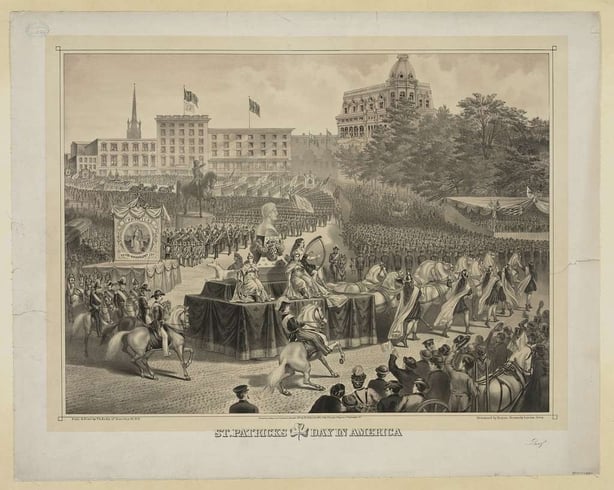 The beginning of parades in America
Emigrants leaving Ireland brought the tradition of celebrating St. Patrick to other parts of the world too. Cities in the United States, in particular, have become known for elaborate parades that honour all things Irish.
Boston held its first St. Patrick's Day parade way back in 1737. When the Charitable Irish Society was founded by leading Irish protestants on St. Patrick's Day, members of the Irish community in the city took to the streets to celebrate. But it was in New York that the modern tradition was first established.
In 1762, years before American or Irish independence, there were countless Irishmen serving in the British army. Many of them were stationed in its American colonies. On March 17th, a group of homesick Irish soldiers who were stationed in New York paraded through the streets to show pride in their roots. They wore green, sang emigrant songs and played Irish tunes on their military fifes and drums.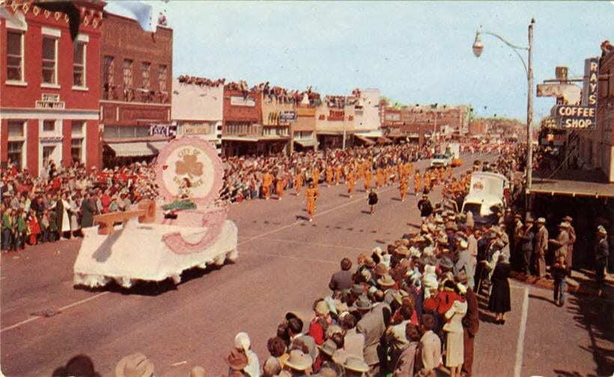 That same year, an Irish migrant called John Marshall also held events at his home in New York. Annual events soon became customary and, as the number of Irish people living in the US soared throughout the 1800s, parades became a widespread tradition.
We need your consent to load this YouTube contentWe use YouTube to manage extra content that can set cookies on your device and collect data about your activity. Please review their details and accept them to load the content.Manage Preferences
Coming home to Ireland
The first parade didn't take place in Ireland until 1903 - the same year that St. Patrick's Day was declared a public holiday. The Gaelic League, which aimed to revive Irish language and culture, had declared an Irish Language Week as well.
In Waterford, the League organised a parade to spread the word. It featured members of the local council and trade unions. Various bands took part too.
Going forward, St Patrick's Day parades were often organised by nationalist groups. In 1916, the Irish Volunteer Force held parades throughout the country. The police force recorded 38 separate processions, which involved 5,995 marchers - just under half of whom were reportedly armed. The following month, the Irish Volunteers took part in the Easter Rising and called for an end to British rule in Ireland.
By 1918, most St. Patrick's Day celebrations had a distinctly political atmosphere. Sinn Féin held meetings and demonstrations at parades, while the British authorities often banned large gatherings. Throughout the Irish War of Independence, celebrations became more low key. Though sometimes rallies took place instead of parades.
When the Irish Free State was set up in 1922, there was a return to military processions. But it wasn't until 1931 that the first official, state-sponsored St. Patrick's Day took place in Dublin. Today, it is the state's biggest annual celebration.
Other St Patrick's Day parades around the world
While some of the biggest celebrations are to be found in Ireland and the US, St. Patrick's Day parades happen in many other countries where the Irish diaspora have a presence.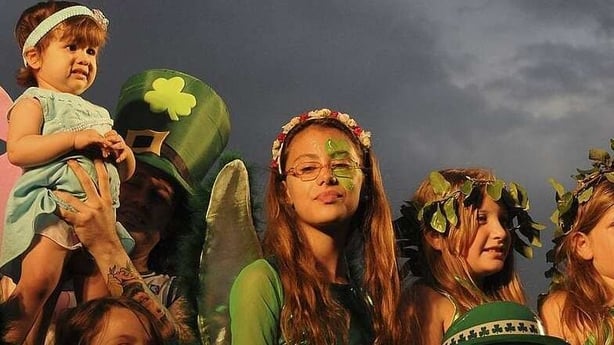 Argentina
Buenos Aires hosts the largest St. Patrick's Day celebrations in South America. The city centre usually hosts a street party with music and dancing.
Montserrat
Montserrat is a British Overseas Territory located in the Caribbean. Here, St. Patrick's Day is a national holiday. Its festivities, which usually last well over a week, balance celebration and commemoration.
We need your consent to load this YouTube contentWe use YouTube to manage extra content that can set cookies on your device and collect data about your activity. Please review their details and accept them to load the content.Manage Preferences
It marks the influence of Irish people who were deported there during Cromwell's reign. But it also remembers the African slaves who led a failed rebellion against plantation owners - some of which were Irish - on St. Patrick's Day, 1768.
As well as the usual flurry of green flags, its annual parade also features steel drums and masked dancers.
Canada
Like in New York, Canada's first St. Patrick's Day celebrations were led by Irish soldiers stationed in Montréal. 
#TBT 1987 #Montreal #StPatricksDay #parade. Photo by P.Obendrauf @mtlgazette pic.twitter.com/i4OHkH1aha

— UIS of Montreal (@uismtl) July 7, 2016
The city, whose flag features a green shamrock, is home to the longest-running St. Patrick's Day parade in Canada. Although this year's event is postponed, until now it has run uninterrupted since 1824.
Hundreds of thousands of people attend the annual event which features hundreds of floats, marching bands and a range of performers.
England
Since the 1800s, the Irish diaspora has held small, local St. Patrick's Day parades in London and Birmingham. But, after World War II, Irish groups moved to organise larger, more formal parades.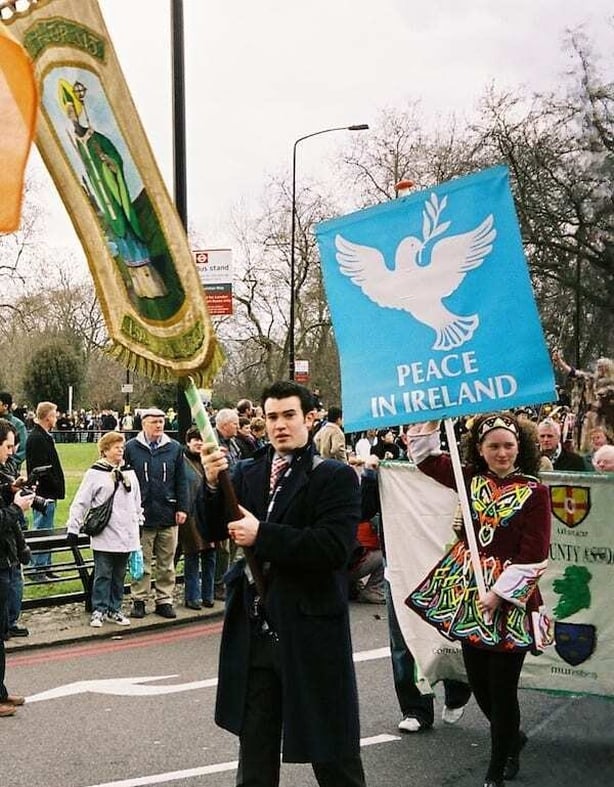 In central London, County Associations came together to organise a parade which saw migrants from across Ireland walk behind their county banners. The procession usually ended at Westminster Cathedral where mass was said.
In 1954, the Council of Irish County Associations (CICA) brought all the associations under one umbrella. According to the Irish in Britain Project, CICA organised London's St. Patrick's Day parade for the next 48 years.
In the 1960s, the parade grew more colourful as pipe bands, floats and Irish dancers were added. Celebrations started to take place after mass too.
But, during the Troubles, many parades were replaced with small, private St. Patrick's Day festivities. In London, however, a smaller and strictly religious parade continued to take place. Around this time, CICA also established the London Irish Festival to fundraise money for welfare organisations like the London Irish Centre in Camden.
Formal parades returned to the likes of Newcastle, Manchester and Birmingham in the 1990s. In London, a low-key procession was led by an Irish wolfhound and parade pacer Bill Aulsberry. But it soon began to evolve once again.
Since 2002, the parade has been supported by London's mayor and city hall. Its appeal has broadened with the likes of London's Montserrat community joining the festivities. In 2015, 125,000 people attended. The London Irish Centre in Camden plays a big part in the celebrations, often being the rallying point for the Community before and after the Parade, providing breakfast and entertainment. In recent years they have worked closely with Parade organisers and artists to create events in Trafalgar Square.
Australia
Australia's tradition of celebrating St. Patrick's Day is almost as old as the country itself. In 1795, a judge in Sydney wrote: "On the 17th... libations to the saint were so plentifully poured, that at night the cells were full of prisoners."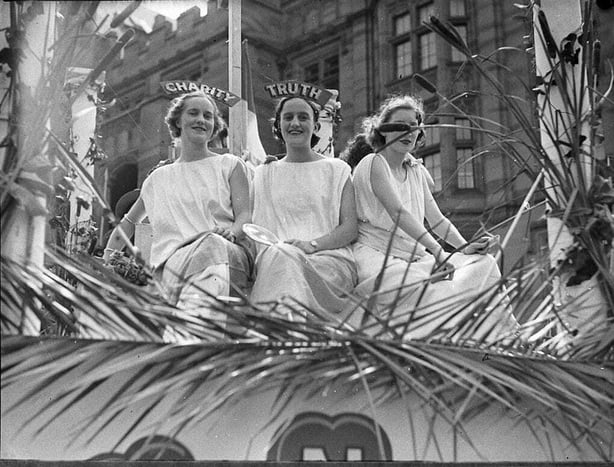 Throughout the decades, St. Patrick's Day celebrations have changed form many times to include horse races, banquets, picnics, concerts, dancing and, of course, parades. In recent times, The Rocks neighbourhood of Sydney has held parades of 1,500 marchers.
Nigeria
In 1961, when Ireland opened its embassy in Lagos, Irish bishops named St. Patrick Nigeria's second patron saint. Missionaries from Ireland had been arriving in Nigeria since 1902.
Though the country doesn't hold a parade as we know it, Catholics there attend mass and, in the past, formed processions - like those held halfway across the world back in 1601.
Although St. Patrick's Day parades have their origins in religious and military history, it has become a celebration of Irish culture throughout the world. EPIC The Irish Emigration Museum aims to record and commemorate the influence of Irish emigrants - check out their virtual tour to find out more about Ireland's most influential emigrants.