With a number of Ireland's leading hospitals, research institutes and a vibrant start-up community-based in the area, Dublin 8 is the ideal location for a new Smart District focused on the health and wellbeing of its citizens.
Orla Veale, Project Lead of Smart D8, introduces a new tech-forward project 'bringing together a unique consortium across healthcare, academia, local government, community and industry'.
---
Smart D8 is an exciting new initiative with a vision to transform the health and wellbeing of Dublin 8's citizens through innovation and collaboration. This new project was launched earlier this month by Minister for Further and Higher Education, Research, Innovation and Science, Simon Harris.
At the virtual launch, Minister Harris noted the importance of mental health and wellbeing in society, and acknowledged this has been exacerbated by the pressures of Covid-19. He said that a key aim of policy should be the empowerment of people to keep themselves well and the creation of healthy communities.
Well are excited to be a lead partner in developing a thriving Dublin 8 community across health, academia, innovation and business as part of the @smartdublin initiative with @DubCityCouncil @TheDigitalHub @an_cosan along with many other wonderful partners #Smart8 pic.twitter.com/va7ljdxVRr

— St James's Hospital (@stjamesdublin) March 10, 2021
Smart D8 is aiming to do just that by bringing together a unique consortium across healthcare, academia, local government, community and industry, and is being led by St. James's Hospital, The Digital Hub, Smart Dublin and Dublin City Council.
The other partners within this initiative are the Guinness Enterprise Centre, HSE Digital Transformation, Tyndall National Institute, St Patrick's Mental Health Services, Trinity Research & Innovation, Trinity Translational Medicine Institute, National College of Art & Design, and Health Innovation Hub Ireland.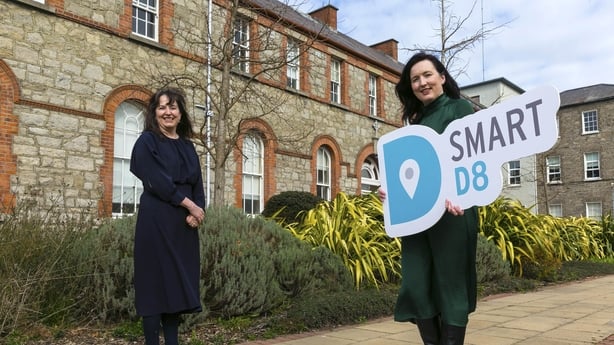 Smart D8 has conducted the first phase of research to understand the current health and wellbeing needs in Dublin 8 and the findings have been used to form the foundation of the project.
Initial theme pillars identified in consultation with the community include mental health, the impact of Covid-19, population health, environment and positive & healthy ageing. The first call for Smart D8 pilot projects was launched this month and will focus on the themes of Mental Health, Population Health and Covid-19 Impact. There will be additional calls for pilot projects throughout the project based on the needs of the community. The results of the pilots will act as a template for health and wellbeing management for the rest of the country.
The creation of a health innovation district in the area, that will provide a focal point for innovators working to develop product, service or technology solutions, is also a key element of the Smart D8 programme. This will build on the area's existing pedigree of digital health companies & academic excellence while leveraging the St. James's Hospital Campus which is Ireland's largest acute academic teaching hospital.
We need your consent to load this YouTube contentWe use YouTube to manage extra content that can set cookies on your device and collect data about your activity. Please review their details and accept them to load the content.Manage Preferences
Watch the launch of Smart D8
For example, the Digital Hub already hosts companies with a track record of health innovation from Akara's robot called Violet who can kill bugs in hospitals with ultraviolet light, to patientMpower's pioneering work on home monitoring solutions for cystic fibrosis patients.
While the last year has been a very difficult time for us, it has also been a year of phenomenal change and innovation in the area of health & wellbeing. Novelties of a year ago such as remote working, video calls with your doctor and online prescription delivery have become commonplace overnight. As hard as it has been for so many, it is also a time of fantastic opportunities where we can rebuild in a different way.
We are excited to see what Smart D8 might unlock that will make a real impact on the health and wellbeing of the community.
Find out more about Smart D8 and the Smart Dublin project here.