We're delighted to present an extract from Thin Places, the new book by Kerri ní Dochartaigh, published by Cannongate.
In an innovative mixture of memoir, history and nature writing, Kerri explores how nature kept her sane and helped her heal, how violence and poverty are never more than a stone's throw from beauty and hope, and how we are, once again, allowing our borders to become hard, and terror to creep back in...
We need your consent to load this YouTube contentWe use YouTube to manage extra content that can set cookies on your device and collect data about your activity. Please review their details and accept them to load the content.Manage Preferences
Watch: Kerri ní Dochartaigh introduces Thin Places
You are standing on the banks of a river that you may have never seen before – that you may, in fact, never see. This river courses along a line that cuts the land up like a body; this river is a border invisible to the living.
The land is as still as it was in the very beginning, back when the ice melted away, and the light that it holds is folding itself into everything around you. Into the edges of the grey-blue water, into the ancient, lichen-covered rocks, into the gaps in between things, into you as you stand inside the vast, bright silence.
It is the winter solstice. The year is getting itself ready to turn; the land that you are held by is holding its breath. You and that land are making ready to wait. Snow, not yet here, is on the wind, hidden in a part of the sky you cannot see. All at once, from no place at all – softly and without any sign – comes the cinematic beating of wings, powerful and haunting. The salmon-pink December sky above, for the most fleeting of moments, is a world all of its own, a place unlike any you have ever known before.
You are standing on the banks of a river that has witnessed things that neither you nor I could ever begin to name. You are standing on the banks of the River Foyle – at a place where north is south and where south is north – as a perfect V of whooper swans calls you home, back to that thin place in between.
---
Time, as we know it, is the original shape-shifter. Now the line of it runs straight as an old railway track; now it is a circle – many circles, in fact. Now it dances without moving – to and fro across millennia – around the whole turning world, filling the night sky with bounding green lights. Past, future, present: the unbidden, ineffable gift of it all. Memory is like a white moth in flight. Sometimes she comes so close that we can see the light falling into the hidden parts of ancient markings. On other days we cannot see her but we feel the delicate wing-beat down deep, in beside our bones.
The story, our own, is a shared one, of the lines and circles of the land we know, of the sorrow it has known and of our own white moth of memory.
Moths have been flying in the skies of this earth for millions of what we call years; some may even have been around for 190 million of these markers of passing eras, these dividers of time we have created by which to record and to remember.
The lands and the seas above which they have journeyed have changed vastly in this time; they are changing still. The land I know best, Ériu, Éire, Ireland – 'the goddess' – was often completely covered in a cloak of ice. The ice melted back then, as it continues to melt today. Now there is no part of the interior of Ireland that is further than seventy miles from the sea. This goddess-island is bounded by a two-thousand-mile coastline, one of ever-changing moods, fringed by rocky coves and beaches, dotted with clusters of islands of various sizes, more than one island for every day of the year. The outline of Ireland has been buffeted since its earliest days by the wild Atlantic Ocean, creating a seaboard of unrivalled beauty. The sea, the winds and the ice of millennia have worked together to sculpt a landscape that is as raw as it is gentle, full of nuance.
The earliest record of human presence on this island is from 12,500 years ago. In the fifth century ce, the island was Christianised, and by the twelfth century – following a Norman invasion – a neighbouring body of land, England, had claimed sovereignty. Two centuries and two decades ago, in 1801, the island became part of the United Kingdom through the Acts of Union. In the century that followed, the land and sea saw a War of Independence, which ended with the partition of the island. In May of 1921, just as the bluebells would have been filling the land with colour, Ireland was cut up into two parts – the 'Irish Free State' in the south of the island, and Northern Ireland, which remained a part of the United Kingdom, linked to the larger island across the water. The Irish border, that invisible line that cuts this island in two, has been around for a single century. A small speck of dust from the wing of a moth, a wee gap in a fossil found on a beach, that line that has defined the lives – and resulted in the deaths – of so many people has been around for the whole of my lifetime. Europe is defined, in many ways, by borders. They speak of crumbled empires, shifting boundaries – most of them, certainly the Irish border, speak of unimaginable suffering.
Eon, era, period, epoch: we are a race that has long sought to break things up, to divide, to separate, to draw lines between things that might otherwise have remained as one. My grandfather, one of the most important people in my life, was born less than a handful of days before this island was divided in two. The year I was born, Madonna's song 'Borderline' reached number one in Ireland. My island was the only place in the whole wide world where this song gained such acclaim. Madonna's 'borderline' was a made-up boundary which her love kept being pushed over. My borderline runs for 310 miles, cutting through walls, farms, lakes, rivers, roads, villages and bridges. My borderline is geographical in that it roughly follows water courses, in accordance with remnants of seventeenth century county limits. My borderline is, in reality, a political line no one can fully understand, no matter how strongly the charcoal strokes have been laid on the page.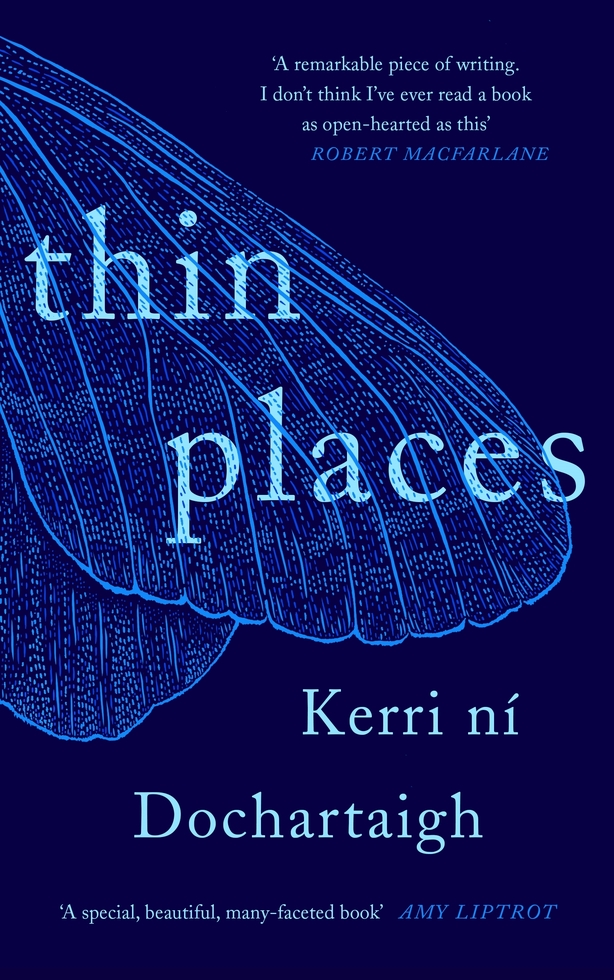 Thin Places by Kerri ní Dochartaigh (published by Canongate) is out now.