Playwright Sonya Kelly writes for Culture about the real-life inspiration behind her new work Once Upon a Bridge, which will premiere in a live-streamed production from The Mick Lally Theatre, Galway, this February 11th - 13th...
I don't recall where I was, or what I was doing when I read the story, but it went something like this…
On the morning of the 5th of May 2017, a jogger ran past a woman on Putney Bridge in London, pushing her out of his way and into the path of an oncoming bus. He blithely ran on and never looked back. If the driver hadn't swerved to avoid her, she would have been killed instantly.
Two months later, the police released the grainy CCTV footage captured from the bus ahead. The story went viral. I was one of the millions of people who scrolled through my phone and watched one of the most unbelievably random and horrific acts of deliberate aggression I have ever seen. I became obsessed, watching the film over and over to uncover the millisecond that would explain this confounding interaction. I was about as successful in finding an answer as the police were in finding the jogger. On he ran, down she fell to a narrow brush with death, and despite months of false leads and public outcry, the jogger was never caught. Her identity is unknown. We do know this. As the bus driver ran to her assistance, he heard her cry, 'Why me? Why me? Why me?'
Introducing Once Upon a Bridge cast and creatives 📢

Cast:
Siobhán Cullen
Adetomiwa Edun
Aaron Monaghan

€12 Early Bird tickets are on sale now until this Friday 29 Jan. Selling fast at https://t.co/m5DqYZeMcV pic.twitter.com/g7o8QBCt1m

— Druid Theatre (@DruidTheatre) January 26, 2021
It's a very good question. True, it is almost impossible to live in a busy city and not be the unfortunate recipient of a careless shove by an ignorant passer-by. It's a very particular feeling of injustice. We have all experienced those, watch where you're going moments, or caused them. Still, there is something about that footage on Putney Bridge that sets this jogger apart as a modern day Lord Lucan, for the issue was not about the space that he was free to take, it was about the space he refused to give.
If we can't bring our audience to the theatre, we'll bring live theatre to our audience… even if this time the curtains and the houselights are your own!
Like the many thousand things that have stopped me in my tracks in my time as a playwright, I tried to write a play loosely inspired by the incident on Putney Bridge. For two years. I couldn't find a way in. There was too little information, too much mystery. We never found out the truth, and so there could be no ending. What was in this for the audience if it ever became a play with no outcome?
Then Covid happened. Suddenly, the tiny spaces between us, and how we protect them have never been so vital to the survival of humankind. The mystery of the man, the woman, and the bus driver no longer seemed an impediment. Their mystery allowed them to become characters who could help me explore those tiny spaces and what they mean.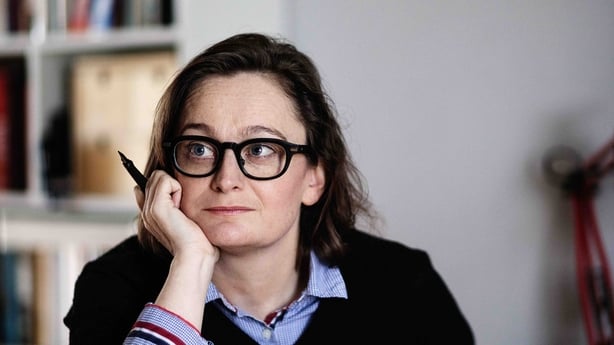 So in the summer lockdown of 2020, as I did my daily loop around Phoenix Park with all the passing joggers, I took a call from Garry Hynes, Artistic Director of Druid. She wanted to know if I had any ideas for a theatre commission that would perhaps speak to the time.
'Do you remember a news item a few years ago about a woman on Putney Bridge?' I asked.
'Yes, I do.' She said.
'Okay.' I said. 'I think I have something for you…'
A few months later and here we are. Once Upon a Bridge will be performed live in The Mick Lally Theatre and streamed to sitting rooms across Ireland and the world.
If we can't bring our audience to the theatre, we'll bring live theatre to our audience… even if this time the curtains and the houselights are your own!
Druid presents Once Upon a Bridge, a new play by Sonya Kelly, directed by Sara Joyce in a live stream from The Mick Lally Theatre, Galway from 11th to 13th February, for four performances only - find out more here.