You're never too young - or too old! - to learn that musical instrument! Music Network is calling on participants of all ages to take up a musical instrument, and ask their friends and family for sponsorship to take their Grade 1 exam this summer. The funds raised will go towards the €50,000 needed to establish a national bank of musical instruments for use by people over the age of 65.
Grade-1-a-thon Ambassador (and much-loved RTÉ wildlife expert) Éanna Ní Lamhna writes for Culture about her own musical journey...
"Will you take up learning a musical instrument from scratch, and take part in the Grade-1-athon?" asked Catherine. The Music Network Grade-1-a-thon is a fundraising challenge, she explained, in aid of Music Network's Instruments for Older People Appeal.
We need your consent to load this rte-player contentWe use rte-player to manage extra content that can set cookies on your device and collect data about your activity. Please review their details and accept them to load the content.Manage Preferences
Listen Eanna Ni Lamhna, Wildlife Expert and Catriona Ryan, First Flute player of the RTE National Symphony Orchestra on learning the flute.

By taking part, you can learn to play the musical instrument of your dreams, with the added motivation that comes from asking friends and family for sponsorship. Always up for a challenge, I agreed, but what instrument should I choose? "Not anything with strings anyway", said my daughter, "you're tone-deaf. And your arthritic fingers would never stretch over piano keys or go fast enough".
Don't you just love your children?
She gave me her flute, which she used to play twenty years ago, and said even I should get to at least grade one on that. Caitriona Ryan, the principal flutist with the RTÉ National Symphony Orchestra, gamely agreed to give me lessons and we met up at the Artane School of Music early in December, when you could still move about and meet people.
We need your consent to load this YouTube contentWe use YouTube to manage extra content that can set cookies on your device and collect data about your activity. Please review their details and accept them to load the content.Manage Preferences
Watch: Eanna's teacher Catriona Ryan on playing the flute
Getting a sound out of the flute does not come naturally – at least not to me. You get air into it by blowing across the hole at just the right angle. It helps if your mouth is the right shape. Mine is not the best, Caitriona tells me - she googled me to check out my lip shape, apparently. Undaunted, I take out the head joint from the case and am encouraged to blow across the mouth hole. And I blow, and I blow and I blow. Hand over the end, hand off the end and eventually noise – it can't even be described as sound – comes out. Caitriona is delighted. "Just roll it towards your mouth, away from your mouth, up to your lips, down from them and see how it affects the noise." And little by little, in the half-hour, I got the noise to turn into sounds of sorts. An assembly lesson on the pieces of the flute followed, and I had my picture taken holding the assembled flute.
We've got a nifty little NY Resolution for you... Why not take up a new instrument as part of our Grade-1-a-thon challenge? Learning an instrument is a brilliant mental health boost AND a great way to connect with fellow music makers...https://t.co/7We5w0Nu30 pic.twitter.com/gjykAKxxxK

— Music Network (@MusNetIrl) January 3, 2021
"Practice, practice, practice, and by the next lesson you will be able to hold a note for ten seconds on the headjoint," said Caitriona airily as we parted.
I spent the next week blowing across the hole of the headpiece. If I kept it up to my lips and rolled it around enough, I could get a sound, but my instructions were to put it to my mouth, get a sound first, and then hold it for as long as possible. This is much easier said than done but I kept at it and eventually got a sound first go, most of the time anyway. Full of success I assembled the flute and did the same thing. Nada, nothing, no sound at all.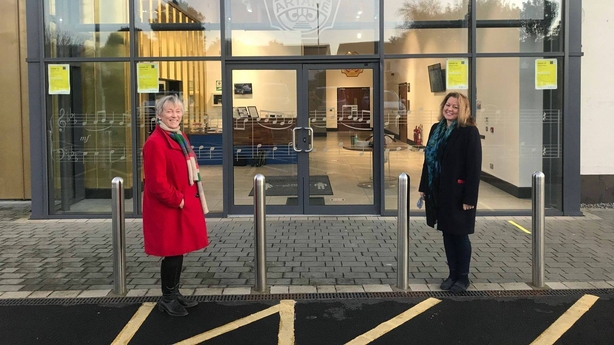 My next lesson was coming up – remotely this time- and Caitriona showed me how to hold the flute, and where to put my fingers. I ended the lesson by blowing what was apparently a very creditable G! I have been practising every day since, and Caitriona has sent me fingering charts and some easy pieces to try. I can now play the first two lines of an Irish lullaby called (would you believe) Éiníni. Granted, there are only five different notes involved, but I think I am great.
The expression "acting the flute" means behaving in a frivolous way. Take it from me – there is nothing frivolous about the flute!
For more information on how you can join the Music Network Grade-1-a-thon Challenge, please visit www.musicnetwork.ie