Two Weeks - A Cinematic Opera is a collaboration between composer Ultan O'Brien and filmmaker Alex Foster for this year's First Fortnight Festival - below, Ultan writes about the project for Culture.
Two Weeks is an exploration of rehabilitation featuring new music for fiddle, viola and electronics interwoven with storytelling and recorded interviews about experiences of confinement to hospital beds and the mind's journey through rehabilitation. It is part of a series of works pondering and probing autogenic training in cystic fibrosis called Tales from Hidden Worlds, presented by The Bed Tea Company.
Watch: Ultan O'Brien talks Two Weeks
Two Weeks was born of personal experience: confined to a hospital bed, negotiating between dreams and reality, I was struck by the mind's process of rehabilitation, diving into memories and stories of past experiences and stringing them together into a dream sequence of sorts. Things I had forgotten about, ghosts of the past, now coming back to aid in a rehabilitative process - fortifying the mind and teaching the body to carry onward. I wanted to explore this space of memories, dreams and stories. Autogenic drainage, a physiotherapy in the daily life of someone with cystic fibrosis is an access point to that space, a chance to follow the breath down into the lungs - into a healing space - to visualise, meditate, have a look-about and get to know yourself from the inside-out. The process of descending into a healing space and ascending, to-ing and fro-ing, became the most important rehabilitative process.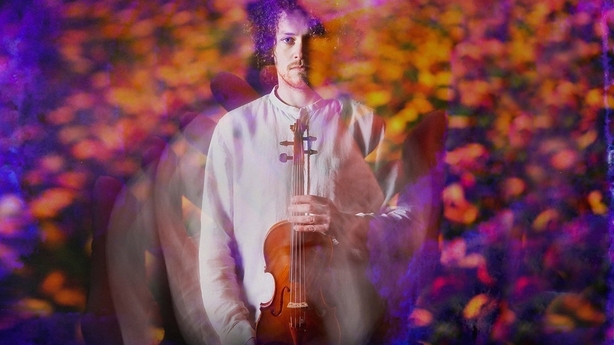 Two Weeks explores this descent and ascent, this to-ing and fro-ing. It is about exploration. It is about the process itself.
The initial idea was to explore the music of what happens as dreams and reality intermingle in the healing space. The fiddle was to be the main narrator in this tale of exploration. I was eager to hear about other people's experiences— not to be lost in my own dreamland— and it quickly became important to capture other voices telling their stories of confinement to a hospital bed and recovery. I recorded a number of different conversations with people around the topic. I wanted to capture the stories and madness of the experience rather than a series of thoughts or ideas about rehabilitation or Covid-19 and so, the interviews are in fact long, deep conversations.
Things I had forgotten about, ghosts of the past, now coming back to aid in a rehabilitative process - fortifying the mind and teaching the body to carry onward.
Amazingly, strings of narratives started to form between the various conversations; a melting pot of metaphors and symbols emerged and these form the backbone of the show. In this cinematic opera, the fiddle and the performer carve out a narrative whilst the recorded interviews, visuals and electroacoustic music weave together, revealing the inner mind's narrative, the dream sequence of supposedly forgotten memories and stories.
TRIPPY FILM COMING YOUR WAY
Online screening Jan 7 - 9 as part of @firstfortnight
Tickets here: https://t.co/9NedFVPKmH#twoweeks #cinematicopera #fiddle #viola #electronicmusic #composer #film #mentalhealth #arts #irishmusic #newmusic pic.twitter.com/TBkbDV1PLH

— Ultan O'Brien (@Ultan_Music) January 2, 2021
Two Weeks began after I started working on a number of projects with The Art of Collaboration, a collective of musicians and thought-leaders brought together by Paul Roe to explore the variety of natures, qualities and experiences of differing collaborative practices. Our conversations and sessions focused on the arts and health/wellbeing. In 2019, I recorded Paul Roe and Jim Lucey, the former Medical Director of St Patrick's Mental Health Services, for the first performance of Two Weeks. Originally, this show was a hybrid audio-visual installation and live performance piece that took place in Smock Alley Theatre in 2020 as part of the Scene + Heard Festival. It has since been extended and adapted for First Fortnight 2021. I gathered new interviews with both Paul and Jim, and a variety of new voices to represent experiences of confinement from people of other ages, genders and backgrounds to bring greater depth to the work. All these interviews took place during the first lockdown and reveal a fantastic and colourful representation of life, strange happenings and funny stories of the mind's rehabilitative process.
Watch Two Weeks online, filmed at the Boys School, Smock Alley, from Thursday January 7th – Saturday January 9th at 7.30pm) - find out more here.