Vincent Jasper Murphy is a publican, restaurateur and undertaker in Fethard, Co Tipperary. He is also the producer of this weekend's Documentary On One on RTÉ Radio 1, 100 Years, 100 Miles, which tells the story of a photograph, a bicycle and the events of Bloody Sunday 1920 - listen to 100 Years, 100 Miles above.
My story started with a picture taken in the early 1900's, of my grand-uncle Gus McCarthy on a racing bike. Our family knew Gus as a very successful footballer, but not as a cyclist. Gus had played football for Tipperary and was on the team that played Dublin on November 21st, 1920, when the British forces opened fire in Croke Park, killing 14 people, in a revenge shooting after Michael Collins's men assassinated British agents only a few hours before. That day became known as Bloody Sunday.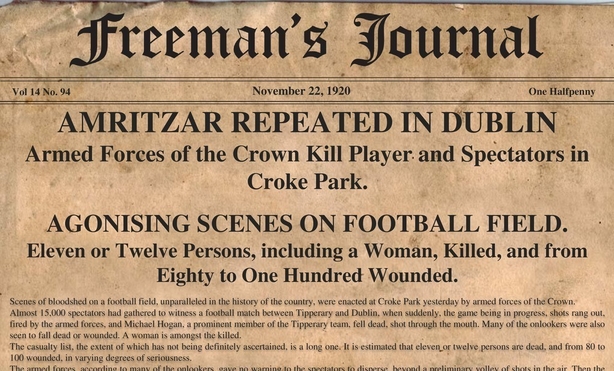 Not long after I saw the picture, I was in the Highnelly Bike shop near Pallasgreen in Co Limerick. Marty, the owner, had a collection of restored vintage bikes. When I showed him the picture of Gus, he told me that the bike was a Hercules. And he had one, in poor condition, but it could be saved. I decided there and then that I was going to cycle the Hercules to Croke Park in memory of Gus in the anniversary year of Bloody Sunday. And so the restoration began.
Eight months later, I had a cyclable bike.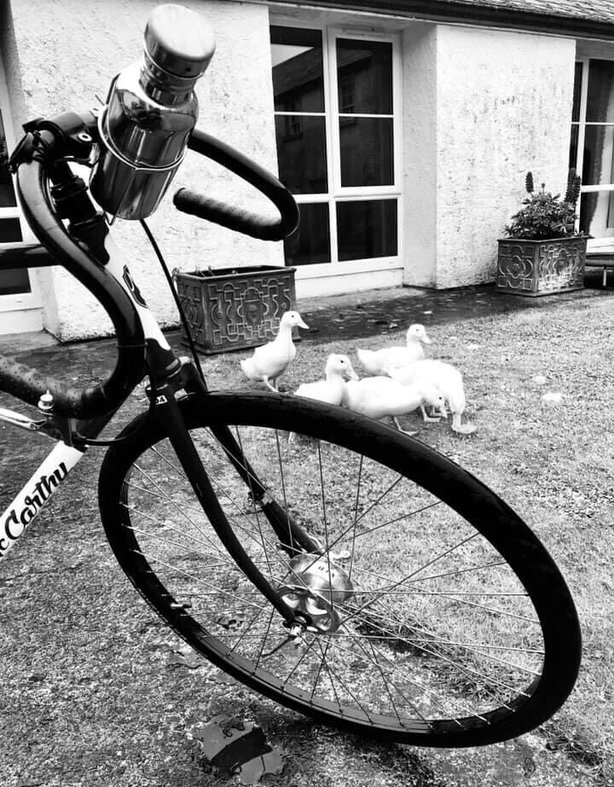 Around the time that I got the bike back, I attended a Documentary On One seminar in the RTÉ Radio centre in Dublin. Afterward, I signed up for their course and began my journey in to the world of documentary making. When I sent a proposal a few months later, The Doc On One team liked the idea of the cycle as a way to tell the story and agreed to work with me on what would become my first radio documentary.
I started to train on the bike and research everything I could find out about Gus and Bloody Sunday. I found pictures, stories, documents, medals and most of all, the truth. One of the most important things that I discovered was that stories change with time and telling. Some of the stories that I had heard were true, some had an element of truth and some were just incorrect. So I began investigating the stories.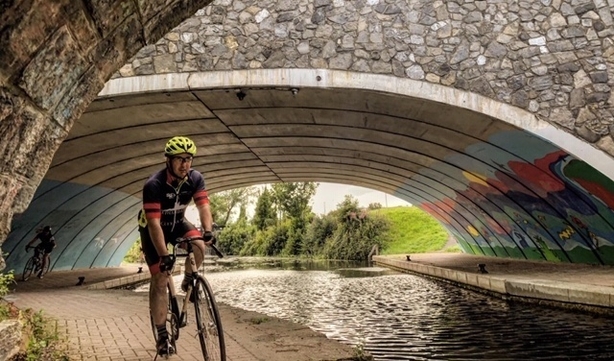 My neighbour, Joe Kenny, had found the picture of Gus on the bike. It was from a collection of glass negatives which had been taken by his grand-uncle Patrick Kenrick. Joe is a photographer and he said that he had a few pictures of Gus, so I called to see them. And there I made an important discovery. Among the pictures of Gus, I saw "Scout Butler Interview". Scout was the Tipperary goalkeeper on Bloody Sunday. A local man, Louis O'Donnell, had interviewed Scout on an old reel to reel tape recorder, asking him about Bloody Sunday. Joe had preserved over five minutes of the interview which gave a vivid description of the horror of the day. This recording had never been broadcast and Joe was happy to let me have it for the documentary.
A few days later a friend told me that his grandfather was meant to play that day, but couldn't, but he was back on the team the following year. He had some of his grandfather's medals, but one in particular was of interest to me; the anniversary medal. It's a gold medal with a player on a pitch holding a rifle. Gus must have received one of these, but I don't know where Gus's medals are. It was an honour to hold something so rare and poignant in my hands. One of the highlights of making the documentary was interviewing Tony Nolan, a son of Mick Nolan who was on the Tipperary panel for the Bloody Sunday match. He showed me his father's medals and told me some great stories that he had heard from his father.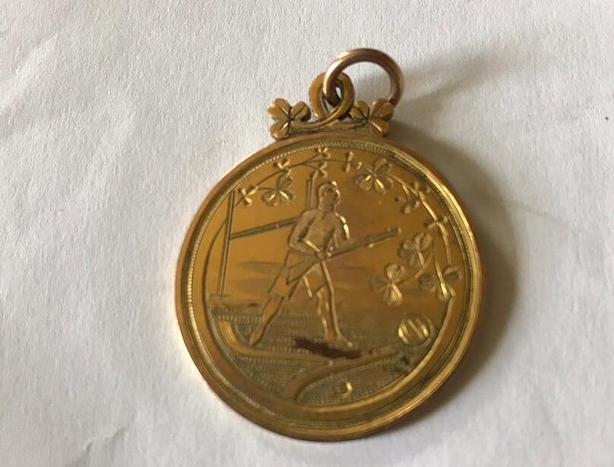 Librarian Pat Bracken introduced me to the online Irish Newspaper Archive where I made many discoveries. I always believed that Gus had been imprisoned by the British during the War of Independence, but I learned that he was actually captured during the Irish Civil War and imprisoned by the Free State Army. I found reports on Gus's matches, horse racing wins, his arrest and his term in Kilkenny prison. There were reports of him in Cork welcoming a Tipperary Team home from New York in 1959, and of his attendance at the funerals of his three nephews who were killed in the Irish Air Corps and Army. There was also a report on him breaking his leg in 1960, which left him with a shorter leg after a botched repair, and finally, a record of his death in 1970.
I brought my recorder everywhere, just in case there was anything that might be beneficial to the documentary. And I made some more discoveries. The Tipperary jersey in the Museum in Clonmel has always been known as the one worn by Michael Hogan when he was shot and killed on Bloody Sunday. It was sent for restoration, but while the restoration was being carried out, it was forensically examined. They found no trace of gunpowder, bullet holes or blood. It was his jersey, but not the one he wore on Bloody Sunday. Also, many believe that an armoured car on the pitch opened fire on the players and crowd on Bloody Sunday, but this is untrue. That scene was in the film Michael Collins, but it is complete fiction.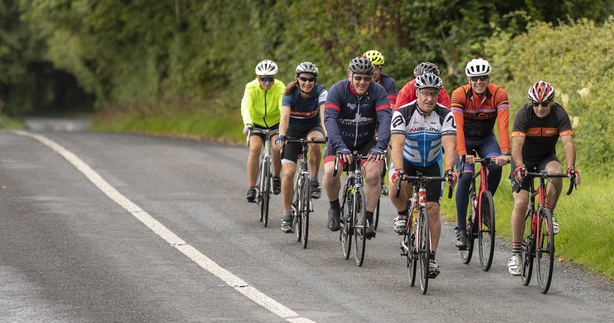 Eight of us did the cycle. Cyclists Tom Anglim, Barbara Ryan and John Leahy had played for Tipperary in Croke Park, with John winning many All Ireland and League medals. Madeleine Hearne was another former Tipperary player from Grangemockler. Paul Shanahan represented our local cycling club, the Fethard Peddlars. Barry Meehan cycles with Sean Kelly Cycling. Their company makes cycling gear, so they made a replica kit of the one worn on Bloody Sunday for us. Paul Kelly, a cycling companion over the years, and myself made up the eight.
During all of this time, producer Tim Desmond would come to Fethard to record pieces for the documentary. But often he would leave me off by myself, giving me advice about the recording equipment, recommending interview techniques and generally putting into practice what I had learned on the documentary making course. It was a great learning experience.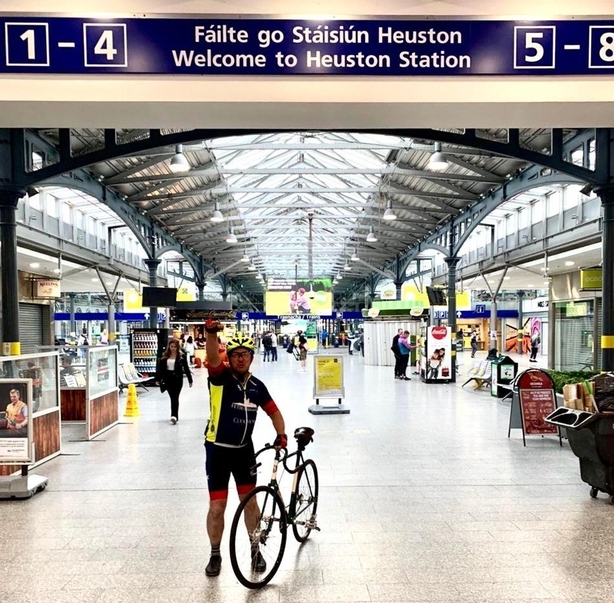 In March, a world-wide Pandemic closed down the country and we were all confined within a two-kilometer radius of our houses. We couldn't meet to train, let alone travel to Croke Park. But when the restrictions were eased we took our opportunity and travelled at the end of July. We had our day picked, and despite the horrific weather forecast, we went. After a wet start, the conditions changed. The rain stopped, and the wind turned, pushing us towards Dublin. Even though I had only one gear on my 115-year-old bike, we made good time. Our first stop was in Durrow where we ate, had a coffee and got to use the toilets in the very accommodating Castle Arms.
Tim put a microphone on me here, to record us as we cycled and we got a few good stories about Gus on the journey. After just over seven hours pedaling, we arrived at Heuston Station in Dublin, where the Tipperary team had arrived 100 years ago. That was a very special moment.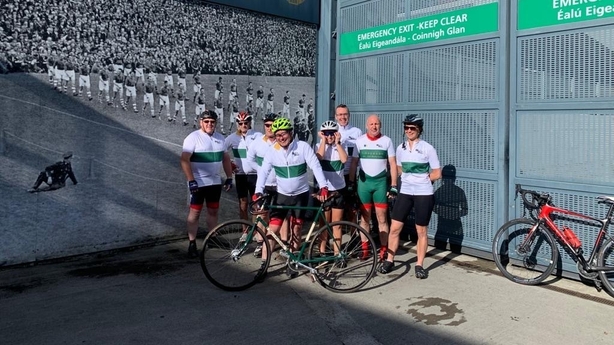 The following morning we cycled to Croke Park, the scene of Bloody Sunday. The stadium today has changed from a field with galvanise walls and mounds of earth to stand on, into a monument to Irish sport and culture worldwide. But as you examine the surroundings outside of the venue, it's easy to imagine Gus sprinting for his life up Jones Road or through the maze of lanes and alleyways that have changed little in the intervening 100 years.
We met with Michael Nelson and his sister Maura, a nephew and niece of Joe Traynor, who was killed on Bloody Sunday and with Julianne McKeigue, a niece of Michael Hogan, the only player killed on the day. Julianne works in Croke Park, so she showed us around the museum and brought us pitchside. It was interesting to hear their stories about Bloody Sunday and the effect that it had on their families' lives. Joining us pitchside was John Leahy who has experienced many highs winning on that sacred turf.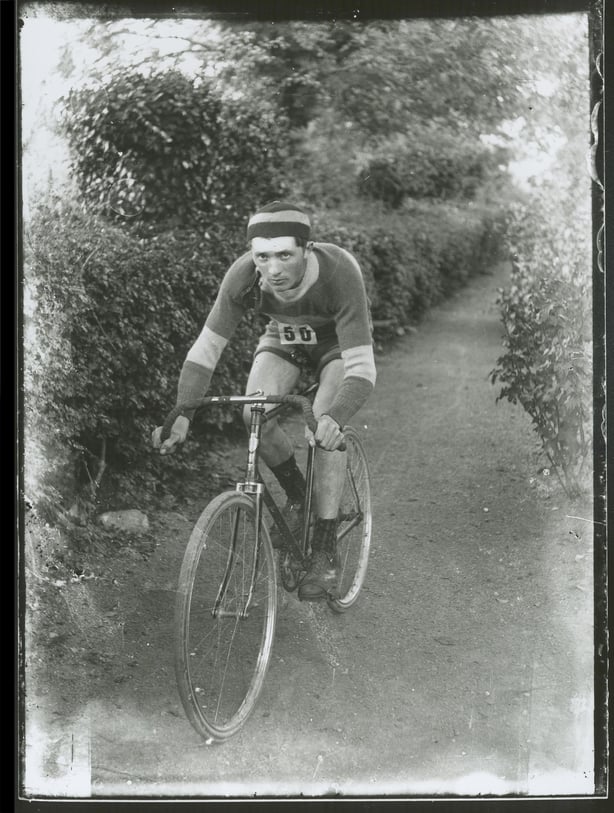 And before we left the pitch I asked if I could stand where Gus had stood at right corner forward. I was allowed to go there, but as soon as I put a foot on the pitch I was roared at to get off of the grass. I had misinterpreted what I was allowed to do. Nobody is allowed on the pitch except when it is in use for a game.
It really is sacred turf. As it should be.
Documentary On One: 100 Years, 100 Miles, Sunday 15th November at 6:00 pm on RTÉ Radio 1 - listen to more from Documentary On One here.