Martin Hayes is one of Ireland's best-loved musicians. He has enjoyed global success as a soloist, with Dennis Cahill, and as part of supergroup The Gloaming.
He has collaborated with everyone from Bill Frisell and Yo-Yo Ma to Sting, and Paul Simon. His long-term creative partnership with Cahill also saw the duo perform for President Obama at the White House.
Tonight at 8pm he performs live from the National Concert Hall stage with jazz pianist Cormac McCarthy and Brian Donnellan on bouzouki, harmonium and concertina. Tickets to watch the show online are available from dice.fm.
Film
I recently watched A Letter to You on Netflix. I'd never paid much attention to Bruce Springsteen. I always regarded his music as a kind of meat and potatoes rock and roll experience, it just never drew me in, but this movie did the trick. This film really showed the tender and powerful nature of the music he and his band make. The band are truly fantastic, it was delightful to watch them interact and deliver something so powerful in such a direct and uncomplicated way. The movie never gets in the way of the music. This a great movie and A Letter to You is a great album also.
Album
My friend Steve Cooney won four awards at the recent RTÉ Folk Awards and rightly so. I think this had a lot to do with his first solo recording which was released earlier this year. The recording is titled Ceol Ársa Cláirsí and it is an exquisite piece of work. He brings to life our ancient harp music on the guitar with the fluency and flow of a great Sean Nós singer. His beautiful phrasing reflects a deep and soulful understanding of this music. I regard this as a must have, classic recording of Irish music. It is a beautiful meditation and balm for the times we are in.
Book
I have a lot of half-read books on my iPad but when I travel, I like to have at least one actual book, preferably one that is slim but dense. On this trip I brought along Zen Mind, Beginner's Mind. I read it a long time ago. I've been recently creating online master classes where I encounter lots of paradoxes and difficult to express concepts where I feel Zen philosophy can provide some useful insight. I also think that the wisdom of this book wouldn't hurt as a preparation for my upcoming concert from the NCH. Zen philosophy offers an insight into how we can become truly present in the execution of any act. In my mind being present is a vital element for making fully vibrant music.
TV
Other Voices is a remarkable undertaking and a remarkable TV programme. The energy and commitment of Philip King and his team over the years has made possible many, many special and memorable moments of music in that small church in Dingle. This is a world class endeavour with huge ambition that just seems to keep on punching above its weight. It looks like this year's offering will be no exception.
Gigs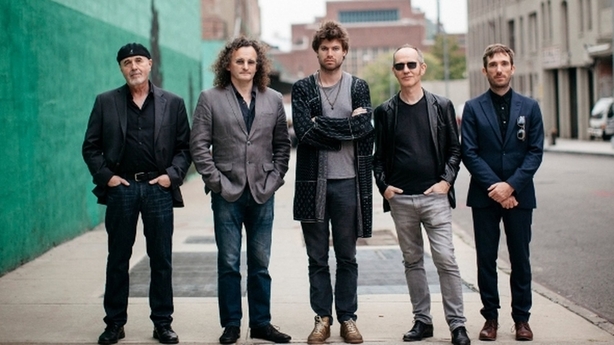 I've been to no gigs because there aren't any. I've seen lots of online performances and I think it's been good the way in which audiences and performers have been able to stay connected during this time. However, it is difficult to overlook the unavoidable poor production values. There is nothing like the real thing and I'm looking forward to my upcoming concert at the NCH where we will have proper sound, lighting and filming. There won't be an audience in the room but it will be a live concert with a live audience out there in the world and I will be getting to play my favourite venue with two great musicians.
Podcast
I listen to The Daily, which is a podcast by the New York Times. Democracy was and still is under genuine threat and these are dangerous times. The Daily did a very good job in keeping me up to date on everything that was happening politically this year.
Tech
I think I'd have had a difficult time during this pandemic without Zoom and Final Cut Pro. I've been making music master classes using Final Cut Pro and I've been connecting one on one with music students on Zoom. I now have a whole new community of friends that I've just gotten to know through Zoom.
Next Big Thing
I think the next big thing is real life and perhaps a newer and fresher view of what is important. People are what is important, love, human connection, making time for each other and being responsible custodians of this planet.