RTÉ Culture takes a look at some of the best Irish musical talent out there right now, and what they have been getting up to over the past year...
2020 has certainly been a challenging time. With the possibility of live gigs out of the question, Irish musicians were forced to get creative when it came to furthering their careers - and they have not disappointed. For what 2020 lacked in live performance, it made up for in exciting projects and a plethora of emerging talent. 
CMAT
This year Ciara Mary-Alice Thomspon, better known as CMAT, catapulted her solo career into the limelight with her debut single Another Day (kfc). The 24-year-old, formerly a member of indie band The Bad Sea, has gone on to release three singles bursting with personality, humour and a bit of a country twist. CMAT has been a breath of fresh air on the Irish music scene, with lyrics that are both fun and endearing and sound that you just want to dance along to in your best cowboy boots...
Kean Kavanagh
Artist, producer and co-founder of Soft Boy Records, Portlaoise man Kavanagh released his debut album Dog Person this September. A 10-track highlight reel of the artist's brain that veers from jazzy melodies to indie rock, the album comes after several years working alongside Soft Boy co-founder Kojaque and various other artists such as Luka Palm. We're already expecting great things...
Soda Blonde
We need your consent to load this YouTube contentWe use YouTube to manage extra content that can set cookies on your device and collect data about your activity. Please review their details and accept them to load the content.Manage Preferences
From the band formerly known as Little Green Cars, Soda Blonde was born - an exciting new reimagination of the popular five-person band, now a whip-smart quartet. Reinventing yourself as a new act is never easy but Soda Blonde have made the transition seamlessly, with 2020 being a big year in terms of new releases. From their single Love Me World to their four-track collection of alternative pop, Isolation Content, they're pushing the boundaries of their own style, and chances are they might just emerge bigger than ever. 
Aoife Nessa Frances
Aoife Neasa Frances is one to watch right now. Her debut album Land of No Junction, released earlier this year, offers 70's soft rock vibes, with a dream-pop sound to trance you out. It's apparent within Aoife's rich sound that the artist grew up surrounded by creatives - her father is a fiddle player, and her aunt is singer and actress, Flo McSweeney. We can only imagine what 2021 will bring...
Eve Belle 
Hailing from the depths of Donegal is Eve Belle, a stunning artist who puts every ounce of her emotions into her music. Her album In Between Moments channels lovelorn sentiment through electropop beats paired with a stunning vocal style; it feels like a way for the artist to come to terms with the depths of her own emotions, in an eloquent and endearing way. With many Irish acts hailing from Dublin and it's surrounding areas, it is always refreshing to see such talent emerging from the north-western part of the country. 
Pillow Queens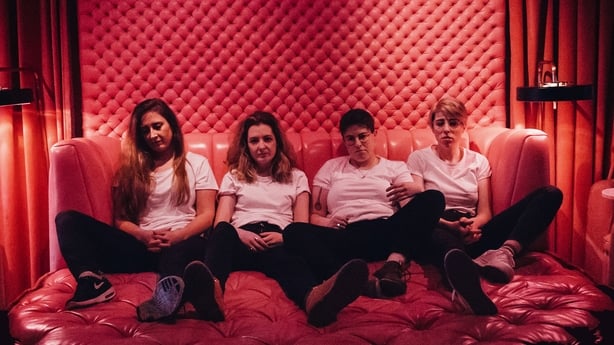 In September, Dublin-based indie-pop group Pillow Queens released their debut album, In Waiting, giving musical weight to youthful experiences that shape our perception of the world we live in today, while also providing some comfort and reassurance through the assertion that, well, things do get better. In Waiting is a sparkling debut with a powerful message - are they the empowering Irish band we've all been waiting for?
Nealo 
Following on from a big year in 2019, Neal Keating, better known as Nealo, opted to change his music style from that of a hardcore punk singer to a softer style of rap, his lyrics charged with socio-political messages. His latest album All the Leaves Are Falling follows the theme of a change in seasons, representing the passage of time and the evolution of a person. That theme can often be overdone, but Nealo deftly explores this transitional period of time in his life throughout the album, making it essential listening for 2020. 
Denise Chaila 
Dominating the Irish hip-hop scene right now is Zambian-Irish rapper Denise Chaila. Not one to shy away from the difficult issues, Chaila has used her music to speak out about gender inequality and domestic abuse as a guest MC on Rusangano Family's Isn't Dinner Nice back in 2016; she also challenged what it means to be Irish on her 2019 EP Duel Citizenship. Now, with her new album GO Bravely, she also explores the greater theme of self empowerment and self worth. 2020 has been a big year for the artist, with her performance in the Courage livestream series in the National Concert Hall being one of the defining moments of lockdown. 
Inhaler 
We need your consent to load this YouTube contentWe use YouTube to manage extra content that can set cookies on your device and collect data about your activity. Please review their details and accept them to load the content.Manage Preferences
Inhaler are one of the most exciting young rock bands in Ireland at the moment. Their latest single When It Breaks channels the chaos the world is currently experiencing, making for some of their most politically charged work yet. Previous singles released this year include Falling In, Fade Into You and We Have to Move On, beautifully melding psychedelic-sounding basslines with pounding rhythms, and making them feel more like an old school rock band than the new kids on the block. 
Hare Squead 
Hare Squead are an Irish rap duo hailing from Dublin with a sound that you just can't quite geographically place. Earlier this year they released their EP Superweird - the seven-track set includes their previously released single Gangsters (Gully) and new tracks such as Like I'm Barack and Trenches. Tony Konstone and Lilo Blues don't like to confine themselves into any particular genre, this perhaps being the reason for the wide appeal that brings in over one million listeners to their music on Spotify every month. 
Fontaines D.C 
While their debut album Dogrel saw the band skyrocket to fame, this year Fontaines D.C. have slightly mellowed out (only slightly, we stress) with their second studio album A Hero's Death. It's a clear departure from their debut, making musical sense of the changes their lives went through as they became more famous, burning the candle at both ends. The concept of what comes next feels very exciting...
Erica Cody 
2019 was a big year for Erica Cody with the release of her debut EP Leoness, which saw the artist embark on a nationwide tour of Ireland playing concerts, gigs and festival across the country. Despite being unable to play shows this year, Erica has kept up the momentum and even released a new single Calculated, featuring a collaboration with aforementioned rap-duo, Hare Squead. She has also been involved in the Irish Women in Harmony group - a collaboration of some of the most talented musicians the country has to offer. 
April 
21-year-old artist April's career has flourished over the last year, with her debut EP Luna perfectly soundtracking the 'new normal' we are all living through, whilst offering the solitude and calm we've all been craving in recent times. Perfectly encapsulating the bedroom pop genre, she feels like Ireland's answer to Clairo. If 2020 has been good for one thing, it's given artists like April the opportunity to produce the type of music that is both introspective and reflective of different times.