Lucina Russell, the Arts Officer with Kildare County Council, writes for Culture about a unique creative project, born in the age of Covid-19 - watch Kildare Notebooks: the Covid-19 diaries below...
During the early Covid-19 lockdown, people were directed to local authorities for support and assistance, through the countrywide 'Community Call' programme. The initial demands were around practical things, such as delivery of groceries, fuel and transport. But as we settled into the reality that we were going to be living with COVID19 for quite some time, the local authorities looked towards programmes that would sustain wellbeing and create areas of focus to support communities.
We need your consent to load this comcast-player contentWe use comcast-player to manage extra content that can set cookies on your device and collect data about your activity. Please review their details and accept them to load the content.Manage Preferences
Watch: Kildare Notebooks: the Covid-19 diaries
One of the projects devised by Kildare County Council was the Kildare Covid-19 notebook project. It's a simple idea, based on the Kildare Artist Notebook that the Arts Service ran previously. For the Covid-19 project, A5 moleskine notebooks were offered to citizens in the county, asking them to fill it as they wished, before returning the notebook to the local authority, to create an archive of this extraordinary time for future generations – to make a mark.
I was particularly keen to include older people and those who were cocooning and to emphasise that all contributions were welcome, regardless of writing or artistic ability. Local services and agencies were crucial in encouraging people to engage with the project, including Kildare Age Friendly Network, Naas Care of the Aged Centre, Moore Abbey Services, supporting adults with intellectual disabilities, Platinum Clubhouse and Harvest Centre, who support adults with mental health difficulties. Each of these services are written about affectionately in the notebooks. In some cases, the key workers were the only contact that some people had with the outside world during the early months of Covid-19, with many delivering a daily hot meal, but also taking the time to encourage people to take a notebook.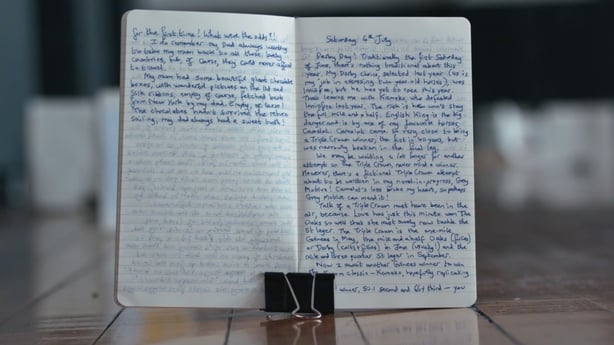 The notebooks inspired a wide range of participants – members of writings groups, artists, a husband and wife made companion notebooks, 5 members of one family ranging from aged 6 to adult, one family completed a notebook together and another, wrote a diary for their elderly relative, with messages to her from her children, grandchildren and great-grandchildren.
When I sat down to read through the first batch of notebooks, I felt overwhelmed with the generosity of what the participants have shared with us, with stories or loneliness, boredom and anxiety, particularly around older relations in nursing homes or who were otherwise vulnerable. Many record thoughts on the health services and governments in Ireland, Britain and USA. But there was plenty of wit and wisdom included too, as well as pets, food, recipes, family, nature and knitting. A number of participants have since told me that they are 'hooked' on notebooks and are going to continue to write.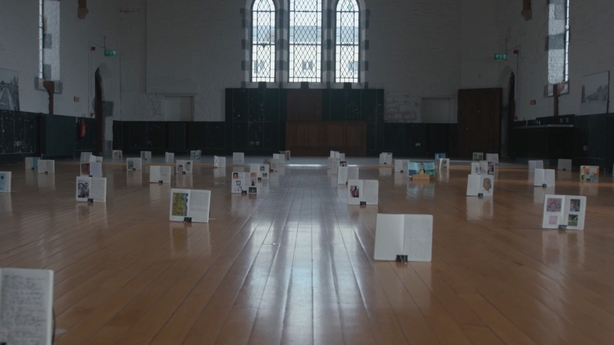 During the summer, a funding opportunity arose with Creative Ireland, to 'celebrate creativity in older people' and Kildare's Creative Ireland team secured funding to make a documentary 'The Covid Diaries', featuring some of the older participants. David C. Lynch is a local award-winning filmmaker with a keen eye for storytelling with a strong aesthetic, and I was delighted when he came on board to shoot the film. He and I visited 7 notebook participants in August to interview them about their experiences of the notebook project. Over 70 notebooks have been returned to date and they also feature in the documentary.
I would love to be able to have a public exhibition of the Kildare Covid-19 notebook project, but that's not possible for the foreseeable future. The archiving process commences shortly. For now, the documentary provides the opportunity to share this wee gem with the world. It is a privilege to be part of it.
Find out more about RTÉ Supporting The Arts here, the Creative Ireland Programme here, and The Kildare Arts Service Covid Diary Project here.