We're delighted to present The Lady, Vanishing a short story by Mia Gallagher extracted from the new anthology The Art Of The Glimpse: 100 Irish Short Stories, edited by Sinead Gleeson (and published by Head Of Zeus). 
The Art of the Glimpse is a radical revision of the canon of the Irish story, uniting classic works with neglected writers and marginalised voices – women, LGBT writers, Traveller folk-tales, lost 19th-century voices and the first wave of 'new Irish' writers from elsewhere now making a life in Ireland.
---
The Lady, Vanishing
At dawn Tommy does it. The cows are lowing. Larksong in his ears. No bells chiming yet for the Easter Sunday Mass.
He gets her ready. He could leave her sleeping, curled up in her bed, but that wouldn't feel right, not for his princess of eastern promise.
Black shoes first. Shiny. Then the knickers, their favourite ones, the whitewhitewithblacklace. She's awake now. She watches; silent, eyes wide, as he pulls the flimsies up, lets the elastic snap around her waist. He's out of breath. Had to do everything himself. As usual. Because – god forgive him – she's so bloody helpless.
A sound. A sigh? Her mouth is open. Where are we—?
Surprise, Honey.
She's always loved it when he calls her that. Oh, Honey, oh, Honey, my Honey, oh.
He takes the red truck. The new woman in town likes that truck. Real cute, Tommy! You got some vision. Any room for a passenger there? She's from Chicago, the other end of the planet from Honey. She's not too old; she has money. And dark wild hair and a crackling laugh that runs down Tommy's spine, lifts his balls and squeezes, real slow.
They're at the ugly end of the harbour. Honey stares out. The slate cliffs cut brutal into the cobalt sky. A huddle of giant bins, filled with shattered glass, stinking sugar-crusted plastic, soggy paper.
He opens the door.
She looks surprised. What are you—?
Sshh, Honey.
A flicker. The breeze, catching her hair. He expects another question but she says nothing, just lets him lift her – so bloody helpless – out.
Gulls scream, wheel, lift on the wind.
Look!
He points west. At the ocean, cool blue in the dawn. At America beyond it and, in its heart, Chicago, invisible, where all his hopes lie.
Honey – look!
He forces her head around to the ocean. Makes her see. This is why.
What do they say in the agony columns? It's not you, it's me.
She's weightless in his arms. Cool. He touches her mouth, her shallow forehead, her staring eyes. She trembles. Her hands are warming up under his fingers. He traces the numb elegant length of her right leg from black patent toe to lonely-filling hole.
There's something wet in her eyes.
You got some vision, Tommy.
He could smash her first, break her, flatten her to an inch of his life, but that, he feels, would be cheating. So as he pushes her through the narrow mouth of the bin, she's still herself enough to resist, scraping at him with her hard fingertips. He's glad of that, in a way. She screeches when the rusted rim rips at her face. Hisses as it carves a pink gash down her cheek. There's blood on her nose. His? He recoils. Her hands snap loose, push at him. He bats them back, shoving her in until she starts to crumple again, sinking slow and sad into the broken glass.
Poor Honey, he starts to think, then stops himself.
Enough of that.
He twists the key; starts the ignition.
Mass first, then the full Irish. He's starving now, would eat the hands off of a skinny priest.
In the rearview mirror, he doesn't see her flattened foot in its black shoe uncoil, curling up from the mouth of the bin.
One more gasp at blown-up life—
put your lips together, honey, and
A gull swoops, pecks, punctures.
She sighs.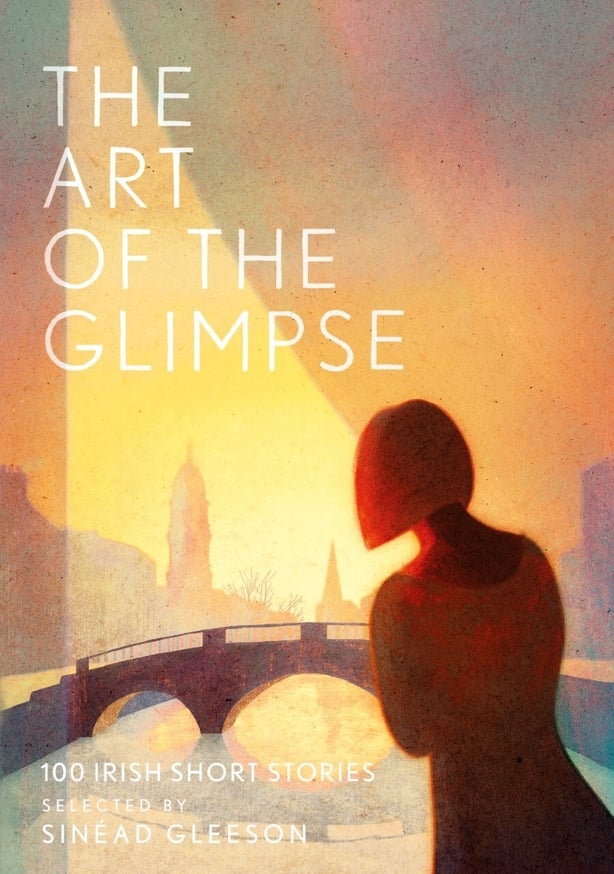 This version of The Lady, Vanishing was first published in Mia's collection Shift (New Island, 2018). The Art Of The Glimpse (published by Head Of Zeus) is out now.