We're delighted to present an extract from Wildwoods by Richard Nairn, published by Gill.  
As an ecologist, Richard Nairn has worked to protect the environment for most of his adult life. Yet, during his lifetime, Ireland's wildlife has undergone a catastrophic decline. When a small farm and woodland near the Devil's Glen in Co. Wicklow was put on the market, Richard threw caution to the wind and bought the land outright. He fell in love with the place and began to spend more and more time there, experiencing all its moods and seasons, discovering its wildlife secrets and learning how to manage it properly.
Partly memoir, Wildwoods is the story of that journey of discovery over a typical year, including visits to many other native woodlands in different parts of the country to discover what they can teach us about nature.
---
For years, my family had been searching for some land to establish a smallholding where we could grow most of our own food and wood for fuel, moving our lives more towards self-sufficiency with a lower environmental footprint. We had searched far and wide and, when Ned's farm was finally put on the market, we knew that it was offering an opportunity. On the south-facing side of the valley were the permanent pasture fields and hedgerows where he had toiled all those years ago. I imagined him in summer driving the horse-drawn mower through the flower-rich meadow to save the hay that would sustain his cows over winter. The woodland where he and his sons had cut timber to roof the cow byre was still there in the valley and the river that wound its way down from the hills still flowed crystal clear.
Throwing caution to the wind, I cashed in part of my pension and bought the land outright. Even if times turned harder, I foolishly reckoned that I could sell the land and the timber to recover my investment. Instead, I fell in love with the place and began to spend more and more time there, experiencing all its moods and seasons, discovering its wildlife secrets and learning how to manage it properly. I realise now that our woodland has found its way into my heart.
In December, the sun rises late but I like to go out at first light or even before, while all the local people are still sleeping, as this is when the wildlife is most active. At this time of day, I see foxes, deer, buzzards and woodpeckers, all busy finding their first meal of the day, having survived another cold night. There is little or no disturbance, traffic noise is intermittent and natural sounds dominate.
It has been snowing for two days now with bitterly cold temperatures, enough to freeze the water in the puddles along the lane. There is a thick blanket of snow lying on the meadow where Ned once worked a century and a half before. The meadow was mowed last September and is still waiting for the spring signals to start growing again. I follow the tracks of a fox, weaving across the field, yet with a definite purpose. He detoured several times to investigate rabbit burrows and maybe a mouse beneath the grass. Winter is a tough time for our mammals when survival is the name of the game. Food is scarce and they must live on the fat they have accumulated during the summer. The bountiful days of autumn are gone and the last of the blackberries and sloes are now just a memory.
It is just after dawn and I am standing at the top of the field when an adult fox comes trotting along the hedge at the bottom. He is carrying some prey that looks like a small bird. Crossing the meadow, he slips effortlessly through a sheep fence in the corner and I watch him pick his way through some willow trees and into the woodland. I follow his trail which leads down a muddy track. Here there are lots of fox prints, droppings, feathers and scraps of bone that suggest many meals. In a corner beneath some brambles, I find the entrance to the fox earth. It is dark and secret. I doubt if many people have been here so the fox and his mate are mostly left to their own devices. As the sun rises over the valley, the lonely call of a soaring buzzard is the loudest sound.
I leave the fox in peace and enter a magical world of tall trees, flowing streams and ferns. In some places where the water bubbles to the surface, I sink to the top of my boots in soft, sucking mud. All around are small diggings where some other animal has been searching for buried food during the night. And then I come upon the badger sett. It is the largest and most active sett I have ever seen. Great mounds of spoil lie outside the entrances to a maze of underground tunnels and regular trails lead off in several directions into the undergrowth.
The trees around the badger sett are tall and their trunks close together, with many even entwined as if they are closely connected below ground. I can identify nearly a dozen types of trees all mixed together in seemingly random order. There are standing dead stems, known to foresters as snags, and there is plenty of fallen timber in various states of decay. In places, I have to wade through shallow water to pass by a dense jungle of bramble, fern and honeysuckle.
Some of the older hazel and alder trees have huge bases and multiple stems, suggesting that these were cut a century and a half ago by Ned and his family to produce a continuous crop of timber that had many uses on the farm. In those days, horses would have been used to extract heavy timbers. I can imagine the men working together as a team among the trees. Since those days the woodland has been largely forgotten by the local farmers as the ground is too wet for cultivation and livestock are discouraged from entering here for fear that they will become trapped in the soft ground.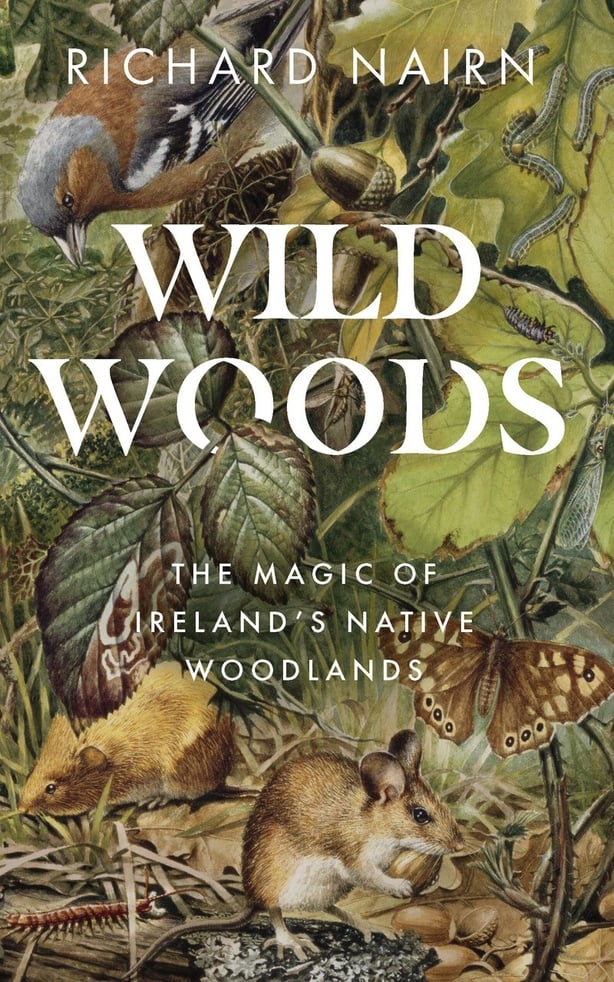 About The Author: Richard Nairn is an ecologist and writer who has spent a lifetime studying nature. During his career he has worked as a nature reserve warden and was the first Director of BirdWatch Ireland. He owns a farm and woodland in County Wicklow.
Wildwoods by Richard Nairn is published by Gill Books and available now in bookshops and online.