Opinion: Norwegian musician The Musical Slave (aka Norwigi) writes for Culture about her experiences of horse culture in inner-city Dublin, and the ongoing campaign to save Molyneux Yard in the Liberties. 
My name is Kristin Vollset (aka The Musical Slave, aka Norwigi), and I´m a musician from Norway. A few years back I was on a road trip. And early one morning I landed in Dublin, and was looking for a place to park, when I somehow crashed my backlight into a wall, somewhere in the Liberties. And then, just a couple of metres away, a horse and a few boys walked out of that same wall… I was so happy to see a horse in the middle of town, so I ran over, and one of the boys asked if I wanted to come for a spin. Soon we were flying down Cork Street on a horse and 2-wheeler, dodging buses and cars. A fire was lit in my heart, I got this great feeling of freedom being on a horse in the middle of the city. It felt like nature was winning over the buildings and the concrete, like what was natural and free could still have a place in our lives.
When we got back, they showed me their horse yards. In this single laneway called Molyneux Yard (aka "The Lane"), there were about 6 horse yards and about 12 horses! I ended up staying, bought my own horse, and moved him into one of the horse yards. I spent 2 ½ years in Molyneux Yard, and I´ve never been so inspired in my life. I wrote many songs based on this urban horse culture in the Liberties. One of the songs is called No Plan, and the music video for it won best short documentary at the IFI´s documentary film festival in 2017.
We need your consent to load this YouTube contentWe use YouTube to manage extra content that can set cookies on your device and collect data about your activity. Please review their details and accept them to load the content.Manage Preferences
Watch: No Plan by The Musical Slave
There was something so unique and so soulful about "The Lane". It was a very tightly-knit community, where everyone shared this love for horses, and daily life was filled with drama and mad stories, and pranks and shoveling s**t, and going out on the horses. And these people had so much love for each other, and their community was unlike anything I´d seen anywhere I´d travelled. I felt so lucky to be part of this culture for a few years of my life.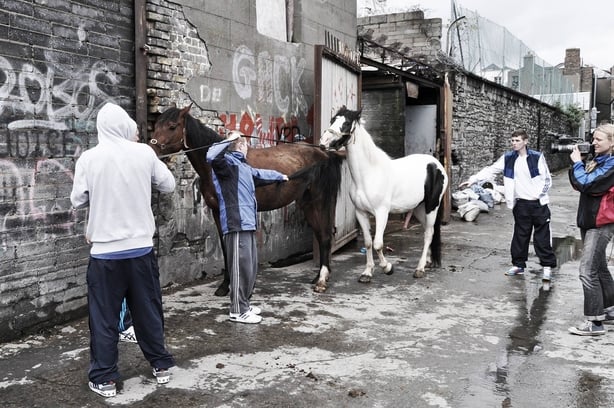 Then, in 2019 I heard the news that developer Harry Crosbie had gotten the final go-ahead from Dublin City Council to build an enormous 8-storey hotel (the Vicar Street Hotel), right next to Molyneux Yard, despite resistance from the local community and councillors. And 2 of the horse yards would most likely be destroyed in the process.
And then this summer, in 2020, the Council gave permission to yet another developer, Midsal Homes Ltd, to build a second 8-storey hotel on the same tiny site. This second hotel will require the demolition of the three largest horse yards at the bottom of Molyneux Yard, including a fourth yard that potentially could be a horse yard. So between them, the 2 hotels will destroy 5 of the 7 horse yards in Molyneux Yard.
Do we really want a society where economic growth is the only standard our lives are measured by, where people don´t have a say in how their own neighborhoods are shaped, where kids don´t have any community centres to go to?
My heart literally broke. Along with many others, I was devastated and outraged. One hotel was bad enough, but two enormous hotels in such a small area, that was just too much. And I could not believe that both the developers and the Council could have so little knowledge of and so little respect for the urban horse culture in the Liberties.
From when the Guinness factory opened in 1759, and 200 years on, horses were used in the production. The majority of the workers and horse handlers were residents of the Liberties, and a strong connection was forged between the workers and horses. This bond has been passed down from generation to generation, and it´s the reason you have this unique horse culture in the Liberties today. It´s also the reason the Liberties has so many of these urban horse yards, often hidden in unexpected places - like in this laneway, Molyneux yard.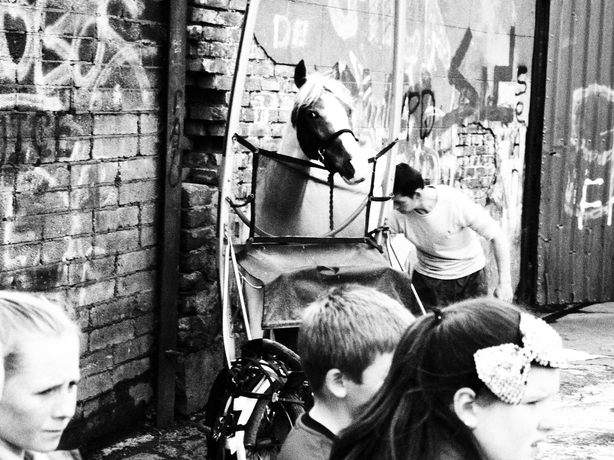 So the people you see driving the horse and carriages up at Guinness, bringing the tourists into town, or the young lads going around on the two-wheelers – some of them could be the descendants of the people who worked with the horses in the Guinness factory. We can´t forget that the horse community of the Liberties helped make Guinness what it is today, the trademark brew that Ireland is so proud of and famous for. The horse culture in the Liberties is such an important part of the soul and history of the city, and an important part of Ireland´s national heritage.
I think it´s time the urban horse culture is acknowledged and given the credit and praise it deserves. And the members of Dublin's horse community should be seen as the culture bearers they truly are. Also, the tourists love it - the horses are a huge selling point for the Liberties. So I think the horse yards should be funded by the Council, not neglected, shut down and demolished. I firmly believe that the urban horse yards in the Liberties should be protected by the department of Heritage and Conservation, so that we don´t run the risk of losing the horse yards every time a developer feels like making some more money.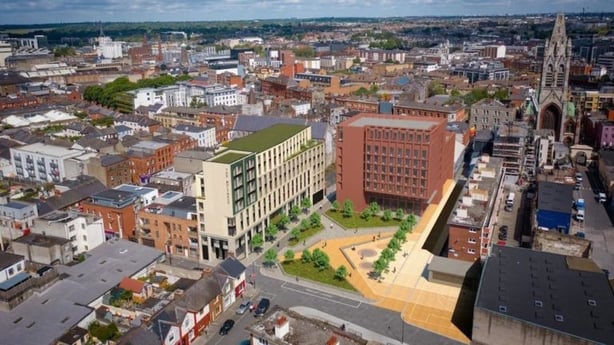 After talking to a community planner, I´ve also learned a lot about what goes on behind the scenes. In 2018, housing minister Eoghan Murphy passed new national guidelines, allowing for buildings with increased height and density in the city centre. We now see the result of this in the Liberties. One of the oldest and most beautiful parts of Dublin is being invaded by enormous, soulless structures – without any real consultancy with the residents or horse owners.
The local community has repeatedly protested; they feel that the hotels, along with other transient accommodation, will negatively affect their lives, turning their neighborhood into a transit area for tourists, and putting an end to the longstanding local horse culture. Community planners complain that nothing can be done because the new national guidelines overrule the Dublin City Development plan - which wouldn´t have allowed buildings of this size in the Liberties. And the need for green spaces, community facilities and affordable housing continues to be disregarded.
Do we really want a society where economic growth is the only standard our lives are measured by, where people don´t have a say in how their own neighborhoods are shaped, where kids don´t have any community centres to go to?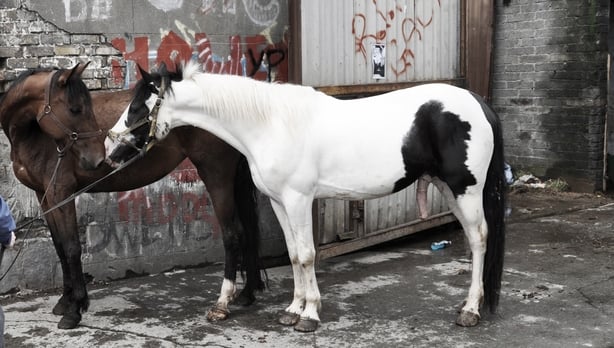 Because of this historic connection with the horses in the Liberties, the kids that grow up here are drawn to horses from a very early age. Living in the inner city, it is also one of the few ways for them to get in contact with nature. Horses are beings of great power and integrity, and you learn so much from trying to communicate and cooperate with them. It sparks a passion in these inner-city kids that must be acknowledged. Being part of the horse community, and learning about the horses from your elders, also gives you a great sense of community and belonging.
The horse yards in Molyneux Yard have for generations had the function of community centres for horse owners, young and old, as well as for local residents. There have been complaints that some of the horse yards have fallen into dereliction – and sadly, in some cases this has happened. But who´s fault is this? Inner-city horse culture has never been truly recognised, appreciated or funded by the Council or the government. If the Council would actually engage with the horse community, research their history and try to co-create a future with them, the urban horse yards could once again become wonderful community centres that everyone could benefit from.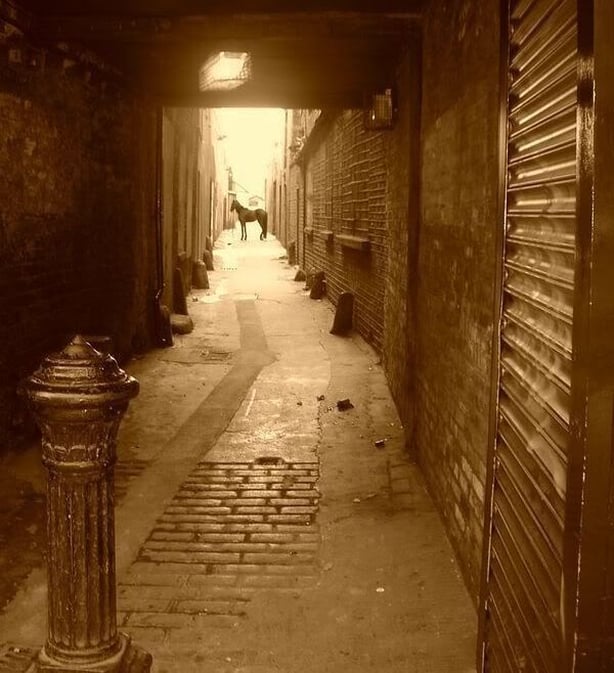 I want to stress that it´s not too late to stop the second hotel from going up in Molyneux Yard. When we started a Facebook campaign, Save The Lane, we got 250 members in just 2 days. We´ve also started a petition that now has more than 280 signatures. There is huge mobilisation from the community as well as from the rest of the country and abroad, to save this historic laneway, with its many horse yards. And several locals, including members of our group, have sent appeals and observations on this planning decision to An Bord Pleanála, and we are expecting a final decision within the next 2-3 months. So everyone who feels a pull in their heart, please help spread the word so we can save Molyneux Yard and the urban horse culture in the Liberties before it´s too late.
---
The views expressed here are those of the author and do not represent or reflect the views of RTÉ
---