The year is 1999. And before learning the lakes, rivers and mountain ranges of Ireland, my class and I were busy learning everything – and I mean everything – about skateboarding, writes Barry O'Rourke.
Back then, Tony Hawk's Pro Skater 1 acted as much as a documentary and learning tool as it did a video game, where learning about skateboarding became just as fun as, well, actually skateboarding.
Hawk's games form some of my earliest and fondest gaming memories, and cements him as one of the most recognizable athletes in the world. So when a remaster containing both Pro Skater 1 & 2 was announced, I was struck by both anticipation and concern.
Sometimes, it's better you just don't touch the classics.
We need your consent to load this YouTube contentWe use YouTube to manage extra content that can set cookies on your device and collect data about your activity. Please review their details and accept them to load the content.Manage Preferences
Nostalgic feeling at every trick & flip
"Sure, it may be a bit dusty and grimy, but hey…it's home!" is the tag-line which greets you as you start on Level 1, the Warehouse in Albany.
Muscle memory instantly kicks in as you find yourself thundering down the ramp and performing your first trick without any instructions. You then fall down. A lot.
It's here you'll notice that everything about this remaster so far feels eerily familiar; the controls, the scenes, the lighting, and the music. Even the graphics, which take on an incredible life-like shape, remind you of an older generation of games.
Playing a Tony Hawk game is as simple or complicated as you want it to be. Each level comes with a list of objectives and a time limit. It takes multiple goes at any level to tick them all off the shopping list.
No matter your skill at the game, there will always be some objective within reach for you to aim towards. Simple things like collecting letters scattered throughout the level which spell the word 'Skate', to doing specific tricks over objects, to more ambitious high scores and combos all form the basis to fun, varied gameplay.
I'm currently nowhere near the skill level of some of the challenges, but this never frustrates me as improvements are always obvious with every high score I reach and near-attempt completed.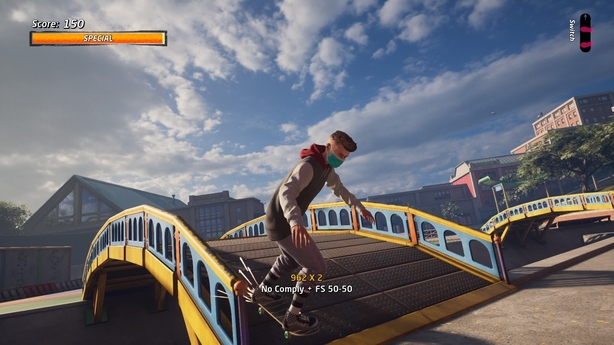 Editor modes bring the game to higher heights
Playing and completing objectives earns you some money which can be used in the Skate Shop to buy cosmetic items for your very own skater.
Even if designing a character is not your forte, creating a skater is well worth a shot given how detailed things can get. Create everything from their appearance, to their style and skill of skateboarding. Add a face mask for a timely reminder of the world we live in.
You can also buy new equipment and props to use in the Create a Park option, an ambitious Sim-mode where Tony Hawk's Pro Skater1 +2 Remaster truly flexes its technological muscles. The mode is surprisingly very simple to get the hang of and has you creating the skatepark of your dreams as every ramp, incline, pipe, bend and tree placed is up to you.
With the ability to share your creations and test other player's maps, it'll be interesting to see the complex levels the community will cook up in the coming time.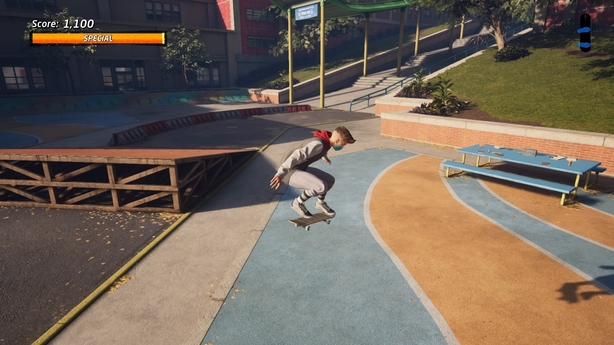 Which brings us to the multiplayer mode of Tony Hawk's Pro Skater 1 + 2, the most obvious upgrade in this remaster.
Multiplayer is incredibly good fun and adds a new opportunity to enjoy the same gameplay. Long gone are the days you could only play with someone on the couch beside you. Now you can be matched with players across the world in a matter of seconds.
8 or so players are matched to duke it out over a series of high-score rounds, combos and graffiti-tagging levels. Jams are more informal games while competitive mode tests the mettle of pro-skaters with more demanding game challenges.
The learning curve is steep online; such is the high skill level some players have already reached to hit the ambitious high score targets. In one match a player racked up over 300,000 points in a matter of seconds, whereas I, with my measly 10k, was simply trying not to fall off the skateboard.
But competing against players online, either with mates or strangers, pro or beginner, adds another layer to the Tony Hawk experience.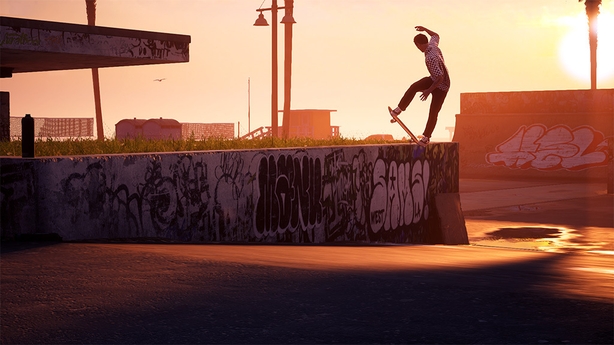 A remaster masterfully done
Gaming is going through a renaissance of remasters lately. Developers and publishers want to reimagine fan-favourite games and repurpose that classic fun for a modern, digitally-native audience.
The danger will always be if these games are more remake than remaster.
Suffice to say, Tony Hawk's Pro Skater 1+2 is how it's done.
Raising its source material to new heights, the nostalgia is evident throughout a game which never comes close to losing hold of its roots.
For gamers who have little experience of Hawk and co., there is still plenty on offer to convert you to the action-packed culture that is skateboarding. If you're up for a challenge, and having fun whilst doing so, Tony Hawk's Pro Skater 1 + 2 is a trick not to be missed.
Tony Hawk's Pro Skater 1 + 2 is available now on PlayStation 4, Xbox One and PC.