The very title of A Ghost in the Throat evokes the imagery of choking - breath stifled, speech constricted, words trapped in the throat, struggling to emerge.
The novel itself may revolve around two very real women, the writer Doireann Ní Ghríofa herself (or perhaps a version of her) and her 'steady companion' through life Eibhlín Dubh Ní Chonaill, a poet who inspired her in childhood and on countless occasions since, but it's also an ode to the unwritten women of generations past. Those who never had the same freedom or opportunity for self-expression - 'how I wish that someone thought more women's words worthy of a place', the author laments. 'This is a female text' she also informs us. The book even begins and ends with this refrain, and she reminds us of it throughout.
We first meet our thoughtful narrator post-pregnancy as she pumps her excess breast milk to donate to premature babies. She washes and hangs out the clothes. She cleans the family home. She hums Radiohead's Karma Police to lul her newborn to sleep - 'I've given all I can, it's not enough'. She describes the calm she finds in domesticity and her mundane daily routine, enjoying erasing her tasks, or 'miniscule victories', off her to-do list - 'it is anchoring, the simple joy of drawing a line through a task'. Tick, tick, tick.
We need your consent to load this rte-player contentWe use rte-player to manage extra content that can set cookies on your device and collect data about your activity. Please review their details and accept them to load the content.Manage Preferences
Listen: Doireann Ní Ghríofa talks A Ghost in the Throat to RTÉ Arena
A number of traumatic life events lead Ní Ghríofa to recall a poem that she first encountered in school as a distracted child, Caoineadh Airt Uí Laoghaire. A noblewoman named Eibhlín Dubh Ní Chonaill composed it in 1700's rural Ireland after her beloved husband was murdered. When Eibhlín came upon the body, overcome with grief, she scooped up his blood in her hands to consume furiously.
Ní Ghríofa becomes obsessed with this poem and its author. She begins painstakingly translating and researching it - even travelling to the places described in the poem with her young children in tow. She finds the experience of delving into Eibhlín life rattling but invigorating, both transgressive and fulfilling at once. She finds uncanny parallels between Eibhlín's life and her own, which only further fuels her fixation.
What becomes clear in the course of reading is that Ní Ghríofa has that enviable ability not just to see the world in a very unique way, but also to express her observations about it eloquently. A knitted cardigan her mother gifts to her grandchild for example is 'a female text in which every stitch is a syllable'. In a passage later in the book she describes how cells from the placenta can migrate to different parts of the body during pregnancy, lingering long after the birth, and how a child's hair contains the mitochondrial DNA of its mother. In both instances, a direct line of communication from one generation to the next. Ní Ghríofa is interested in these echoes, not just in the body, but in the written word.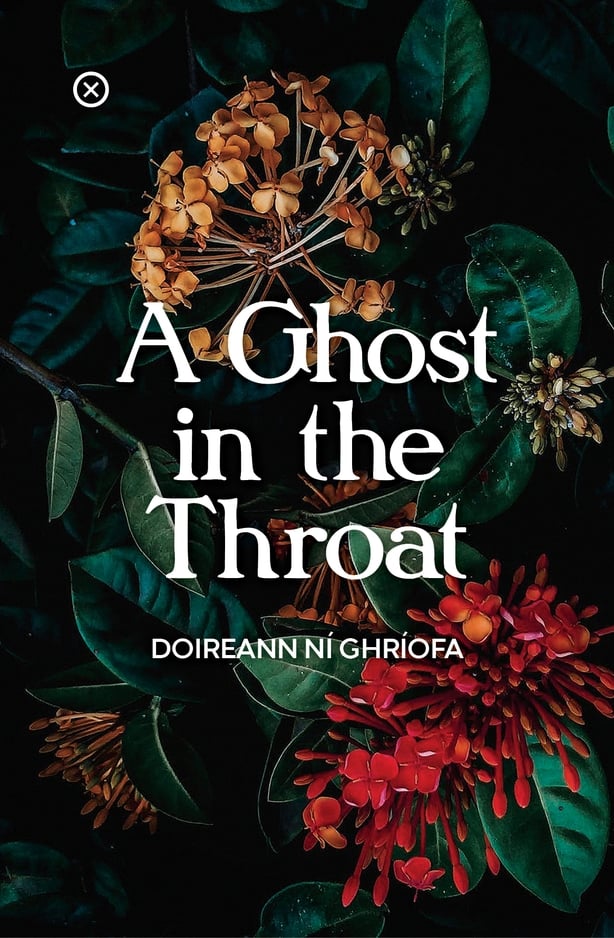 She describes the female body with great wonder and admiration, acknowledging its incredible potential for pain and pleasure, life and death, finding beauty even in its secretions, be it her life-giving breast milk or the blood that pours from Eibhlín's husband's deadly wound.
A Ghost in the Throat is a colloquialism, and Ní Ghríofa is fascinated by the traditions of old, revelling in her discovery of ancient words and expressions. Another direct link to the past.
As a woman reading her work here, a novel dedicated to women, written by a woman and inspired by a woman, I couldn't help but feel the same echoes that started Ní Ghríofa off on this journey in the first place.
It's an extraordinary piece of work.
A Ghost in the Throat (published by Tramp Press) is out now. 
Photo: Bríd O'Donovan