As part of Shine, a magical hour of music and words filmed at the Iveagh Gardens, the National Concert Hall and at RTÉ over a couple of summer days, sopranos Celine Byrne and Emer Barry perform Sull'Aria from Mozart's The Marriage of Figaro with members of the RTÉ National Symphony Orchestra. It's known to many as the aria from The Shawshank Redemption.
Matthew Manning, Principal Oboe in the RTÉ NSO, writes about the perfect lockdown aria and the experience of recording it. Shine is on RTÉ One at 8.15 pm on Saturday, August 29th and on RTÉ Radio 1 at 4 pm on Sunday, August 30th.
Mozart's Sull'Aria: in this little duet from The Marriage of Figaro, Countess Almaviva is dictating to Susanna, her maid, a letter to her husband, the count, enticing him to a secret tryst, in order to expose his infidelity.
We need your consent to load this YouTube contentWe use YouTube to manage extra content that can set cookies on your device and collect data about your activity. Please review their details and accept them to load the content.Manage Preferences
'Canzonetta Sull'Aria' translates as 'A song on the Breeze' and the libretto reads:
'What a gentle little zephyr this evening will sigh under the pines in the little grove... and the rest he'll understand'… The count doesn't stand a chance, outwitted by two crafty and clever women.
Why then is this beautiful miniature relevant to our present circumstances? The answer lies in Hollywood.
Since March we have been in 'lockdown', a word to which I had never really given much thought. It could almost be described as a sort of national house arrest. A quarantine is, after all, an enforced separation from the rest of society, for the safety of the majority. In the film The Shawshank Redemption Andy Dusfesne (played by Tim Robbins) is a prisoner in the Shawshank Penitentiary, locked up for the murder of his wife and her lover despite his claims of innocence.
Over the decades he becomes friends with a fellow prisoner, Ellis Redding (played by Morgan Freeman), and helps the other prisoners, and indeed the prison warden, with financial advice. After finding a recording of The Marriage of Figaro in the prison library he plays this aria over the public address system during the exercise period and receives a stretch of solitary confinement as a punishment.
Morgan Freeman's character narrates the scene:
' I have no Idea to this day what those two Italian ladies were singing about… I'd like to think they were singing about something so beautiful it can't be expressed in words, and it makes your heart ache because of it.'
The music has such a subtle simplicity and delicate beauty that even after 234 years, it still sounds as fresh as when Mozart wrote it. Time has not affected it, nor will it ever. It transcends all boundaries, all attempts to define it and incarcerate it. Music cannot be totally understood in terms of words. It appeals directly to the mind of the listener and affects everyone in a different way. In this way it is the perfect metaphor for the strength and transcendence of the human spirit over physical circumstances and conditions.
We recorded our version of Sull'Aria for Shine in a TV studio on the deserted RTÉ campus, normally a place bustling with activity, but now eerily quiet. The duet is scored for two sopranos, oboe, bassoon and strings, in other words a classical-sized opera orchestra.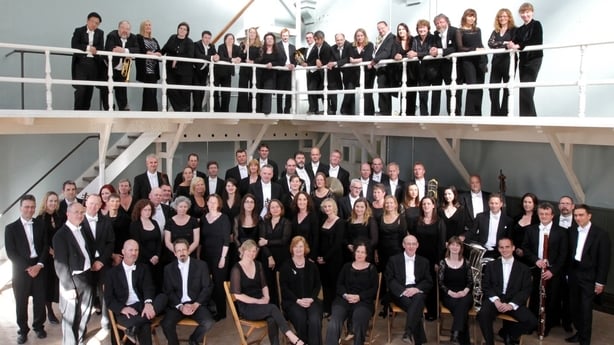 On this occasion, however, due to the restrictions in place to prevent the spread of the Covid 19 virus, there was only room for five instrumentalists and the two singers. We also had to be at least two metres apart from each other which meant that we were spread out over at least ten metres from the oboe to the cello. Musicians are not used to being so far from each other! We need to be aware of the physical presence of the people we are making music with, to feel the pulse of the music together, to play together and with a common interpretation. It took a while to get used to. Who would lead? How would we set a tempo? Also, TV cameras moving silently around us were a very different kind of audience to that we are used to. Behind us images of deserted Dublin streets formed a backdrop of surreal proportions.
The music, however, speaks for itself.
Shine is on RTÉ One at, 8.15pm on Saturday, August 29th and on RTÉ Radio 1 at 4pm on Sunday, August 30th - find out more here.