The Great Book of Ireland, a new RTÉ One documentary directed by Alan Gilsenan, explores the story behind the extraordinary vellum manuscript made in the 1990s featuring the works of many great Irish artists across an array of disciplines - watch it here, via RTÉ Player.
John FitzGerald, Executive Producer of the film and UCC's Director of Information Services & University Librarian, writes for Culture about a tome like no other...
I confess to having fallen for many a book in my day.
First editions signed slim volumes, letterpress printings, lavish atlases, artists' books, handmade books, and of course, the ultimate bibliophile's prize: the original manuscript. Is this why I became a librarian? Is this what has sustained me through decades of book-seeking? Yes, I freely admit to an incurable addiction to the beauty of the codex.
Listen: Director Alan Gilsenan talks The Great Book of Ireland with RTÉ Arena
Add to this a librarianly desire to share books and knowledge with others, and it has been, so as to speak, a life-sentence.
Watch: Actor Tom Hickey performs the writings of Samuel Beckett for The Great Book of Ireland
Imagine my curiosity, when in the early nineteen nineties, still a fresh graduate of UCD library school and whetted by my first job at Trinity College Library Dublin, I saw by chance on The Late Late Show some familiar faces from the Irish literary and art worlds holding open a book with the last written words of Samuel Beckett for the nation to see.
By many twists and curves of fate and chance, over two decades later in 2012 I did sign a contract of sale for The Great Book of Ireland for one million dollars
Theo Dorgan and Gene Lambert were explaining to Gay Byrne how The Great Book of Ireland had been made by hand to hold the original script and artwork of over two hundred and fifty contemporary writers and artists, how its vellum pages were bound in goatskin, how it had been tooled in gold and decorated by magnificent calligraphy. My first thoughts were: this has not happened for a thousand years… why and how had they done it? The why was quickly explained: the book was for sale in order to realise their organisations' ambitious capital development plans — at a cost of a million pounds. If I'd had the money then, I would have driven to Donnybrook to interrupt the show to pay on the spot.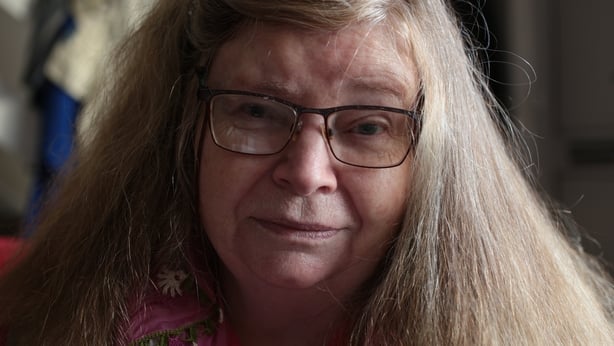 By many twists and curves of fate and chance, over two decades later in 2012 I did sign a contract of sale for The Great Book of Ireland for one million dollars, in my capacity as University Librarian at University College Cork. For the previous five years, I had travelled the world with The Great Book of Ireland and my indomitable colleague Jean van Sinderen-Law, UCC's Director of Development, to raise the elusive million from private individuals and philanthropic sources.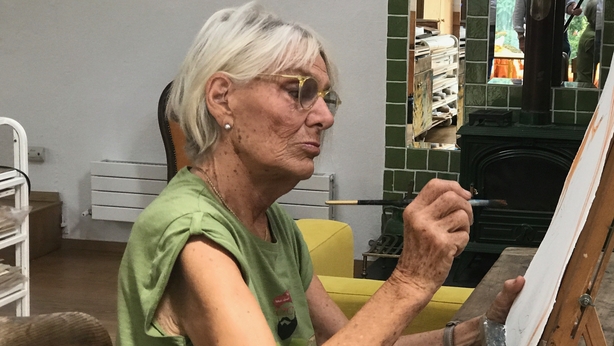 Many of those whom we met could hardly believe the names gathered together in one book: artists like Dorothy Cross, Louis le Brocquy, Pauline Bewick, Patrick Scott, Tony O'Malley , Basil Blackshaw, Rita Duffy, and poets including three Nobel Laureates, Seamus Heaney, Ted Hughes and Derek Walcott, as well as Alan Ginsberg, Carolyn Forché, Derek Mahon, Paula Meehan, Michael D Higgins and Eiléan Ní Chuillenáin.
Watch: Brendan Kennelly reads from The Great Book of Ireland
One person we met during that journey told us that he would not donate to the fund, however if we did manage to get it to Cork, he would help us with our plans thereafter. Some years after the acquisition, he generously agreed to fund privately a documentary film which would tell the story of The Great Book of Ireland to a modern audience.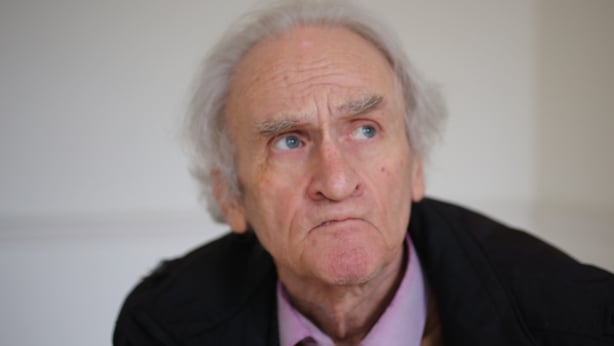 With such a fair wind in our sails, and renowned Director Alan Gilsenan at the helm, we set forth to to make something that would be as beautiful and memorable as The Great Book itself. Alan's vision was for an episodic work that would at one point or another display every page of The Book, focusing in more detail on a number of contributing poets and artists in a highly personal, almost forensic style, with the artists speaking about or showing their art and the poets reciting their work.
Watch a preview from The Great Book of Ireland
These portraits of the artists would be bound together, much like the calligraphy that unifies the pages of The Great Book, by interviews with the makers, including editors Gene Lambert and Theo Dorgan, calligrapher Denis Brown, and silversmith Brian Clarke.
Some of the musical compositions in The Book would be performed and filmed, and the UCC story would also be told as another retaining thread running through the spine of the film. The result is a highly original, and visually spellbinding work which tells the story of The Great Book of Ireland in a compelling sequence of unfolding chapters, with the whole cinematic experience every bit as creative and original and enthralling as The Great Book itself.
The Great Book of Ireland, directed by Alan Gilsenan, will be broadcast on RTÉ One at 10:10 pm on 20th August.