When theatres were closed and live art put on pause earlier this year, 15 members of Dublin Youth Theatre went online with director Tom Creed and composer Cal Folger Day to create Zoonosis - an online bedroom pop opera about lifeforms in lockdown. 
Below, creator Cal Folger-Day and DYT Members Tara O'Riordan, Milo O'Rourke, Joy Sherwood and Ciara Cochrane talk to Culture about their experience of creating Zoonosis and what to expect when you join them for the show...
If you had to describe Zoonosis in 5 words, what would they be? 
Joy: Joyful, youthful, eh funny, lol, music.
Ciara: Animals, choonz, technology, home and internet. In no particular order.
Tara: Unique, astonishing, this is not one word but a different perspective, em... joyful!
Cal: online pop-opera (about) nature & disease.
We need your consent to load this Facebook contentWe use Facebook to manage extra content that can set cookies on your device and collect data about your activity. Please review their details and accept them to load the content.Manage Preferences
How would you describe the process of making Zoonosis to an alien? 
Ciara: If I had to explain to an alien about the process of making Zoonosis; I would tell them it was... a group of individual, yet like-minded humans who gather on a piece of technology powered by the internet, so that they can all see and hear each other, even though they're miles away from each other, every day, for 7 hours at a time, to share ideas, experiences, news and make music with each other to help make something out-of-this-world but entertaining for other humans who are going through a difficult time as a whole at the moment. And if I was to explain the actual show to an alien, I would tell them it was a bunch of cave people who think that they are civilised, meet the internet. Or I would put that into a binary code translator as it might be easier for them to understand numbers rather than English.
Tara: Well, I'd say we started off with a kind of rough idea that Tom and Cal had. And we all kind of worked together, into our own experiences of lockdown, trying to look at the perspective of animals and their experiences and trying to live through that and make art out of it… So, we used Zoom a lot to go on to meetings and work out our ideas, we worked out a lot of music techniques through Zoom, through Cal. We've met up a few times in person to learn some movement, we've used different locations to film, and that's about it. Yeah, it's just been a really unique process.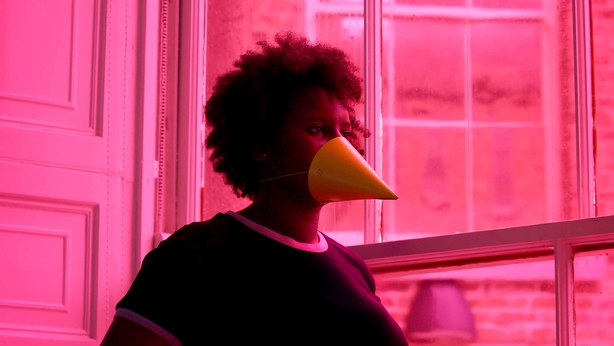 Cal: You'll need a shiny box that connects to the human internet. Share sources and ideas through recorded representations (graphics, text, audio files). Generate variations on and development of those kernels with the resources available to you where you are located. Document and distribute them through the same channels of preservation. Assemble the strands and present it to the rest of the species.
Joy: It's basically like, well if they are an alien, would they have seen a normal theatre show? So it's kind of like a film, if they've seen that, but it's very like go with the flow, very abstract and interpretive
How would you describe your experience of making Zoonosis?
Milo: A bit stressful, but very rewarding, interesting and exciting… There was some recording in the studio Cal set up in DYT, zoom calls and my phone.
Cal: We remember what it was like to rehearse in person, and despite the obvious changes in methodology, there really is more consistency about this experience of developing a show, than there is difference, for me. Any sense of isolation or stillness has been completely abolished for me over the last 6 weeks. I can't believe how much fun it is to make music and put on a show with a bunch of people, under any circumstances.
Ciara: My experience of making Zoonosis has been extraordinary. Coming into this experience was at first really confusing but watching all of our hard work come together has been so rewarding.
Joy: Good. I think it's really good to have a little insight into the bigger industry, the more professional industry because there's loads of challenges, but it's not like school or college - they seem a bit more of an effort. This is more because you really enjoy it, it's a challenge but it's enjoyable.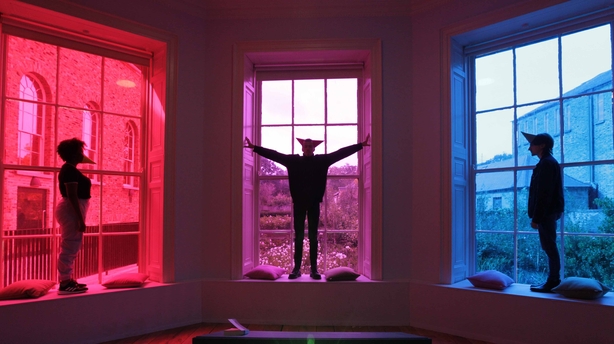 What should the audience of Zoonosis expect?
Joy: A lot of interpretive images and stories. I'd say maybe really listen to the words, if you're confused about what's going on.
Milo: Something interesting, it's going to be interesting.
Tara: It's like nothing else, it's unreal!
Cal: We looked for patterns in the ether about how the human brain was processing the anxiety of pandemic and lockdown. So a lot of the content is actually going to seem very familiar! We wanted to take the fullest possible advantage of the form rather than having a "making do under the circumstances" attitude, and the internet is by its nature interactive, so be prepared to click and explore… It is going to feel like a tsunami of words when you experience the show. We hope that Zoonosis acknowledges the anxiety we're all feeling but also kind of gives people a back door to run out and get a breath of fresh air.
What has been your favourite thing about this experience? 
Cal: The learning curve between what we were capable of generating in an hour between the first week and this week (week 6) feels like we're the first bread slicers! With any big shift in practice or perspective, you recognize what's essential and what's stale in your own system of systems. When any of us make things together in rooms again, our approaches will be completely informed by the experience of making Zoonosis, I think.
Milo: My favourite thing about Zoonosis is the fact that we put so much into it, and that the actual cast have done so much and worked to create something… that's the best thing.

The Zoonosis website goes online from 8 pm on Wednesday, August 12th with a live introduction by the cast - go here for more information and tickets.
Images: Mark Stedman