Nathan Walsh documentary recounts the extraordinary story of his sister, Radha and her friend, Helen, and their time spent with the Hare Krishnas - listen to The Deadly Saris above. 
"The Deadly Saris" began life as a quick fix for a looming college deadline. I was studying radio production at Ballyfermot College and, with a growing sense of panic, realised I didn't have enough time to produce the historical documentary I had been researching.
Fortuitously, our tutor Brian played for the class the much-beloved 'Doc on One' production, "Don't Go Far."
As I was listening, I realised that the documentary, although expertly-crafted using music and sound effects, was primarily constructed around a single interview – that is, something that could be done in a relatively short time.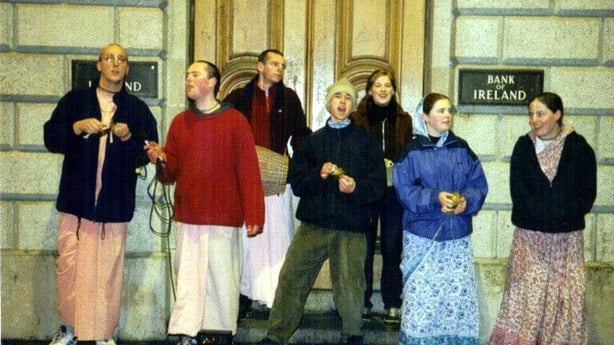 As soon as I left the class, I phoned my sister Radha and pleaded with her to do an interview about her time with the Hare Krishnas. Straight after, I phoned her best friend Helen.
Radha and Helen have been a double act ever since they first met each other 30 years ago.
As teens they were always clowning around, so it didn't seem that strange when they first started hanging around with the Hare Krishnas.  Yes, everyone in our gang thought it was a bit mad, but then again, we had always thought that they were a bit mad. Surely this was just another phase, a minor chapter in the Radha and Helen show?
Very quickly, however, it became apparent that this wasn't just a passing thing. They weren't just hanging around with the Hare Krishnas – they were Hare Krishnas. Over time they began to spend less time with our gang, and more time in the temple. Eventually, they withdrew entirely from their former lives.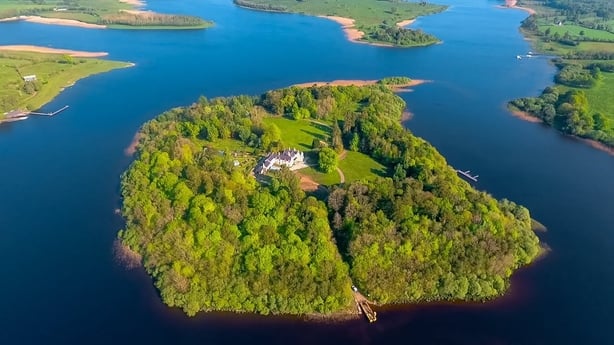 I had always known the basic contours of their story as Hare Krishnas, but it was only during the interviews that I realised how little I had actually known. During my 20s I was living in the U.K. and had largely lost contact with both of them. By the time we reconnected in our 30s, they had drifted away from the Hare Krishnas and the topic rarely came up in conversation.
So, it was a real eye-opener for me when they began telling me the stories of their early days with the Hare Krishnas, their lives living as nuns on Krishna Island, their first trip to India together, and their lightning-quick marriages to Indian devotees. And, luckily for me, they were brilliant at delivering these tales for the microphone. In the studio they bounced off each other, and the hilarious chemistry that has always characterised their friendship was captured beautifully in the recordings.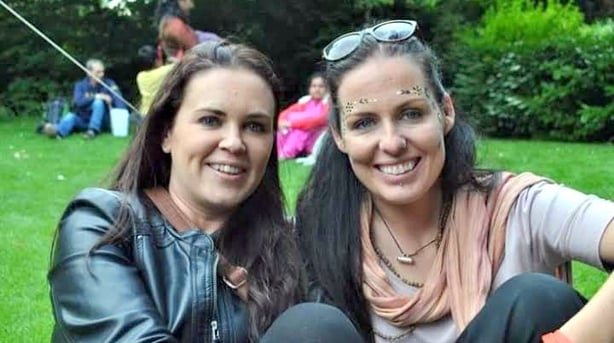 In the end, I managed to get my 30-minute college documentary completed on time. Sure, it was rough around the edges and shorter than I had wanted, but it was done.
I promised Radha and Helen that, in the future, I would return to it and create a full-length version that the story deserves. I even reached out to Ronan Kelly at RTÉ for tips on how to expand it. But I never quite got around to doing it. So, when Ronan called me during lockdown about giving it the 'Doc on One' treatment, it was the perfect opportunity. And also fitting: Ronan produced "Don't Go Far," the inspiration for "The Deadly Saris."
The Documentary On One - The Deadly Saris.  RTÉ Radio 1, Saturday, August 8 at 1pm and Sunday, August 9 at 7pm