We're delighted to present an extract from Love Notes From A German Building Site, the debut novel by Adrian Duncan, published by Lilliput Press, winner of the inaugural John McGahern Annual Book Prize.
Paul, a young Irish engineer, follows his girlfriend to Berlin, and begins work on the renovation of a commercial building in Alexanderplatz. Wrestling with a new language, on a site running behind schedule, and with a relationship in flux, he becomes increasingly untethered.
Set against the structural evolution of a sprawling city, this meditation on language, memory and yearning is underpinned by the site's physical reality. As the narrator explores the mind's fragile architecture, he begins to map his own strange geography through a series of notebooks, or 'Love Notes'.
---
Prologue
Evelyn and I arrived in Berlin in late November. Our tram eased to a halt across from our apartment block on the northeastern edge of the city, and we disembarked. It was dark at that stage.
Power lines sparked as the tram trundled away and rounded a corner in the distance. We lugged our bags through a courtyard while snow drifted down onto the shin-high landscapes of slush edging the perimeter. My hands were cold.
I'd an early start the next morning on a building site in the middle of the city. It was the first day of a short contract, and would be my last job as an engineer.
Next morning Evelyn accompanied me into town. The U-Bahn, dotted with dozing passengers, rushed past the city's pastel-coloured facades. Evelyn gazed out placidly as the sunlight, which was low and distant, fell across her face in intermittent flickers and bursts. Strands of her dark hair had fallen in bright loops from under the cuff of her white bobble hat.
We found a quiet café near the site, where we had a coffee and shared a croissant; then we went our separate ways.
That evening I got home late, and fell asleep on the couch beside her as we sat up listening to music on YouTube.
Part 1 - November
The second morning on site was a Friday, and it was dark, cold. I stood at the rear entrance to the property we were refurbishing, a low-slung building on the far southern edge of Alexanderplatz, waiting for Shane, a junior engineer who was here with our boss, Gerald, to prepare the place for the influx of subcontractors. Shane was a tall overweight young man from the Midlands – affable if at times gauche, but I grew to admire him over the course of the job. I gazed at the chunks of modernist real estate across the way, their exteriors reflecting the light from the street, then Shane rounded the site hoarding with a set of keys in his hand and some drawings tucked under his arm, and bade me towards the entrance of the building.
The place was a degree or two colder than outside. Glinting drips of water plopped throughout. It was a space constructed with square concrete columns supporting concrete slabs, and it smelt damp and unused. Six lamps, in a crooked receding pattern, drew the eye back into a sweeping brown darkness. The cables between the lamps traced drooping curves into the space, like diagrams of how the structure worked. We walked to the nearest lamp and Shane opened out his drawing so I could orient myself. The lift shafts, usually a good touchstone, had not yet been built. When I asked, Shane led me to the side of the floor where a rectangular section of slab had been removed. A series of steel props stood around the edges. I stepped between two and peered down at another rectangular opening below, then another, and it seemed this decreasing series of absences could have continued indefinitely were it not for the oily twinkle twenty metres farther down, in what would eventually become the lift pit. I looked up, through another propped void, then another, and beyond to the concrete ribs of the underside of the second-floor ceiling – the roof of this near-forgotten commercial property.
'Game consoles will be on this floor,' said Shane, 'games, computers, cameras,' thrusting a dirty finger at the plans. 'TVs on the top floor and above this kitchen appliances and the like,' and he peered around, 'hard to imagine.'
Each floor was enclosed with block walls, but ones that did not correspond with the level above. When we ascended a stairwell, from the rear corner of the ground floor up to the first, we were deposited at a ninety-degree angle to where we had entered below, and instead of being in the corner of a floor we were in the middle of a much larger one surrounded by an expanse of shadowy columns that seemed to belong to a totally different part of the building.
An hour later, by the time we'd made our way down to the second basement, the bottom floor, I was utterly lost – as if my short-term memory was being cleared each time I emerged from the frigid staircases.
Shane was plodding quietly alongside me.
'I'm confused,' I said.
'Gotta take a leak,' he replied, and veered off, unbuttoning his pants as he went. He turned behind a column a few bays away and I could hear his piss spatter against the concrete.
I slumped at the base of the column nearby, pulled my old Nokia phone out and shone the wan display at the four columns immediately to the north, south, east and west of me – a cruciform of concrete poured in communist times. The cruciform pattern was multiplied throughout this floor, and duplicated on the floors above.
Shane reappeared, and as we continued on, a vertical line of light materialized, edging a great volume of near-darkness from which came small mechanical clicks and human grunts. We walked down a corridor and rounded the corner to find a wiry middle-aged man, who looked to be eastern European, hunkered down and pouring petrol into a mechanical cutter. It resembled a wheelbarrow but had a serrated blade as a wheel. A fluorescent tube beamed on the ground nearby, casting garbled shadows on the wall behind. The rest of the place was black except for a lamp dangling somewhere at the far end of the floor. The man looked at us, then went to the other side of the machine, and started it. It rumbled and built to a steady roar. Waves of burnt petrol wafted towards us. I knew the sound these machines made when the blade met concrete – an emphatic whine that seemed to resonate with the natural frequency of at least one my organs, and this sound, apart from rattling my eardrums, always made me feel ill.
I turned to Shane, stuffing my fingers into my ears and shouted, 'I've seen enough, let's go back to the cabin.'
The whine reverberated through the site, growing and receding as we climbed out of the building. It echoed in the stairwells, pealed across the floors, and when we passed the opening in the slab we'd peered into not an hour before, the yowl bloomed like a flower of noise, until we reached the exit, by which time it was relenting – and I was glad when we got back to our bright engineers' office, where I sat, removed my helmet and rubbed my head.
Our offices comprised six yellow cabins in three stacks of two at the top of a long, broad concrete ramp leading down to the west side of the lower ground floor of the building. Gerald's cabin was next door to ours. I'd seen him briefly the day before, pulling a roller suitcase behind him. He was tall, blond-haired and from Donegal. He, along with a number of others, had been taken on by this large British construction company who were snapping up out-of-work and desperate Irish engineers, managers and tradespeople to work on short-term contracts in far-flung cities in mainland Europe.
Shane, sitting at the end of the cabin eating a banana, peered at his phone then chucked it onto the table and said that Gerald wanted to see me.
'The f**ker's in bad form,' he said, 'something's gone wrong in Leipzig; it's another one of these, just bigger.'
Gerald looked up as I entered his cabin. His hair, parted neatly, was swept across the top of his forehead, and he wore a pressed sky-blue shirt. He looked at me for a moment, as if he wanted to kill me, then he stood, smiled, put out his hand and said, 'Paul, good man, thanks for coming in. Get a seat there, I want a quick chat.'
We exchanged no further pleasantries, instead he quizzed me about my lack of site experience and frowned as I spoke, his green unblinking eyes judging my utterances and gestures. As I described the portfolio of buildings I'd designed over the previous fifteen years or so, I thought this was not a person with whom to try to gain an upper hand. He was a clever man who worked hard and expected others to take the world as seriously as he did, and, if you didn't think from the present and directly into the future of a project, you were usually wasting his time. He told me about our German-Irish clients – an electronics and appliances retailer – outlining to me not only the scale of this refurbishment but also their plans for expansion through eastern Europe. He explained the hours on site would be long, but that if I did well there'd be more employment on the horizon.
'And how's it looking out there now?' he asked, pulling his iPad from its sheath.
'It's a nice big job,' I replied.
'Are the lights up?'
'Just three left.'
'Get those up today,' he said, 'it all kicks off here on Monday and we have to be ready for the subbies.'
His accent was an ironed-out Donegal one that was probably once quite strong, but he must have realized that to become successful at management level he'd have to shift it east a couple of hundred miles towards Dublin, or at least towards the Midlands where it could flatten into the bogs. He was a middle manager at this time, but if he wished to climb further up the line then he'd have to decide whether to bring his accent further east to England, or develop it well out west, somewhere in the mid-Atlantic, where the floating voices of New England fishermen – fathers of a future management class of Boston, New York and Philadelphia – could inflect it. Then Gerald could begin to naturally corral phrases like 'I guess', 'for sure' and 'going forward' into his management-speak.
'Grand,' I said.
He looked at me. 'I want you to get a hang on the structural stuff out there – the lift shaft; it's a fucking mess, bring that together for me, okay? And have you much in the way of German?'
'I did a bit in school.' 'You better start remembering it,' he laughed, 'the company fabricating the structures are local, so prepare … and before you go, I've a phone for you,' he said, handing me a smartphone, 'and when I call you on that, you better f**king take it. 'Cos I'm calling you for a reason, okay?'
'Fine,' I said.
He looked back at his iPad and I assumed he was finished, so I got up to leave.
'Good man,' he said, 'and don't bother come in tomorrow or Sunday, but rest the body for Monday. We go then, and we don't stop till we stop.'
'Very good,' I replied, as I stepped down from his cabin.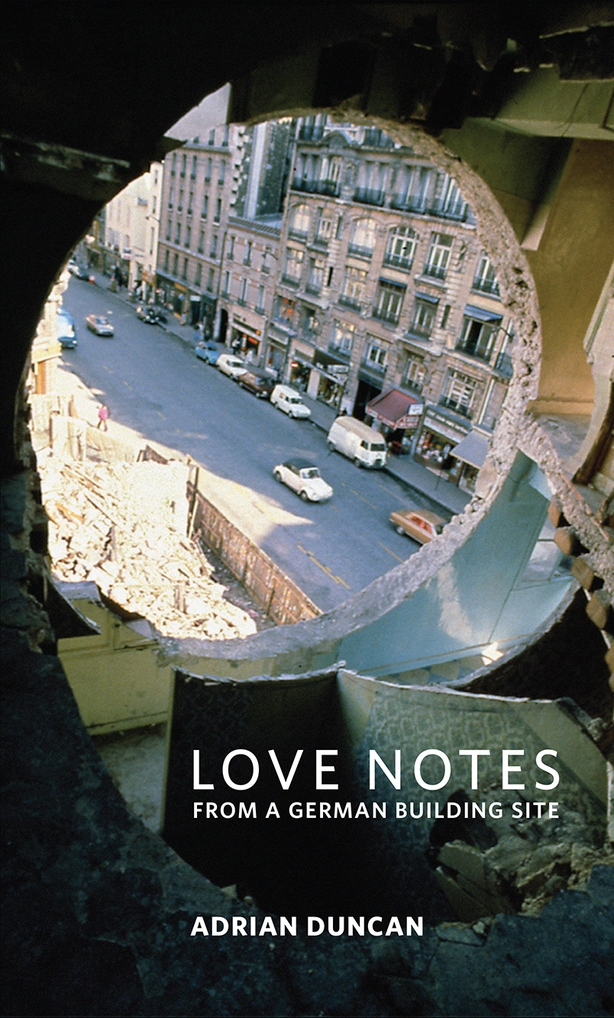 Love Notes From A German Building Site by Adrian Duncan (published by Lilliput Press) is out now.