On Bloomsday 2020, President Michael D. Higgins will host, at Áras an Uachtaráin, what will be the first in a series of cultural performances that will highlight Irish art and creativity and make a call to support artists and performers at a time of crisis - the performance can be viewed on RTÉ News Now and at RTÉ Culture.
The ongoing Covid-19 crisis has posed a fundamental threat to the arts, as measures necessary for the containment of the virus have led to the closure of so many sites, venues for events, the limitation of access to museums, theatres, libraries and heritage sites, and the resulting loss of income for countless workers in the arts.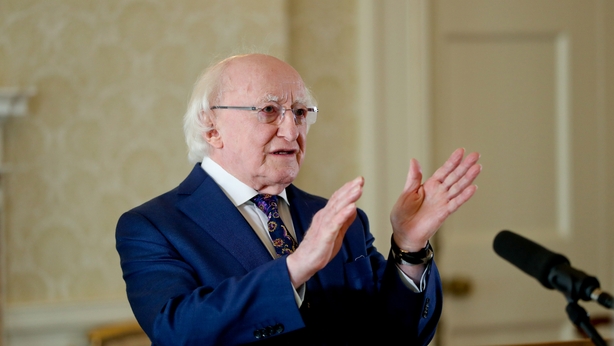 The Bloomsday 2020 programme of events at Áras an Uachtaráin will include performances from Lisa Lambe, Simon Morgan, Clare Barrett and Noel O'Grady, and a speech by President Michael D. Higgins.
This initiative is part of President Higgins' wider "Samhlaíocht agus An Náisiún / Imagination and the Nation" initiative, highlighting the powerful and transformative role of the arts, creativity and innovation.
The Bloomsday programme will be streamed online on RTÉ News Now and at rte.ie/culture from 3pm on Tuesday 16 June 2020.