To celebrate Cruinniú na nÓg 2020, the National Parks and Wildlife Services and Galway Atlantaquaria are inviting 6-18-year-olds to become Marine Broadcasters - watch a selection of videos below!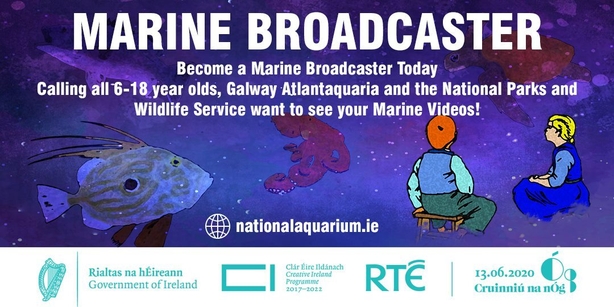 Join Hugo Johnston as he searches for Mermaids' Purses on the shore. See some of the different types of shark and skate egg cases we get on our beaches, and find out where the name mermaids purses may have come from...
Talk a walk with Liya Walsh as she looks for seashells on Grattan Beach in Galway. Explore different types of seashells and how they can be used to make pictures and patterns in the sand...
Meet Nathan Walsh, as he discovers the wonders of seaweeds from Padraic Creedon at Galway Atlantaquaria. Find out how seaweed can be used in food and for relaxing in the bath...
Join Amy Shimizu as she collects sea anemones on the shore in Salthill. Look at their colours, learn about their relations, and how survive on the harsh sea shore environment.
Join Roisin Dorney as she searches for crabs in the rock pools on the shore. Take a look at the underwater world, enjoy a closer look at shore crabs and find out how you tell boy and girl crabs apart...
Find out more about Cruinniú na nÓg 2020 here and via RTÉ Learn.