Every year, in a little Norwegian town, a race starts. It's one of the toughest dog sled races in the world, dominated by rock hard Nordic men. In 2019 someone different turns up at the start. She's 5'1", 35 years old and she's racing for Ireland...
Programme maker Donal O'Herlihy writes for Culture about his latest Documentary On One production, The Long Run - listen to it above.
In the middle of 2018 a Londoner by the name of Emma Gilbert pitched an idea to the Documentary on One team. Emma had a friend who had taken a path less travelled in life. Actually, when I say less travelled, this path hadn't been travelled at all. Her friend (who was born to Irish parents with a farming background) and grew up in their pub in North London, had become a full time Nordic huskie musher and was about to take on one of the world's toughest endurance dog sled races.
I sat up in my chair and looked at our unit head, Liam O'Brien. It must have been the yearning expression. I really, really wanted this one.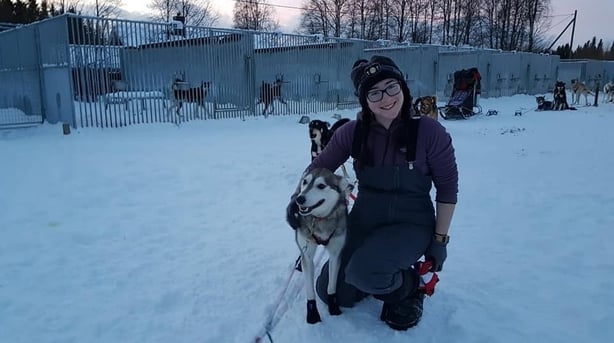 That moment was the first time we'd heard of Helen Mullane. Five years previously, Helen was working in the film industry in London. She was burning the candle at both ends, working ridiculous hours on all sorts of projects and, as comes with the territory, partying hard.Like so many in that game she was frizzling out and, as so often happens at moments like these, a fork in the road arrives.
Her friend gave her a gift of a trip to Norway. They both went and in the local tourist office, saw a leaflet for a sled ride pulled by huskies. They thought it sounded so ridiculous it might be a laugh. So off they went. It was to change Helen's life utterly. She was enraptured by the experience of the dogs - working together as a unit - pulling sleds through the frozen North.
Helen is going to take on forty of the top teams the sport has to offer. Very few give her a chance of finishing. Even for experienced teams, there's no shame in dropping out.
She went home and tried to settle back into the rat race. It was no good. She's been bitten by the most unlikely of bugs. A year later she was back in Norway, this time working on tours and via a number of countries (she was deported from Canada!) ended up in 2017 in rural Sweden as the apprentice of Petter Karlsson, one of the world's heavyweight mushers (the name used for the humans who drive the husky teams)
After learning the ropes, Helen arrived at the beginning of 2019 ready to give one of the biggest challenges in the world of dog sled racing a go; the legendary Femundlopet. 650 kilometres through the frozen wilderness of Norway. It's raced by huge weather-beaten, bearded Nordic men. Hardy souls. They are born to sled race endurance. It's in their blood. Many, as children, will have sled miles to a grandparent's house just to drop supplies.
At this point I should describe Helen. She's 5'1". She wears glasses. I should also mention she competes under the flag of Ireland – a country with no earthly business being at the beginning of one of the biggest professional dog sled races in the world. Helen is going to take on forty of the top teams the sport has to offer. Very few give her a chance of finishing. Even for experienced teams, there's no shame in dropping out.
The Long Run tells the story of the week of the race. Liam and I arrive in the dark to Helen's home in Slussfors, a tiny townland in rural Sweden. It's the farm of Helen's mentor and boss Petter Karlsson which doubles as a training camp for the huskies. When we arrive it's minus 17 degrees and we know we were into something serious here. It's an extreme and hostile environment, bitter temperatures with snow banked eight and ten feet high on the sides of the small roads. Without the right clothing and specialised tyres on your car you'd have no chance of surviving it. Even the battery packs in our recorders are lasting a fifth of the time. I make the mistake of taking off a glove to change one. It's some hours before I get any feeling back in my hand.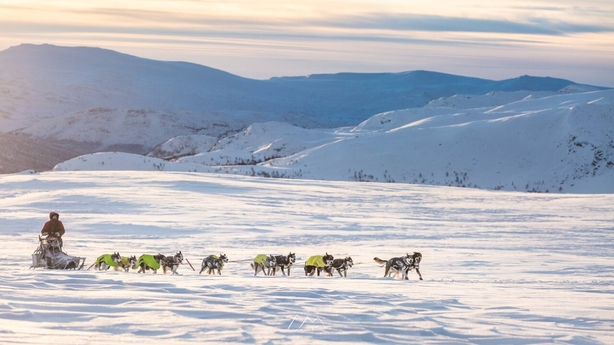 We spend two days with Helen before making the day-long journey to Roros in Norway for the start. By the time Liam and I get there we've witnessed a bond between Helen and the team of twelve dogs who will take on the ordeal with her, that we've rarely seen. A bond of deep trust and mutual respect between musher and dog. The thirteen of them working together as a single unit.
Roros is sublimely beautiful. The Disney film Frozen is set here and the characters are based on real-life locals including Kristoff and yes, his eccentric reindeer Sven. But happens next is anything but a fairy tale.
Helen is called to the line. She turns heads. The diminutive, bespectacled woman racing under the tricolour of Ireland. She's counted down… five, four, three… and she's off. Up the one and only street in Roros, filled with thousands of spectators, lights, laughter and warm glogg. She turns right. And into 650 kilometres of pure wilderness at 20 degrees below.
If you think I'm going to spoil what happens during the race I won't. Suffice it to say don't build up Helen for a win. She isn't in the race for that reason. She's in it because conventional wisdom says she'd go once up the street it Roros, turn right and sled back to some hot food and her warm bed.
Helen wants to prove conventional wisdom wrong and her dogs right.
So does she? Well, enjoy the doc!
Documentary On One: The Long Run, RTÉ Radio 1, Saturday 13th June at 2 pm, and Sunday 14th June at 7 pm - listen to more from Documentary On One here.