Walking is something we have all been clocking up so much more of in recent months, and so chiming with Bloomsday RTÉ Arts and Culture has commissioned a series of short essays taking in one of the central activities of James Joyce's Ulysses – the stuff of walking about.
Below, read the contribution by writer and critic Cristín Leach, and watch an extract above.
Three of my lifetime's first kisses to date took place as we walked, or rather in places we stopped as we walked: standing beneath the rustle and shelter of on overhanging hedge; on a city river quayside, against the cold, dark, stone; in a car park, both drenched with rain.
When I think about couples walking, I think about first kisses, and holding hands, but also this: when we walk we talk, and when we walk and talk, we speak of different things to the kinds of things we say out loud when we are face to face. Stopping to kiss is a punctuation in the conversation that happens when two people are moving forwards, getting to know each other, propelled by the rhythmic motion of feet, walking companionably perhaps into a life together.
When we walk we talk, and when we walk and talk, we speak of different things to the kinds of things we say out loud when we are face to face.
James Joyce and Nora Barnacle walked together on their first date on June 16, 1904. They covered some ground around Dublin's Ringsend. Did they kiss? According to Joyce's later account, they did more than that. He said she unbuttoned his trousers and "made me a man". He went on to set his most famous piece of writing, the novel Ulysses, on that day: June 16, 1904. Was this a tribute to Nora? Or an official marker for himself of a day that altered the course of his life? Theirs was a walk that almost didn't happen; Nora hadn't turned up on the first agreed date, June 14.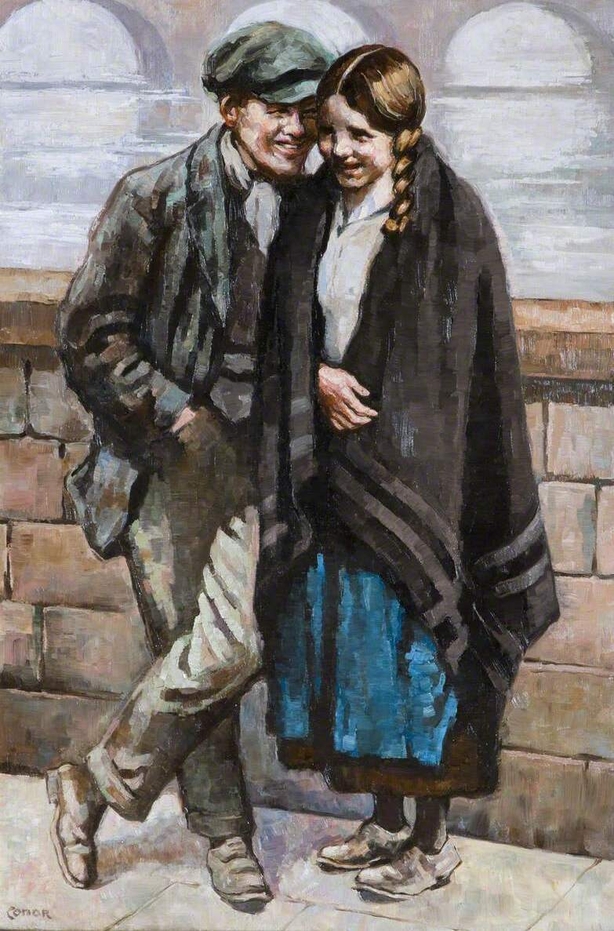 My walks are not celebrated in anniversary or novel form. I don't remember the dates, but I do remember the feeling of walking out with someone you might eventually chose to journey with on a longer path, the feeling of holding hands, the first kiss. I've looked for that feeling in Irish art and Irish art collections, but it's not easy to find. Perhaps it is not an easy feeling to depict.
Harry Kernoff's Couple Walking From Behind, a 1930 sketch in the collection of the National Gallery of Ireland, catches a passing moment, more purposeful stride than leisurely stroll. In the Ulster Museum Collection, William Conor's Coortin', painted in 1922, shows a young couple, heads bowed together, giggling, as they stand by a Belfast quayside wall. Posted on Instagram in 2018, almost a hundred years later, Kelly Ratchford's 'Because you're mine, I walk the line', depicts a rudimentary couple in matching tops and bottoms, holding hands, their eyes low in their enormous heads.
There is something about being together outside that also presents the couple as separate from the rest of the world. Their public-private journey is human-scale and intimate. It often involves a first linking of hands. In 2012, the late Irish artist Janet Mullarney showed Talisman at the Taylor Galleries, a sculpture in which two aluminum arms emerge upright from a Perspex box, their little fingers entwined. It's a gesture of companionable togetherness, hand-holding together, apart.
The artist Rhona Byrne makes wearable art called Huddlewear. It forces couples and groups, into certain physical configurations. As Ireland went into Covid-19 Lockdown in March 2020 she posted images of connected caps that could enact the two-metre distance rule for couples outdoors, on Instagram and Twitter.
On March 24, 2020, Ratchford updated the notion of a couple, chiming with the current clime when she posted Caution, a pencil drawing in which two figures stand, armless, staring, apart. The prospect of walking together outdoors has become complicated in 2020. The very notion of first date walks and kissing is out.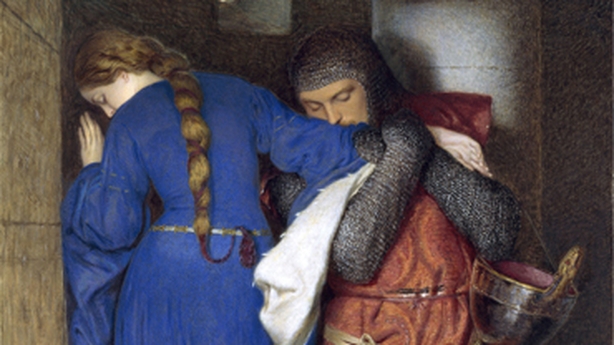 The most popular image of a couple stopping to kiss, in an Irish public collection, is Frederic William Burton's The Meeting on the Turret Stairs (1864), in which Hellelil and Hildebrand embrace while passing in transit. Couples walking do not loom large as a motif in Irish art collections, or in Irish art. Joyce and Barnacle began to form a life-long bond they day they walked out. They left Ireland that year and lived together in Switzerland, Austria, Italy and France before marrying in London in 1931. They stayed together until Joyce's death in 1941.
When I think of their walking date, I think mostly of the work of the Ukrainian-born Irish street photographer Arthur Fields. From the 1930s to the 1980s, he captured more than 180,000 images of pedestrians on Dublin's O'Connell Bridge, among them, many couples. Their footsteps on the Dublin streets echo those of Nora and James, some starting out, some carrying on a lifelong journey that might have begun with a first kiss, on a first walk, on a date.
Cristín Leach is a writer, broadcaster and art critic. Her four-part documentary series Ireland Portrayed will be rebroadcast on RTÉ Lyric FM starting on June 21st. Her short story Yes I Said Yes is published in Winter Papers 3.
Compiled by Clíodhna Ni Anluain