Kathy Scott of The Trailblazery writes for Culture about a unique act of kindness that has resonated for over a century and inspired the latest edition of the HedgeSchool online learning series, which begins on June 1st.
An outdoor sculpture titled Kindred Spirits in Midleton, County Cork (pictured above) commemorates the link between Ireland and Native Americans. The sculpture by Irish artist Alex Pentek is a stainless steel structure of eagle feathers forming a circle and represents the gift of a bowl of food.
Kindred Spirits commemorates the 1847 donation by the Native American Choctaw People to Irish famine relief during the Great Hunger, despite the Choctaw themselves living in hardship and poverty and having recently endured the Trail of Tears. Irish donors are now citing that gesture as they help two tribes during the Covid-19 pandemic.
The story of the Choctaw's donation to Irish Famine victims is an extraordinary one. In 1847, the Choctaw community collected $170 to send to the Irish victims of the Famine – a sum equivalent to approximately €4,000 in today's money. The tribe had suffered grievously during its Trail of Tears, a forced relocation to Oklahoma, and empathised with Irish people enduring misery and starvation more than 4,000 miles away.
Watch: Choctaw Nation member LeAnne Howe on the Choctaw Gift of 1847
We need your consent to load this YouTube contentWe use YouTube to manage extra content that can set cookies on your device and collect data about your activity. Please review their details and accept them to load the content.Manage Preferences
About one million Irish people died of hunger or disease from 1845 to 1849, and another million emigrated. Over the last 170 years, the Irish have remembered this gesture of generosity from distant strangers. In 1995 Mary Robinson, Ireland's then-president, visited Oklahoma to thank the Choctaws, a pilgrimage repeated by Leo Varadkar, the current Taoiseach, just before St. Patrick's Day 2018, where he addressed the Choctaw Nation in Oklahoma:
"A few years ago, on a visit to Ireland, a representative of the Choctaw Nation called your support for us 'a sacred memory. It is that and more. It is a sacred bond, which has joined our peoples together for all time. Your act of kindness has never been, and never will be, forgotten in Ireland."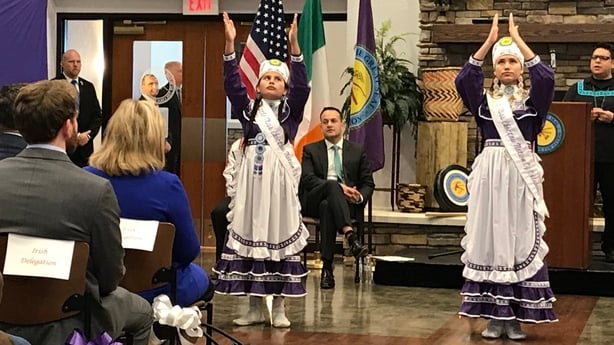 And now after 173 years, the people of Ireland are returning a favour to the Choctaw Nation who supported the Irish during the famine. People from Ireland have been sending money through a GoFundMe page set up to help Navajo and Hopi families during the Covid-19 pandemic with many of the Irish donors saying it was a way of saying thank you for the support shown to Ireland during the Great Famine.
According to the New York Times, the list of recent donors reads like an Irish phone book. Aisling Ní Chuimín, Shane Ó Leary, Sean Gibbons, Kevin Boyle, Kevin Keane, Clare Quinn, Eamonn McDonald, on and on down a GoFundMe page that has raised $4.14 million so far, in sight of their $5 million goal.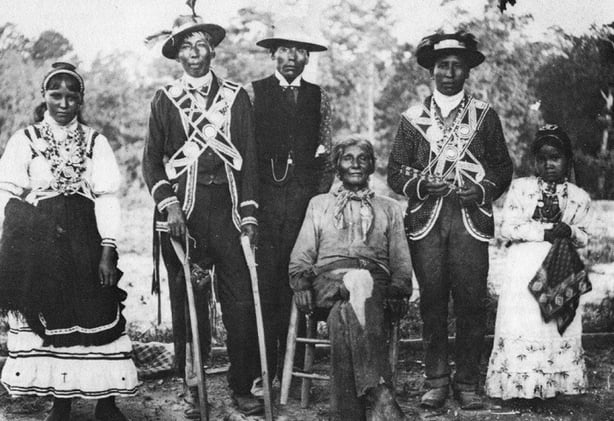 The story behind the donations stretches back two centuries and encompasses a singular act of generosity that forged a bond between Native Americans and Ireland, a bond now renewed in the coronavirus era. A message from Irish donor, Pat Hayes, sent from Ireland across the ocean, affirms this connection:
"From Ireland, 170 years later, the favour is returned! To our Native American brothers and sisters in your moment of hardship."
Adversity often brings out the best in people, the Choctaw tribe said in a statement. "We are gratified – and perhaps not at all surprised – to learn of the assistance our special friends, the Irish, are giving to the Navajo and Hopi nations. Our word for their selfless act is 'iyyikowa' – it means serving those in need." The Choctaw and Irish had become kindred spirits since the potato famine, the tribe said. "We hope the Irish, Navajo and Hopi peoples develop lasting friendships, as we have. Sharing our cultures makes the world grow smaller."
The story of the Choctaw's donation to Irish Famine victims is an extraordinary one.
This incredible story will be explored and celebrated at HedgeSchool – an online learning experience created by The Trailblazery, a cultural agency in Ireland. HedgeSchool is a virtual home school for people around the world to find, share and generate culture, community, ideas, creative practices, resources and meaning-making for our emerging future. While we are rooted in Ireland, we are tapping into a universal human need for authentic connection and belonging.
So in a nutshell, this has an Irish drumbeat that carries a global resonance.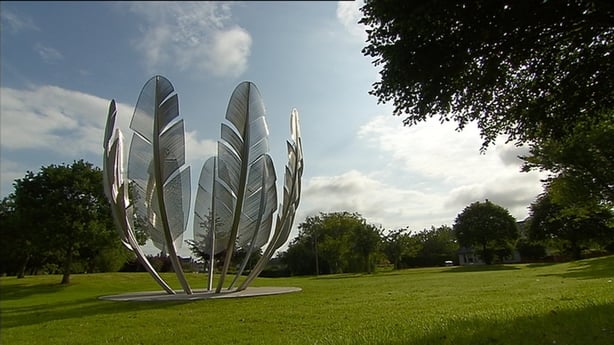 Our next HedgeSchool online learning series (running from June 1st to June 19th) starts in Ireland and then follows our relationships with the Choctaw Nation, who supported the Irish people during the famine. The Choctaw's extraordinary act of charity has a lot to say about nation-to-nation relationships. To those of us alive today, it is a salient reminder that we live in an interlinked global village. LeAnne Howe from the University of Georgia, reminds us of that fact when she notes that the word "ima", which means "to give" in the Choctaw language, carries the connotes that there are "no strings attached".
Leanne Howe (Poet, writer, filmmaker and member of the Choctaw Nation) and Padraig Kirwan (Lecturer in the Literature of the Americas at Goldsmiths, University of London) will explore this extraordinary act of charity at HedgeSchool. Other Guides include Marian Dunlea (Jungian analyst, somatics practitioner and author), James O' Dea (Irish-born activist, author and educator) and musicians Margie Jean Lewis and Ruth Smith.
Find out more about The Trailblazery and HedgeSchool here.