And how was your week?
In case you've made enough banana bread, we have some choice cultural pickings to keep your brain busy for the next seven days...
UCD FESTIVAL @ HOME
Like many Irish festivals, the annual UCD Festival has pivoted to a digital-only event with a free virtual programme of events exploring arts and culture, health and wellness, science and the environment. The formidable lineup includes (deep breath) Colm Toibín, Mark O'Connell, Rick O'Shea, Jonathan McCrea, Dave Rudden, Helen Cullen, Jessica Traynor, Anne Enright, Prof Margaret Kelleher, Fiona McEntee, Prof Ellen Rowley, Johnny Sexton, Cliona Crammond and June Caldwell, among others. Running from May 21-23, book yourself a front row seat (and yoga class as gaeilge) here.
Dust off your cúpla focal and blow away the cobwebs with Yoga as Gaeilge, as part of #UCDFestival!

Join @ucdgaeltacht yoga tutor Ciaran Mac Fhearghusa for a slow-paced class, designed to help ease tension and tightness.

Táimid ag tnúth go mór leis!https://t.co/XhJFC4WJ7T pic.twitter.com/9Hb1hjCRGZ

— UCD Festival (@FestivalUcd) May 20, 2020
BEO AR ÉIGEAN ON RTÉ RADIO 1
The popular RTÉ podcast as gaeilge with mad buzzers Siún Ní Dhuinn, Sinéad Ní Uallacháin agus Áine Ní Bhreisleáin makes its welcome RTÉ Radio 1 debut this Saturday May 23rd) at 8 pm - catch up with Beo Ar Éigean classics (there have been over 120 epidodes to date) here.
Bródúil as #beoaréigean a thabhairt chuig an bpointe go mbeidh mise, @SNiUallachain agus @AineEibhlin anois ar @RTERadio1 go luath. Tá muid ar bís agus chomh buíoch dár gcuid éisteoirí dílse 💖✨💖 pic.twitter.com/2Ffz3s0Qpz

— Siún Ní Dhuinn (@Siuners) May 13, 2020
A STREETCAR NAMED DESIRE
The UK's National Theatre have been making a number of their classic productions available to watch online - this week, it's the acclaimed production of Tennesse Williams' timeless masterpiece, starring Gillian Anderson, Vanessa Kirby and Ben Foster. Watch it from 7 pm on Thursday 21st - see below.
MUINTEOIR LENNY
Meet the newest recruit to RTÉ's Home School Hub, the Oscar-nominated director of Room, Garage and Normal People - Lenny Abrahamson has been offering Ireland's young people a handy guide to film studies. Do your homework here...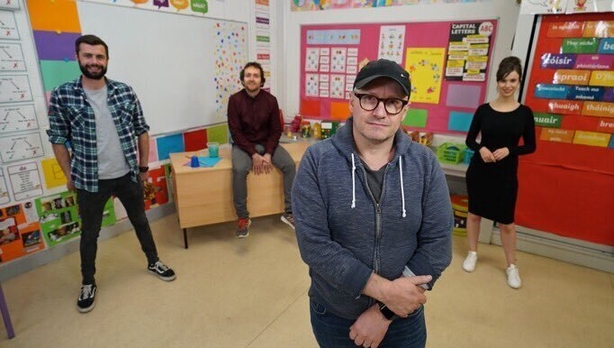 THE LAST DANCE
Forget Tiger King - Netflix's biggest documentary to date is this epic overview of the career of basketball legend Michael Jordan, with particular focus on his last season with the Chicago Bulls. If you're not a b-ball fan, it doesn't matter - this is gripping storytelling on an epic scale.
CONVERSATIONS WITH FRIENDS
Now that Normal People has become a cultural phenomenon, it's time to go back and revisit Sally Rooney's debut novel, published three years ago this month. The team behind Normal People the TV show - BBC Three, Element Films and Muinteoir Lenny Abrahamson (see above) - are developing it for the box.
BECOMING - KAMASI WASHINGTON
New music from the mighty Kamasi is always a welcome thing - his soundtrack to the new Michelle Obama documentary offers a perfect introduction to one of the major jazz talents of the modern age.
RICHARD E. GRANT REVISITS WITHNAIL
The incomparable Richard E. has been keeping us all entertained with daily one-liners from the film that put him on the map, Bruce Robinson's 1987 cult classic Withnail & I. To date, he's been incapable of keeping a straight face. And we don't blame him.
EXCITING TIMES BY NAOISE DOLAN
It seems like a month can't pass without another extraordinary debut from a young Irish author, but Naoise Dolan's first novel is something exceptional indeed - listen to hear talk to the RTÉ Book Show below...
OTHER VOICES COURAGE
The series of live concerts presented by the OV team - and streamed live here on RTÉ Culture every Tuesday and Thursday at 8pm - over the past few weeks have become must-see events for these curious times. Catch up with the most recent sessions via RTÉ Player here.