Irish Memory Orchestra founder Dave Flynn has been announced as the new Musician in Residence for Dún Laoghaire-Rathdown; below, he chats about his plans for the residency, how he's coping on lockdown and his genre-jumping musical style 'Flynnism'.
---
Congratulations on your new appointment. Can you tell us a little bit about your connection to Dún Laoghaire-Rathdown?
Thank you very much, I'm delighted to be appointed Musician in Residence in my childhood area! I was born in St. Michael's Hospital in Dun Laoghaire, I grew up in Watson's estate, (Churchview Road and Watson Road). I went to Johnstown National School and my secondary school was Cabinteely Community School. Though I left the area after school, I have family and friends living in the area so I come back regularly.
Who was your first music teacher, and what is your earliest musical memory?
My earliest musical memory is my late Mum Joan playing Beethoven's Moonlight Sonata at home on Churchview Road. She played piano every day when I was a child.
My first proper music teacher was Alistair MacNeill, my 3rd and 4th Class teacher in Johnstown National School. He was really passionate about music and gave guitar lessons at lunchtime, so that's where I learned my first chords. He also taught us about the great classical composers, so his class would be where I first really listened to orchestral music. I particularly remember Haydn's Surprise Symphony. I enjoyed it so much I asked my parents to get me a tape of it. I'd conduct along to it in my room as a kid! I taught myself rock and classical guitar after that before going to music college. I didn't do music in school.
How would you describe the style of music that you compose and perform?
It's the job of critics and academics to define music styles, yet they have struggled to define what I do because my approach to music is something new and unpredictable.
A classical critic once rang me asking if a concert of my music was more suited to the trad listings than the classical listings. I explained the performers were equally good at classical and trad yet some were also great at jazz and rock and my music reflected their diverse skill sets. The concert ended up in both the classical and trad listings!
Journalist Paul O'Connor described my work as "genre-jumping" but that doesn't really describe its style, it just describes part of my process. When I play a guitar concert I might follow a classical piece with a trad tune, then an improvisation, then something Malian, something Brazilian and so on.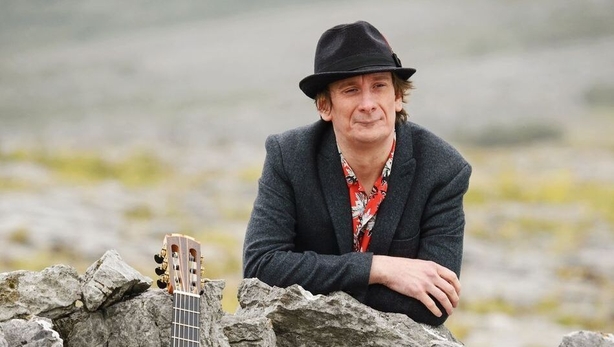 My compositions are like a diverse iTunes library on shuffle mode. Just when you think it is trad it goes more modern classical, then more like jazz, then more like rock, then perhaps electronic dance music, then psychedelic, then Baroque. Sometimes it stays sounding very trad for a long time until suddenly Congolese guitars come in before there are hints of Indian strings - then all the styles merge into one big cosmopolitan party of sound.
Perhaps the simplest way to describe my music is - Flynnism! When enough people have heard it they'll know what that means.
You're the founder of the acclaimed Irish Memory Orchestra. Could you tell us a bit about that, and what inspired you to establish it?
The Irish Memory Orchestra is a ground-breaking cross-genre orchestra that plays exclusively without sheet-music, which, for an orchestra, was practically unheard of before we started. I invented the term "memory orchestra" to describe this idea. We've performed from London to Moscow, Clare to Korea to very enthusiastic audiences.
The orchestra has some of the best musicians in Ireland and the UK. We have a distinctive instrumentation and repertoire that no other orchestra has. So we're really unique in the world of music. We also work with some amazing blind and vision-impaired musicians in an uplifting one-of-a-kind project called The Vision Symphony.
I was inspired to start the orchestra after a few collaborations with the RTÉ Concert Orchestra and Irish Chamber Orchestra, where the fiddler Martin Hayes was the soloist. I really enjoyed those events, they were received really well. Still, I could hear in my head how they could sound even better if the orchestral players were equally good at traditional music AND played by memory. So I thought to myself "Why not start your own 'memory' orchestra that mixes trad and classical musicians?"
Easier said than done, however, with a lot of work, the orchestra's first manager Eamon O'Donnell and I got the orchestra up and running in 2012 and the rest is history.
What are you going to compose and work on during your Residency?
I'm composing a guitar ensemble piece called Dún Laoghaire Guitars which I will record with my good friend Ciaran Swift and some of his students from the Guitar Training Centre in Dún Laoghaire. We are going to each video ourselves playing the individual parts from our homes and then these will be combined in a video which will be premiered online in July. The piece will be influenced by many different guitar styles.
Your Residency will be presented online. How have you been keeping busy or coping during these past months of restricted movement/lock-down?
I'm coping well enough mainly thanks to my wife Celia who is a constant companion and support. We usually spend a lot of time together at home anyway, as we are both self-employed creatives. Self-isolation is part of the life of an artist. Saying that though, I found the first few weeks of lockdown psychologically strange so I didn't compose during that time.
What I did do was record a 'lockdown' guitar video almost every day for 30 days of lockdown. I put these on YouTube and there's a playlist of them now called Dave Flynn's Lockdown Tunes. I've also used the time to re-assess things, look at ideas I had on the back-burner that I can progress now. I'm going to particularly focus on recording and composing guitar music, whereas my focus in recent years has generally been orchestral music.
Unfortunately the lockdown had a bad effect on the Irish Memory Orchestra. We're the only professional orchestra in Ireland who aren't regularly funded by government, so that makes this a particularly challenging time as we've had all our events cancelled and have no funding to keep operations going. So, for now at least, the orchestra is in hibernation whilst I focus on guitar music.
The main positive is everyone I know is safe and well. I'm thankful that no one I know personally has died or been very sick with Covid-19, I am worried though for some of my older relatives and friends as cocooning must be very tough for them. I have musician friends who have lost all their work too. It's a strange time to be a musician. It's not like during a war or regular recession because in those circumstances live music continues and it can even thrive as people tend to turn to the arts in times of difficulty.
What are you looking forward to the most over the coming months?
Aside from this residency, I'm really looking forward to the end of the Covid-19 crisis! I can't wait to get back playing live. The online performance concept is an interesting new challenge that I'm approaching enthusiastically, however I hope it's just a temporary necessity rather than the new normal for music. I look forward to circumstances changing so we can perform Dún Laoghaire Guitars to a full audience live in the dlr LexIcon Studio!