Over the coming weeks, we'll be bringing you a series of 'digital postcards' from a variety of creatives who have, like the rest of us, been staying put and filling their days and nights as purposefully as they might, in these most curious of times...
Today, tech innovator Patricia Scanlon checks in...
As the CEO of a company, even a relatively small one like SoapBox Labs, it's part of my job to watch out for existential threats and mitigate them quickly.
Thankfully, when it came to the threat of COVID 19, switching our team to remote working was easy. We're a technology company and people work from home regularly, so once office chairs were picked up, computer screens unplugged and brought home, we all had the practical tools we needed to continue with business as usual.
Our funding news is out and official!
Thanks everyone for the kudos, support and congratulations ??
"Dublin-based Developer of Voice Tech for Kids Raises $6.5M"https://t.co/F7Ex84vw47#voicefirst #speechrecognition #kidtech #remotelearning #voicetech #smarttoys #Dublin pic.twitter.com/ioXRdgPJl8

— SoapBox Labs (@soapboxlabs) April 21, 2020
It can be hard to find a balance between work and family time when your company works globally, so I try to do a good job of sticking to a schedule. I like to get up early, while the rest of the house is still sleeping, read the news, check my email, and get ahead of the day psychologically. During these last few weeks of the lockdown, I've had the time to deepen some of the morning habits I find the most rewarding.
In addition to coffee and email, I now do yoga and breathwork meditation regularly. My sister Cathy is a breathwork coach who came back from the States just recently. Breathwork is a meditative exercise that helps me with stress as well as to gain clarity and focus. It has been easy to learn and do by myself, but whenever I feel I need a refresher or some encouragement, I can pick up the phone to Cathy or join one of her classes virtually.
I doubt I've ever talked on the phone as much as I have since this pandemic started - mobile, Zoom, Slack, WhatsApp. When you're stuck at home, texting and emailing feel like weak links relative to the power of getting on a call and just talking.
I have three siblings and we're a close-knit family, so over these last few weeks, there have been lots of quiz parties and virtual drinks and lots of evening time group chatting with friends and family. It's good for my kids to see that happening too. They may be in lockdown but staying in touch is easy, with their friends, cousins, and of course, with their grandparents.
We need your consent to load this YouTube contentWe use YouTube to manage extra content that can set cookies on your device and collect data about your activity. Please review their details and accept them to load the content.Manage Preferences
SoapBox Labs is a deep tech, R&D driven company and for the last seven years we've been developing the world's most accurate and private kid-specific voice technology. To me, 2020 always felt like the breakout year for our business and while the world has changed utterly since January, I feel as confident now as I did then about our prospects, and particularly about how voice technology supports kids through remote apps for literacy and language learning.
Just before the lockdown happened we closed a new round of funding which we just announced publicly last Tuesday. Every day I think about how grateful I am for our good timing with that funding. Since the news broke, however, my work schedule has gone awry completely with media interviews daytimes and evenings. I've even had to up my game and wear something other than track pants and a hoodie!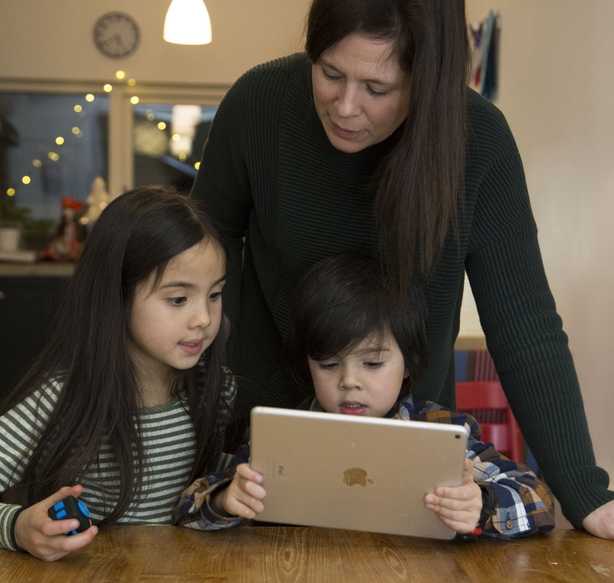 Lockdown has been hard for many or most of us. Like everyone else, I have many people close to me who are vulnerable, working with the public or who have been sick themselves. I spend a good bit of time these days reaching out and trying to keep up those connections.
It's also been a breath of fresh air and an eye-opener for me. More time with family, more ordinary everyday activities with my kids, and then, seeing my colleagues gather up their energies, heads down, morale up, keep on producing. It's been a good time in those ways and many others.
It also just feels so good to be in Ireland during this crisis and while still apart, so close to friends and family.