A compilation tracing the musical pursuits of Cork's Finbarr Donnelly and his trilogy of legendary cult bands – Nun Attax, Five Go Down to the Sea? and Beethoven – has just been released on Allchival Records.
Paul McDermott, one of the compilers of the new record, describes Donnelly's enduring legacy.
In Death to Trad Rock, his definitive account of the UK's 80s D-I-Y music scene, journalist and Membranes frontman John Robb declares: "Over the years I've heard all manner of tedious bastard bands yapping on about how they broke all the rules and how wild they were – perhaps they never saw Five Go Down to the Sea?"
Robb writes that those who were lucky enough to see them live witnessed a band that were "no-holds-barred wild and eccentric with music to match".
Robb's comments are echoed by Sean O'Hagan of The High Llamas and Microdisney: "Nobody really knows about them, apart from the privileged few who got to see them live and got to hear their records."
Morty McCarthy of The Sultans of Ping bestows similar praise: "They're the sacred cow of Cork music; they're almost the untouchable band. Every band whose heard of them looks up to Five Go Down to the Sea?"
O'Hagan's co-writer in Microdisney, the singer Cathal Coughlan is no less emphatic admitting: "I can say with my hand on my heart that I would not have ended up doing music if I hadn't met Donnelly, and if I hadn't done music I would have ended up as a malcontented alcoholic civil servant working in a food factory somewhere in County Offaly."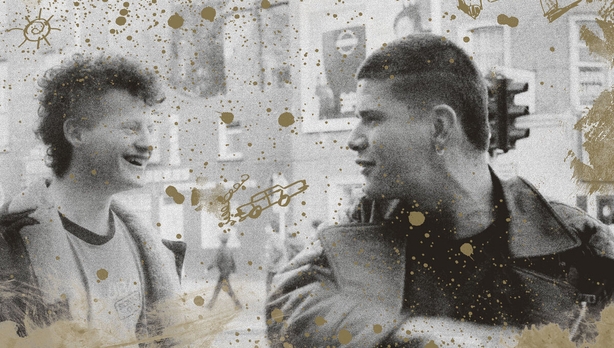 In early June 1989 the NME – the influential UK music publication – awarded its coveted 'Single of the Week' to Beethoven's debut single. Beethoven was the third of the trio of bands fronted by the enigmatic Finbarr Donnelly.
Two weeks later Donnelly accidentally drowned in the Serpentine Lake in London's Hyde Park. He was 27 years of age. His death marked the tragic end of an uncompromising musical journey that he and guitarist Ricky Dineen had started back in Cork some ten years previously – a journey that encompassed the post-punk of Nun Attax via the discordant indie of Five Go Down to the Sea? to the chaos of Beethoven's anti-pop.
Finbarr Donnelly was born in Belfast in 1962. Escaping the Troubles his family moved to Cork City when he was 12. By the late '70s, he had formed Nun Attax with Dineen and brothers Philip and Keith O'Connell.
Influenced by UK punk the band played their first gig on Valentine's night 1979 in a community hall in Mayfield, on the Northside of Cork City.
Nun Attax quickly became synonymous with the Downtown Kampus at Cork's Arcadia Ballroom, the lynchpin of the city's post-punk music scene, where they shared the stage with U2, Virgin Prunes and UB40.
Nun Attax quickly became local heroes playing to huge crowds and inspiring others to form bands.
Elvera Butler, who ran the Downtown Kampus gigs recalls that Donnelly "was very much the central figure and inspiration for the others to follow suit.
"I loved his casual non-conformist attitude, and his enthusiasm for experimenting musically. There was nothing of the off-the-peg punk about Nun Attax, that's for sure."
After seeing the band live, Gavin Friday wrote in issue No. 4 of Vox magazine, "Nun Attax live leave me speechless, musically they are incomparable to anything I've ever heard."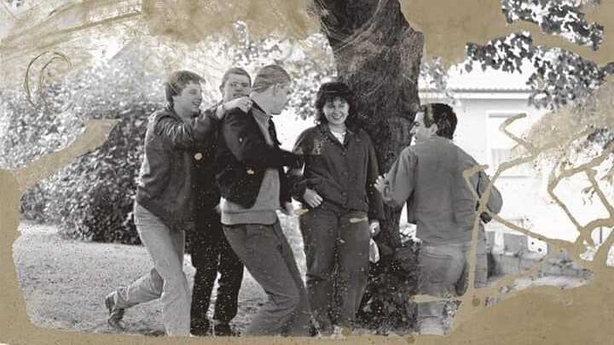 Their live performances were unforgettable, incendiary events and examples from the legendary Kaught at the Kampus EP, released on Elvera's Reekus Records in 1981, can be heard on the new compilation.
After a line-up change, Nun Attax became Five Go Down To the Sea?.
The new band members, guitarist Michael Stack and cellist Úna Ní Chanainn, transformed the band's sound. Songs from this period such as There's a Fish On Top of Shandon (Swears He's Elvis) and Knocknaheeny Shuffle – with Donnelly's incredible voice balanced on top of Ní Chanainn's jagged cello strokes – are some of the most original pieces of music recorded by any band of the period.
In the liner notes to the new compilation Ní Chanainn, who left the band to concentrate on her work with the RTÉ National Symphony Orchestra, remembers Donnelly as being, "gregarious, extroverted, loud, challenging and even intimidating in public."
The cellist also fondly notes: "He had the most wonderful voice: rich and expansive, which I could have listened to all day. When I think about him now, in his quietness, I remember a gentle, sensitive and lonely soul."
Five Go Down to the Sea? left recession ridden Cork for London in mid-1983 and Thatcher's Britain would provide a stark backdrop for their music.
As new immigrants to London the band squatted south of the River, scraped a living working on building sites and played countless gigs.
By 1984 they had hooked into the early Creation scene, and played gigs at Alan McGee's club The Living Room.
Pete Astor, of British Indie bands The Loft and The Weather Prophets, remembers meeting Donnelly at The Living Room and explains that the band existed in their own world: "We all know the trope of the truly cool and great people and artists who exist as though in their own movie. Well, this was no film but a whole universe."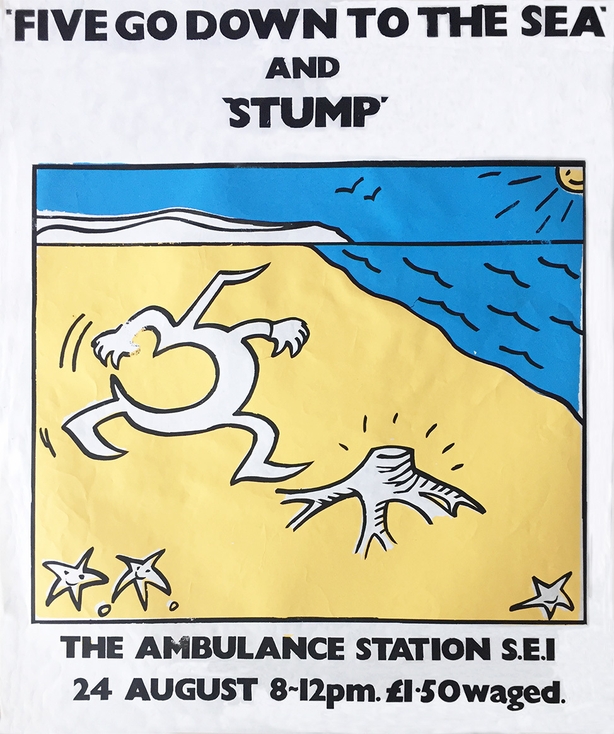 Five Go Down to the Sea? gradually gained critical acclaim, earning a reputation for chaotic live gigs and released The Glee Club 12" for Abstract Sounds and the Singing in Braille 12'' for Creation records.
Joe Foster who produced the band's Creation single, remembers that: "They were just absolutely unique they had something about them, you couldn't put your finger on it, just complete disregard for structures of pop music."
The Glee Club, a raw discordant record that sounded out of place in 1984, is an incredibly powerful record that captures the band at the height of its powers. Jon Langford, of post-punk heroes The Mekons, produced the record and remembers that the lads "were smart and really clever, they all had an amazing wit. A razor-sharp, surreal wit. It was like being within someone else's world, they were their own family."
Five Go Down to the Sea? eventually became Beethoven and sounding darker and angrier than before gave Keith Cullen's Setanta Records its first release – a savage, twisted cover version of The Beatles' Daytripper.
Weeks later, Donnelly was gone.
Now, over 30 years after his death, the music of Donnelly and his bands is being unleashed on a new and unsuspecting audience.
Ricky Dineen, Donnelly's musical sidekick for all three bands, reflects on the record's release: "It's been a long and sometimes frustrating journey, there were times I never thought I'd see it but it's here now and at last I can relax. Donnelly would be laughing heartily now, not realising what he has done."
Hiding From the Landlord is out now on Allchival Records - the record compiles music from all three of Dineen and Donnelly's bands, and includes songs originally recorded for RTÉ's Dave Fanning show. The 15 track LP comes with a 24-track CD and a 20-page fanzine with contributions from Kevin Barry, Conal Creedon, Declan Lynch, Gavin Friday, Cathal Coughlan, Elvera Butler, John Robb and others. Hiding From the Landlord can be ordered here
Read Get That Monster Off the Stage – an oral history of Finbarr Donnelly and his bands Nun Attax, Five Go Down? and Beethoven by Paul McDermott here.