Over the coming weeks, we'll be bringing you a series of 'digital postcards' from a variety of creatives who have, like the rest of us, been staying put and filling their days and nights as purposefully as they might, in the most curious of times.
Today, acclaimed musician Colm Mac Con Iomaire checks in...
I'm currently sitting in my garden, listening back to some musical sketches on my phone.
For the past few weeks I've been working on a music commission from the GAA.
The task - to write a piece of music to commemorate those who were killed (14) nearly a hundred years ago in Croke Park on an afternoon in November 1920, an event that became known as Bloody Sunday.
There's no shortage of inspiration at the moment in this strange waking-dream we find ourselves in. Croke Park is in the news as a corona-virus testing centre and with nearly 600 people dead on the island in less than a month, we are all players in what seems like some strange, dystopian science-fiction movie.
Thank goodness for music in these strange times.
For research I have been reading Michael Foley's excellent, page-turning and forensic book The Bloodied Field, which is the closest one could possibly get to being alive at the time and there on the day.
This particular invitation to music is one that resonates with me as my (maternal) grandfather Harry O'Carroll actually had a ticket for the game, but became otherwise engaged as a medical orderly with a detachment of IRA men who were sent to a G-Man's lodgings, a house somewhere in Dublin. As it turns out the man they were after wasn't home. Lucky for all of them.
Watch: Glen Hansard & Colm Mac Con Iomaire perform Falling Slowly on The Late Late Show:
We need your consent to load this Facebook contentWe use Facebook to manage extra content that can set cookies on your device and collect data about your activity. Please review their details and accept them to load the content.Manage Preferences
The music process is a bit like shepherding butterflies, there one minute and gone the next.. and especially so at the moment with the whole world as it is - balanced so precariously, between the terror and the wonder of things.
It's hard to stay focused, to shake off the weight of what feels like two gravities.
Thankfully, the butterflies are still landing and making a home in my ear.
The next challenge will be to drop a (sanitised) digital-recorder into master uilleann-piper Mark Redmond's shopping trolley the next time I'm in Gorey.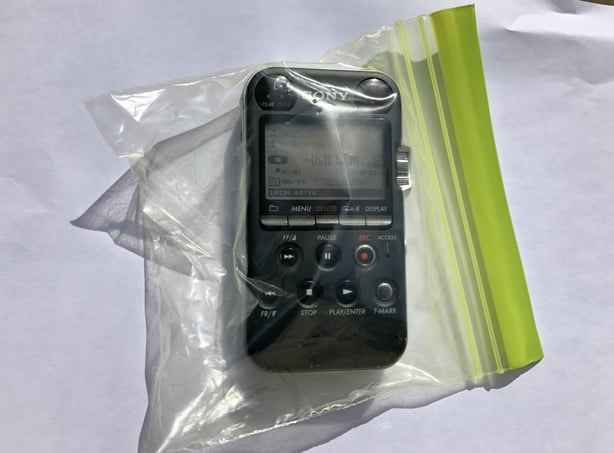 He will later play along (with headphones) to the piece of music (sent by email) and press record on the portable recorder which I'll collect from him the next time I'm in shopping.
I'll then be able to line up the music from the recorder with the larger ensemble on my computer.
Múineann gá seift - necessity is the mother of invention.
Thank goodness for music in these strange and challenging times.