Listen Above: Writer, mapmaker and artist Tim Robinson on the elsewheres of his life and work: in conversation on RTÉ Radio 1's Arts Tonight with presenter Vincent Woods in Roundstone, Co Galway, in 2014.
Some programme making has from its beginnings an inherent sense that it will be of equal enjoyment and value for its present listeners, as much as for those who might hear it in the future by way of it having been archived following an initial broadcast.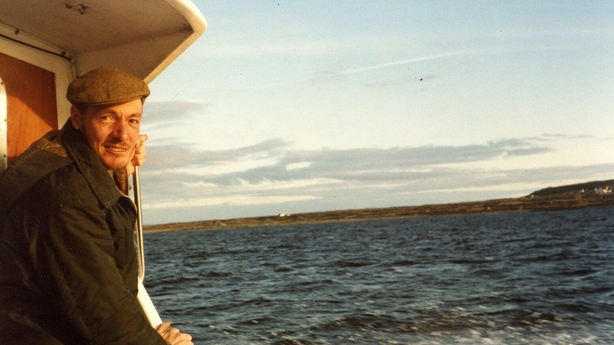 Such was the case with the opportunity offered to Vincent Woods, then presenter of RTÉ Radio 1's weekly programme Arts Tonight and myself, as its producer. In 2014 we recorded the renowned Yorkshire-born writer mapmaker and artist Tim Robinson in the studio of the home he shared for decades with his wife Mairéad, quite literally at the edge of the Atlantic, alongside the old Nimmo pier in Roundstone in Co. Galway.
Torrential rain hailed down as we drove out west into Connemara from where we had earlier visited the exhibition Interpreting Landscape: Tim Robinson and the West of Ireland at NUI Galway. The memorably tactile exhibition bringing together words and images, wool and stone, celebrated the archive of Tim Robinson becoming part of the permanent collection of the university's Hardiman Library.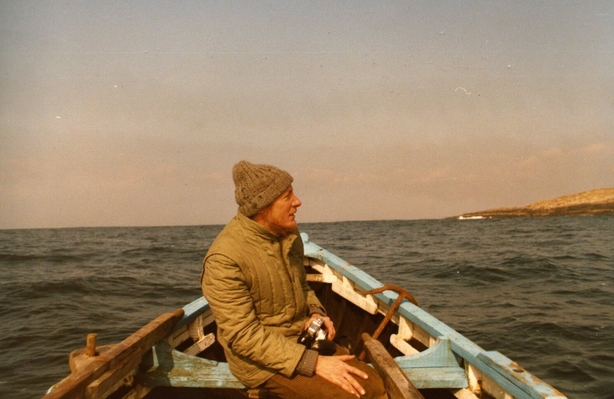 Robinson was keen that his thousands of maps, notebooks, diaries, index cards and artwork would be given to the university by way of gratitude and thanks for the knowledge he said he had gleaned from its staff and resources, which he had mined for over forty years.
As we reached Roundstone the clouded skies cleared and the autumn light brought calmness and a quiet purpose with it. This the special atmosphere caught in the recorded conversation. The occasional natural sounds of seagulls hovering nearby are reminders of how close to the sea the Folding Landscape studio of Robinson was situated. And there's also a brief cameo visit in through the open studio window of a robin familiar to Robinson and to which he had given the name of Longley for his friend, poet Michael Longley.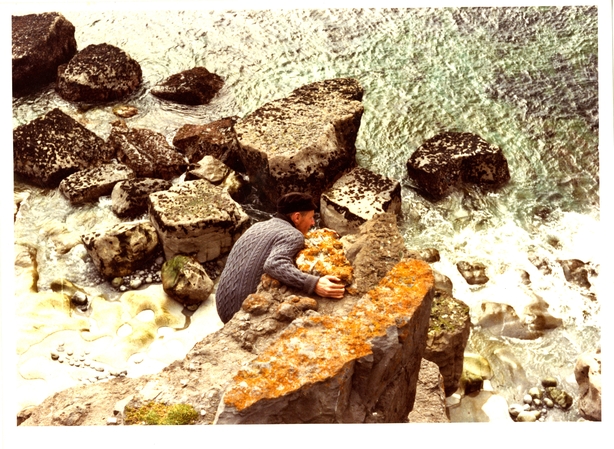 Our visit coincided with the publication of the book Connemara and Elsewhere, which includes new essays by Robinson on memory, space and time - ideas present and always evolving throughout his writing life and output. Other contributions in the book are by American environmental writer John Eldor; French photographer Nicolas Fève and its editor Dr Jane Conroy of NUI Galway who along with the book's publisher, the Royal Irish Academy, also supported the project. 
A quote from a previous book of his Connemara: A Little Gaelic Kingdom is included on the cover of Connemara and Elsewhere: 'Often when visitors ask me what they should see in this region I am at a loss…Ultimately I have to tell them that this is a land without shortcuts.'  This reference to 'without shortcuts' captures exactly the patient and measured work-practice Robinson outlines in this conversation with Vincent Woods.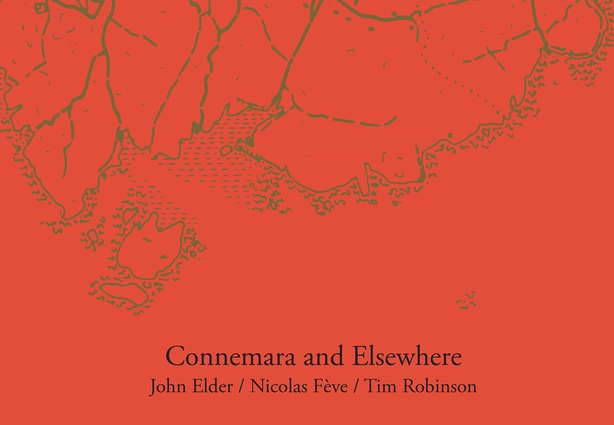 Together, they cover a lot of ground: Robinson's early desire to be either a mathematician or an artist; his study of mathematics at Cambridge University in England; time as an artist in Cold War Vienna and then in London; his abandonment in disgust of the London art scene with his wife Mairéad and their journey in 1972 to the Aran Islands, under her influence of having seen Robert Flaherty's film Man of Aran; his familiarization with those islands and mapping them on the suggestion of the local postmistress; his regular column in The Connacht Tribune; his immersion into the Irish language which he says was fundamental to researching and producing his maps and books including The Stones of Aran and his Connemara Trilogy; his work with Liam Mac Con Iomaire on their translation of the novel Cré na Cille by Máirtín Ó Cadhain from Irish into English; as well as his desire for further new learning and to cultivate new passions. 
This RTÉ Radio 1 Arts Tonight programme, recorded in 2014 and first broadcast in 2015, begins and ends with Robinson reading excerpts from his contribution to Connemara and Elsewhere on the nature of time and memory, a new essay entitled 'Where are the nows of yesteryear?'