We're delighted to present an extract from Oona, the debut novel from Alice Lyons, published by Lilliput Press.
Oona, an artist-in-the-making, lives in an affluent suburban culture of first-generation immigrants in New Jersey where conspicuous consumption and white privilege prevail, and the denial of death is ubiquitous. The silence surrounding death extends to the family home where Oona is not told while her mother lies dying of cancer upstairs. Afterwards, a silence takes hold inside her: her inner life goes into a deep freeze. Emotionally hobbled, she has her first encounters with sex, drugs and other trials of adolescence.
---
Dürer's Hare
In time back when she lived. When she smelled up the car, when her fingers drummed and fingered the fluted-like-pie-crust Buick steering wheel. When she reached her arm instinctively, braced me in the bench seat beside her every time she hit the brakes in rainy streets. Her presence pulsing, fragrancing the space. Breath-warm car, car where we faced the same way: street signs, lights, suburban streets, Jersey sights like malls, highways, bargain basements. Car she'd furtively park at the side, dig up wild tiger lilies in Wayne and replant in her garden beside the azaleas. Tiger-lily thief. Car where, when smaller, I backseat slept, cheek mashed in the leatherette wetted with my deep-sleep spit. Then we ended up in Atlantic City and Aunt Wally. Aunt Wally the funnest, heartfeltest in the family. Instant happiness seeing her smiling at me in her bullet-bra swimsuit, hearing her Philadelphia accent. Sea-swimming with Aunt Wally the everyday swimmer she was. Then the car warm, sandy. Aunt Wally's clam-pie dinners. Uncle Seán grumpy in the recliner, face like meat, whiskey at his side and Winnie clucking, serving, wiping. Uncle Seán with the insurance firm: Burns & Sparks.
The car was an us-place – she and me else Dad and she and me travelling, visiting relatives less rich than us in Fair Lawn and Midland Park, relatives that were teachers and clerks and insurance agents and candy sellers, still immigrant-
tinged and living with recent immigrants. Dad an executive, which barricaded us away in the white places, tenement- and hue-free we were. The car – the vehicle that bridged us and the relatives severed by the cash difference. The car carried us the distance the cash didn't span. We swam in the relatives' inflatable baths, ate their grilled meats, adults drank their martinis and manhattans in their less leafy tracts with less acreage. They never said there was a cash gulf but there was. It was felt. We visited them; they never visited us. Stranded in the affluent suburbs that were indigent-free. Every minimum-single-acre resident in that suburb-present grew up in a crammed-sibling-bed past, knew hunger, knew handball in the streets, were tainted sepia-tinted, grannies and granddads in dirty rags and need, gruelling sea travels that were unspeakable. Laundry hanging between buildings, ladies peeking behind starched lace curtains. Time passed, wars. The 1950s arrived and wham! in came shiny appliances, marble baths, laundry chutes, minibars, multiple car garages, car-key swinging parties that freaked them, in their disremembering track with its single future-based, cash-accumulating, hue-free path.
Severance. Strandedness. It was felt.
I felt it as a chill in my centre, a slashed umbilicus when we left the relatives' parties in the denser areas and headed back up 208 past the trees. Urban Farms was the suburb name. Passed the club and the lake where the suntan cream slicked the surface in summer. It was like being cut but it was said we were lucky, privileged. It was a time-slice in the American myth-dream and it
was pervading. It paved life's vagaries, varieties, uncertainties, eschewals with urgency. That life was a bright, flat, white space that lacked penumbral shades and skins. Darkness in its rich varieties and death as a simple fact didn't figure. It was a klieg-light, leisurely life with big cars, fake ski areas and subterranean IBM missile bases where Indian land had been. Sun-drenched and untrue, it was a ruin in the making.
Art class was where the life was. It was her gift. Every birthday. Mine. Late in the day I entered the piney, sharp turpentine tang that tickled the sinuses. Easels and palette tables – the metal tables printed with rural English hunting scenes that adults ate at while watching TV. A sink where I cleaned my hands in dumped turps. Alban Albert, New Jersey artist, was the teacher. He made landscapes, green-and-white-dappled that sat well in heavy frames, graced the bank managers' and lawyers' chambers in New Jersey. Mr Albert was gentle, instructive, discreet. His craft was in charge. I'd find a painting I liked in a magazine and Alban taught the making craft. I did Dürer's hare. Andrew Wyeth's lightning finial. Cassatt's girl in a chair. Edgar Degas's self-likeness. An Edward Curtis black-and-white Native American with a blanket in ricrac patterns I did in grey pastels.
Time was different in Alban Albert's space, a squarish building in a car park near Franklin Avenue. In my father's discarded grey-white shirt, I carried my paints and brushes in and entered the slipstream. A silent speech began rivering in me. Subject – palette – canvas – subject – palette – canvas. Started with a light
pencil sketch. Light because heavy graphite blackened the paint applied after. Then the pigment-feel – gritty Raw Umber, Cadmium Red like warm butter, vibrant, blaring. The pigment-feel at the brush tip, the hue at its height.
There was little talking. Mr Albert circulated. Whatever he said was hushed. He mixed a new hue silently, swished pigments with a palette knife, brushed it up there subtly, a new view. We'd stand back, have a think. Try it again. Little by little the painting built up. He brushed brief liquid lines in fluid pigment, weaving the hare's fur a brush-line at a time. Lamp Black, Burnt Umber, Raw Sienna, Zinc White, thatched lines built up, became hare-like.
I had an innate fluency. I'd sense the hue, what pigments amassed in the nameless shades. I'd test a hue mix and usually arrived at it in the first try. I matched hard and blurry edges with the edges in the picture I was imitating, knew that a bunched-up rag was as much a painting implement as fine-haired Russian sable. I'd brush a tint up there, step back, think. It was a space I sank in like a sea. I relished being in that place with painters beside me but I didn't much set my abilities against theirs. I appreciated what they made, but I existed in myself, didn't have much uncertainty that I can recall. After her death this characteristic vanished. I became a vacillating entity.
Raw canvas was like a light table shining beneath pure pigments – hues blazed unabashedly lit. If I put Burnt Sienna after a dried bluish layer, then Burnt Sienna had its legs cut beneath it. Bleakened. The grey spectrum, all the tints and shades were my native habitat. Then there was the entire predicament deciding
what is put beside what. Will it have what it takes? Vying with all that is up there? Will it play its part? Is it yelling, is it underbeing? If it's imprecise, scrape it with a pyjama scrap, chuck it in the metal pedal bin. Maybe just let it sit there and see.
Painting was an undivided self-speech. Language flimmering in my veins. It was talking with my hands, wrists, fingers, eyes, gut, even smell. Ink-derived pigments didn't smell as nice. The turp smell, the linseed, the brush-eye-subject-palette-canvas ballet was inbuilt. She didn't give this as she'd given me talk language, but she enabled it in the art-class gift every birthday. She didn't speak it herself but she saw I had that speech. Maybe it was the way I'd lingered in museums the few trips we'd taken. The Met. The Frick. Whatever. Fact is that she saw it. Saw I. Maybe saw her seed-me unplanted. She didn't fear it, she didn't push it away. Rather she cherished it. This was a gift.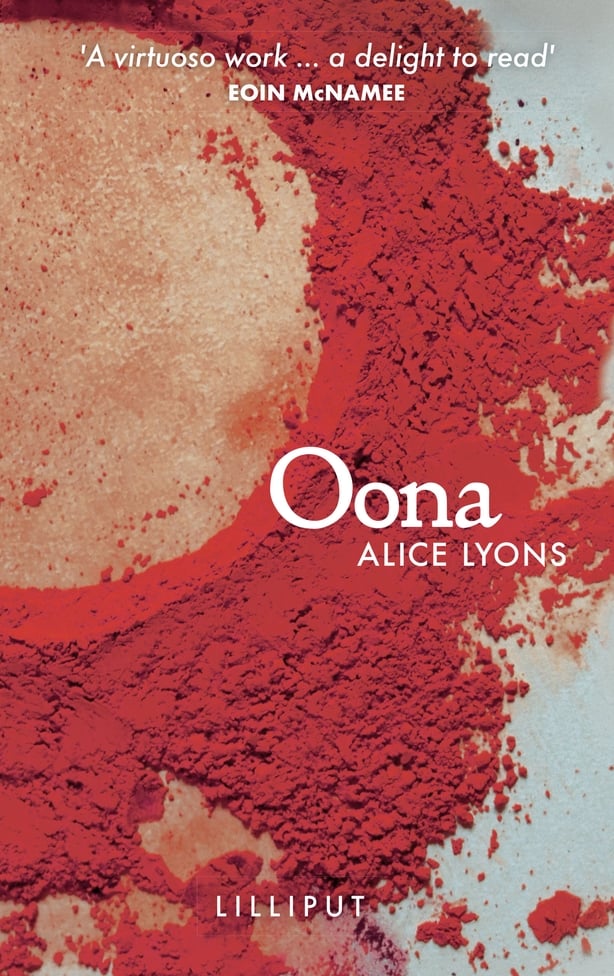 Oona by Alice Lyons (published by Lilliput Press) is out now.