Artist Aine Phillips' award-winning film Buttered Up tells the story of a performance artist who embarks on an improbable journey to explore a visceral underworld of domesticity.
Now Phillips' film is the basis of a new exhibition at Mart Studios in Dublin, opening on March 6th - below, she writes for Culture about expanding on her original work...
I am a visual artist based in Galway – most of my work is live performance, video and installation. I have exhibited in Ireland and internationally since the late '80s and have created work for multiple contexts; public art commissions, the street, club events, galleries and museums across five continents. I teach sculpture at Burren College of Art and theatre for social change at NUIG.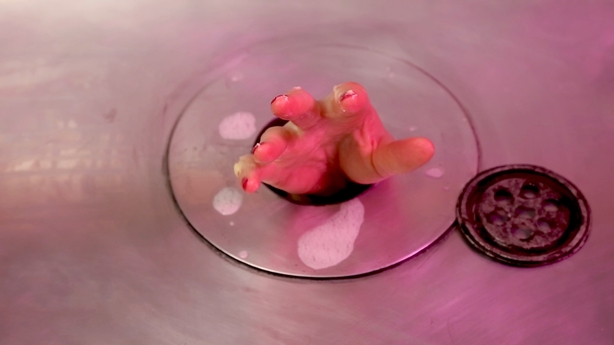 I write this while preparing for my upcoming show Buttered Up at MART Gallery, Rathmines, opening on Friday 6th March at 6pm. Buttered Up will comprise of a series of 'performance watercolours', a film by the same name and a quartet of live performances on the opening night. It is a solo show, but this is a sort of paradox as I am including the work of three other performance artists, Helena Walsh, Rachel Fallon and Ella Bertilsson. I also consider my film a collaborative effort with film artist Vivienne Dick on camera, Connie Farrell, editor and sound artist Slavek Kwi.
The act of curation is also a collaboration.
Performance art and video or film are processes that quite often require the assistance, interventions and participations of others. I have always celebrated that collective aspect of my practice and consider myself honoured to have worked with wonderful colleagues who have helped devise and create my work. My previous solo show in 2013 at the Galway Arts Centre also included the work of multiple collaborators. Traditionally art making is a lonely affair, happening in a studio or workshop. It is an exciting and welcome evolution that in contemporary practice the creation of art is becoming more of a communal and shared process.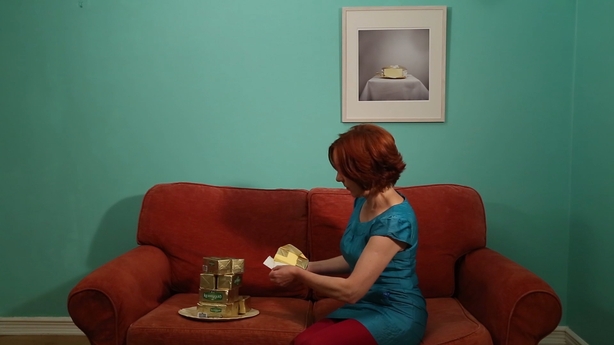 The act of curation is also a collaboration. Matthew Nevin, the curator of the exhibition has helped me plan and structure the show. He has provided insights into how Buttered Up will communicate with and engage the audience, helping me focus my intentions and concept with the aim of creating an integrated experience for the viewer. My film has mostly shown at film festivals internationally, so its juxtaposition alongside the 2D works and live performance promises to be very interesting.
The performances planned for the opening on the 6th March are based around the themes of my original film. Getting stuck, transforming and escaping from the domestic frame are explored from a humorous and feminist point of view. The performances are intended to expand on these ideas: Helena Walsh and I will be re-creating some scenes from the film involving butter, Rachel Fallon will be performing an intricate and knotty ritual of mothering, while Ella Bertilsson is presenting a performative sculpture which will complicate ideas of dwelling and nesting.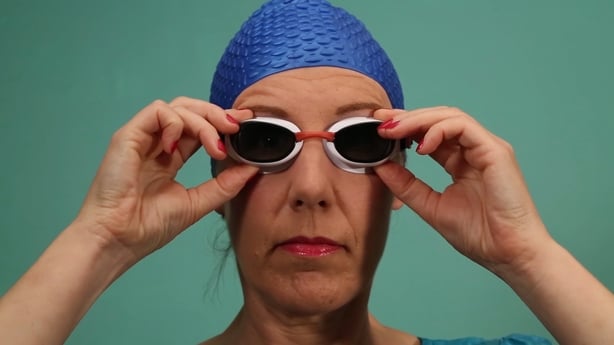 The watercolours are derived from live performances and explore broader themes and images arising from my work over the years, such as female experience and engaging with difference – disability, sexuality, social and political disadvantage. I have always been particularly interested in creating re-constructions and re-presentations of invisible and neglected female histories. I think of these paintings as 'cartoons' [as in the art historical definition of a preliminary drawing] that help me devise and plan out a performance work. Sometimes I create them afterwards in response to the live work and the ideas it generated. It is an inter-disciplinary approach using one medium to describe and elaborate another, presenting the idea in a new and unexpected way. The style of these paintings is 'cartoon'; in the contemporary sense – humorous, absurd or both.
Everyone is welcome to attend the show. The performances are suitable for all ages and especially for people who have ever felt entrapped by domesticity or caring roles. The show is also very suitable for anyone who likes butter.
Buttered Up is at MART Gallery, Rathmines, opening on Friday 6th March at 6pm - find out more here.