Fabian Erlinghäuser is one of the creators of Dorg Van Dango, the new Irish animated series from Kilkenny-based Oscar nominees Cartoon Saloon, currently screening on RTÉ2 and RTÉ Player.
Below, Fabian writes for Culture about how the series about a little boy, a ghost, a unicorn an alien and a very old witch all came together...
Creating an animated show can take years. This one took seven years, from the first concept to being broadcast on TRTÉ.
The team which created Dorg Van Dango includes stand-up comedians turned script writers, voice actors capable of alternating between different accents, impersonating a unicorn, an alien, a 400-year-old witch, or a cute ghost who has a Jekyll & Hyde personality.
Then there are the many talented designers, animators, musicians, editors, sound technicians, and a whole production team which keeps this creative ship on course, overseeing schedules and budgets. Inspiration for stories and characters can come from anywhere - but when a show creator draws from their own experiences, animated characters tend to really come alive. The more real a character feels, the more writers, designers, actors and animators can find to connect with too, then the show just gets better and better.
Listen: Fabian Erlinghauser chats to RTÉ Arena about Dorg Van Dango
We need your consent to load this rte-player contentWe use rte-player to manage extra content that can set cookies on your device and collect data about your activity. Please review their details and accept them to load the content.Manage Preferences
Dorg Van Dango is about what it's like to be part of a group of friends who really look out for each other. Even if Dorg's friends are a ghost, a unicorn an alien and a very old witch, there is nothing Dorg wouldn't do to keep his friends out of trouble. And there's nothing his friends wouldn't do to try to make Dorg's days easier - even if that means he usually gets into bigger trouble than anyone could have imagined...
There's always something weird and wonderful going on in Dorg's hometown of Normill. And the whole creative team have had great fun figuring out what crazy adventures Dorg and his friends could get up to. It was this concept which Fabian Erlinghauser and Nora Twomey mulled over while working on Cartoon Saloon's Oscar-nominated film The Breadwinner. It was then that the Canadian studio WildBrain came on board, as well as broadcasters RTÉ, Canada's Family Channel and Nickelodeon International, as well as support from Creative Europe and Screen Ireland.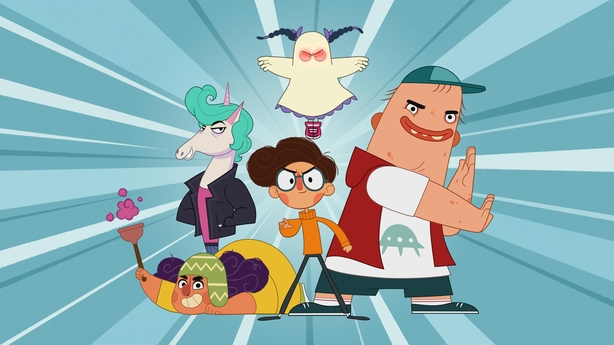 The next step was to find a great head writer - enter Nick Vincent Murphy, a Kilkenny native who had had great success developing the award-winning comedy Moone Boy, starring Chris O'Dowd. On board came a team of Irish and Canadian writers who are blessed with having the funny bone, among them Mick O'Hara and Ciarán Morisson of Zig & Zag fame, Brona Titley, who wrote for the Tracey Ullman Show, or Canadian Screen Award-nominated writers such as Emer Connon or Stephanie Kaliner.
Dorg Van Dango is about what it's like to be part of a group of friends who really look out for each other. Even if Dorg's friends are a ghost, a unicorn an alien and a very old witch, there is nothing Dorg wouldn't do to keep his friends out of trouble.
It often takes years for a show to come to our TV screens because everything you see in an animation program has to be meticulously designed from scratch: Any object or location, be it a small pencil, a passerby, or a cloud in the sky. Cartoon Saloon's artists covering character designs, locations, music, and edit; and WildBrain handling character animation, voice acting, special effects, and backgrounds. The two directors, Matt Ferguson at WildBrain and Fabian Erlinghauser at Cartoon Saloon, were in daily contact to review the material and direct the respective teams.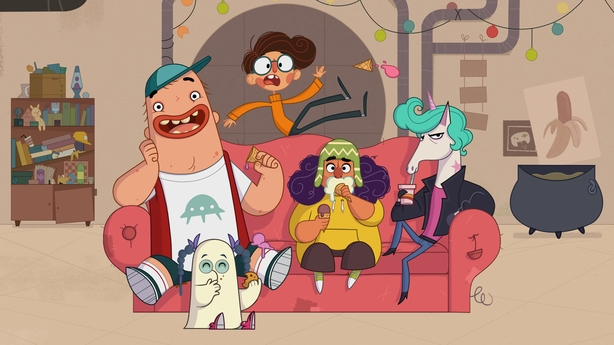 The artists have a complex job - any given brief could be as abstract as designing an alien dressed as a giant pizza-slice, or a submarine with a talking face, or visualizing the inside of Dorg's body, depending on what any given episode calls for. Storyboard artists then take the scripts and visualize them, placing the camera high or low, close to the character or further away - every scene is planned to get the most out of an emotional scene or an action setting. The editors need to find the balance to time the story in the best way possible, and sometimes this requires last-minute re-writes to add a gag or omit a scene altogether if it does not fit well in the bigger picture. This is where plot, acting and timing amalgamate.
The animation team takes those storyboards as a blueprint for their performance: Eliciting an emotional reaction from an audience is what every animator strives for.
Dorg Van Dango makes full use of the medium, with visual gags only possible in Dorg's universe. Music is a huge part of Dorg. Enter Leo Pearson, a talented composer from Thomastown in Kilkenny who has worked in the music industry for decades with the likes of U2, David Holmes, Elvis Costello, or Christy Moore. Pearson is incredibly versatile - a jazz number, a pop beat, a classical piano piece, or even abstract instrumentations featuring bagpipes or a kazoo are all in his locker.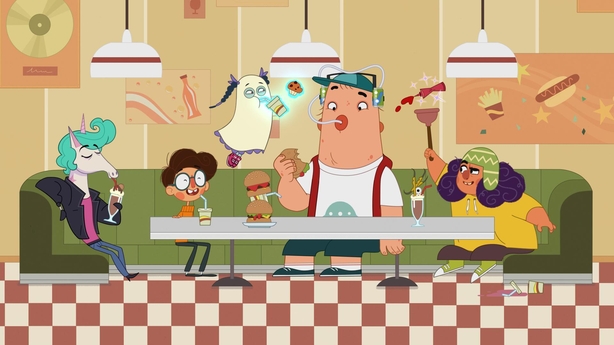 Apply the finishing touch is done at Gorilla Post from Dublin, creating sound effects for any situation: A character running down a staircase requires the sound engineer to match the sounds to the movement, while another scene may need the screech of a rabid racoon, or the abstract sound of a black hole. If each and every person has done their job well, the characters' performances become real. We root for Dorg and his friends. We engage.
In that moment, something magical has happened - the illusion of life.
Dorg Van Dango is on RTÉ 2 on Mon, Wed & Friday at 7.40am & 3pm and is on the RTE Player now - catch up here.