Producer and presenter Zoe Comyns writes for Culture about her new Lyric Feature documentary, Ethel Voynich - Music Mystery and Manuscripts, to be broadcast on RTÉ lyric fm on 15th March. 
I have two questions for you and a warning (and later an appeal).
1. What would it be like to have no idea that you are famous?
On the other hand….
2. What's it like to be all but forgotten in the country of your birth?
Ethel Voynich's story is one of mystery, music and manuscripts. I had read several short pieces about Ethel over the years, but never heard a radio documentary and couldn't wait to delve into her life-story. She really is a remarkable Irish woman with many extraordinary facets. Her life has all the elements of a film noir: there is a mix of cruelty and love in her childhood, intrigue, spies, escapes, cryptic manuscripts, love affairs, revolution and one hell of a leading lady – Ethel Voynich.
Warning: This piece is going to be full of side notes as the people that surrounded Ethel have rich stories of their own. You are going to want to make programmes and read all about them yourself. Please do.
Ethel Voynich was as revered as Dickens or Mark Twain by the Soviets and in China but she had no idea of her popularity until she was in her nineties.
Her novel - The Gadfly
One of the main reasons we remember her today is because of her novel The Gadfly. It was published in 1897 and set in Italy in the Italian Risorgimento when the country was dominated by Austria. It tells the story of a revolutionary Arthur Burton. Arthur is in love with another revolutionary, Gemma. Arthur's mentor is a priest, Montanelli with whom he has a very special relationship that becomes integral to the plot.

Through a series of misunderstandings, the revolutionaries think Arthur has sold them out to the authorities. He fears for his life and disappears to South America, where he has several life-threatening and harrowing adventures. When he does return 20 years later he is in disguise and is known as The Gadfly. He becomes a figurehead of the revolutionary movement but he is overtaken by his own personal agenda to avenge the wrongs that have been done to him.
The Gadfly is, as Eibhear Walsh of University College Cork says in this radio feature, 'a profoundly anti-Catholic novel' in which Arthur wants 'to tear down everything'. It is also a real page-turner. Incidentally, it is not currently in print with an Irish publisher. The book inspired several musical adaptations, including an opera by Prokofiev, numerous theatre adaptations, including one by George Bernard Shaw, and five movie adaptations, one of which featured a famous score by Shostakovich. This is a novel by an Irish woman that has sold upwards of 20 million copies in numerous languages. Though not as well known in the west it gives Joyce's Ulysses a run in terms of sales.
Ethel's early life
Ethel was born in Ballintemple, Co Cork in 1864 and she was the daughter of mathematician George Boole (side note, Boolean logic is pretty complex so it doesn't make it into this programme, but if you put in 'and' or 'or' into a search engine, that's Boolean logic).
University College Cork is very associated with Boole, his bust (by sculptor Paul Ferriter) stands proudly in the quadrant, and the university library is named after him. Unfortunately for Ethel, her father died when she was only a few months old and her mother Mary Everest moved to London. (Mary Everest's brother is George Everest, after whom the mountain is named)

Ethel was packed off to live with her mother's other brother Charles in Lancashire. In this programme writer and broadcaster Alannah Hopkin describes him as a 'sadist' and a 'bully'. He made her practice piano for hours at a time, and when she didn't, he would lock her away and 'pour chemicals in her mouth'. Ethel was strong-willed and fought back – she refused to be broken by her uncle, so he sent her home to London before she could corrupt his own children.
Undefeated but certainly rattled Ethel returns to London and starts to wear black 'in mourning for the world' and decides to call herself by her middle name 'Lily'. She continues her musical study and wins a scholarship to study in Germany. She becomes fascinated by the assassination of the Tsar in Russia and empathises with the revolutionaries. It is in Berlin, as historian Angela Byrne tells me that "she becomes interested in radicalism, anarchism and atheism. She is located there in the centre of Europe and the crossroads of Russian radical thought...she experiences the culmination of her radical transformation."

Ethel and the Revolutionaries
She returns to London which in the 1890s is a hotbed for Russian revolutionaries – particularly centred around one figure, Serguis Stepniak. He had fled Russian as he had allegedly assassinated the head of the Russian secret service in the street. The anarchists around Stepniak in London wanted a total overthrow of the structures of Imperial Russia. Ethel starts to learn Russian with him and goes on to translate for the cause.
There is an almost mythical story about the meeting of Ethel Boole and her eventual husband Willian Voynich. William Voynich was a revolutionary imprisoned in the Citadel in Warsaw and on Easter Sunday 1887 he is looking out of the window of the prison to the square below. Looking up at the window is a young woman with blonde hair dressed in black. It would be three years before William would meet Ethel in person. Voynich was sent to Siberia after two attempts to escape, he eventually does via Mongolia and makes his way to England, to… Stepniak's house. There, he met Ethel…and as soon as he met her he knew it was her, the woman he had seen all those years ago looking up at the prison.

William and the Manuscript
Ethel's husband William is better known for acquiring a mysterious 15th-century manuscript - now known as the Voynich Manuscript - it consists of approximately 240 pages or cryptic writing, drawings and diagrams. Since it was discovered thousands of people have tried to decipher it and failed, making it one of the most intriguing manuscripts in the world. In this feature I speak to Rene Zanderberg who is a world authority on the manuscript and I explore some of the theories around it.
Ethel later in life moved to New York with William Voynich and focused on composing. In this feature, I travel to Washington DC to look at her music archive which is housed in the Library of Congress and get to hear a rendition of one of her compositions.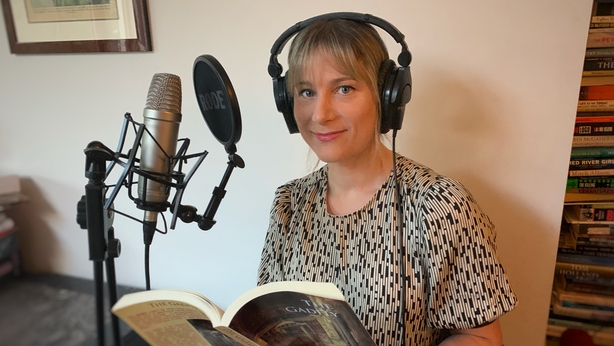 As for not knowing she was famous... many in Russia thought she was dead, it was only in the 1960s that she was rediscovered in New York by a Russian journalist. She was compensated by the Russian government with a royalty payment and she became front-page news in Russia, such was her importance.
So to the appeal - listen to this documentary (The Lyric Feature at 6pm on Sunday 15th March 2020 on RTE Lyric FM ) and tell everyone you know about it and Ethel Voynich.
More importantly Irish publishers, please get Ethel Voynich's work into print in Ireland.
The Lyric Feature: Ethel Voynich - Music Mystery and Manuscripts, RTÉ lyric fm, 15th March at 6pm - listen back to more from The Lyric Feature here.