Traditions come and go, but one such tradition - the May Bush - was on the verge of extinction in Co. Wexford until artist/folklorist Michael Fortune and his wife, artist/traditional singer Aileen Lambert stepped in.
This was a tradition they were not prepared to see fall by the wayside, as it was something close to them, having grown up with it first hand in rural Co. Wexford. And so, back in 2002, Michael set out a slow-burning plan, recording and sharing accounts of the May Bush tradition through workshops and talks throughout the county.
Watch: Decorating the May Bush in Ballindaggin, Co. Wexford in 2017
For those who don't know, the custom involves erecting and decorating a bush in May to herald the coming of the Summer and to keep 'the fairies' away and offer protection for the growing crops and milk yield. Although the May Bush is found in other pockets of Leinster, East Munster and South Ulster, it was particularly strong in Wexford and continued as an unbroken tradition for centuries. Up until the 1960s, public May Bush dances and gatherings were a common sight around the county while the tradition was also observed in the privacy of people homes and gardens.
Watch: The May Bush Films - Five Films from Crinkle, Birr, Co. Offaly
The awareness of the tradition changed overnight when in 2015 Michael embraced the use of Facebook for sharing and researching his folklore work. Within days and weeks, he began to see a surge in interest in the material shared especially when it came to specific calendar dates. Within a matter of a few years, they have generated a swell in interest in the May tradition in Wexford with social media offering a space where people can share photos, stories and accounts from throughout the county. In fact, they even helped to regenerate interest in the tradition in Newfoundland, as in May 2019 they spend a month in the rural community of Branch and helped re-energize the tradition which was brought over by migrants from the South East of Ireland in the 18th and 19th century.
Watch: Celebrating the May Bush/Tree Tradition in Branch, Newfoundland
But what is a May Bush? In Wexford, as in other counties, the bush was traditionally a whitethorn or 'skeagh' as it is known locally, though many also used a furze bush or sometimes a piece of mountain ash. Although some people used a real bush, most cut down a bough and stuck it up in a prominent place on May Eve or sometimes on May Day. It was here people gathered, young and old and decorated it with painted eggshells and little bunches of seasonal flowers and ribbons.
Watch: Memories of The May Bush and May Bonfire from Co. Wexford
Each bush would differ from home to home and on some you'd find Christmas tinsel, Easter egg wrappers while more lighted candles and fairy lights. To this day you will find people hanging onto eggshells from March onwards which would be painted and strung together to make garlands for the tree come May. Planting the Seeds As the news spread and popularity of the tradition has grown, more and more May Bushes are being erected around the county. Considering the foundation they laid over the years, they saw an opportunity for a chance to literally plant the May Bush into the fabric of Co. Wexford.
Watch: Discussing The May Bush and May Eve Mass
And so, two years ago Michael and Aileen devised the 'May Bush Planting Scheme' and with the support of the Environment Department of Wexford County Council where they have gifted hundreds of young whitethorns to groups, schools and individuals around the County on the condition they plant just one and watch it grow. As the growing season waits for no-one, this weekend they are out in force and distributing 400 young whitethorns throughout Wexford with the intention that they too will be looked after and come the 1st of May, be decorated and become focal points for families, individuals, schools and communities.
In exchange for the free May Bush, Michael and Aileen are asking people to take a photo of it being planted with details of the location so that they can add it to their growing countywide map. To add with the work, which is voluntary, they have teamed up with 25 groups and communities around Wexford to help with distribution.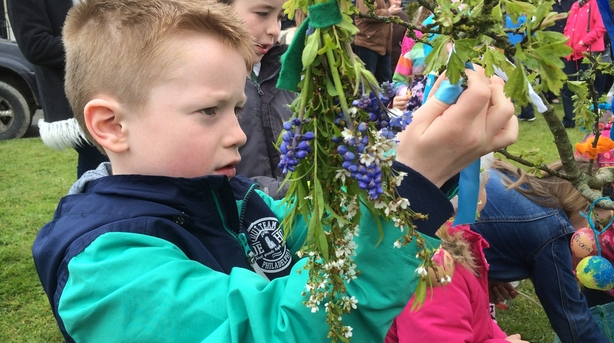 Some Folkloric Insurance And finally, the legacy of the May Bush Planting Scheme comes with a small piece of inbuilt insurance, as Michael explains that the lone whitethorn is revered in Irish folklore and for centuries no-one would dare cut one down for fear of bad luck.
With that in mind, they hope that these little lone trees will grow and stand untouched right into the next century. To find out where you can get your hands on a little May Bush or find out more about May folklore, go to the Wexford May Bush Festival Facebook page or go here.