Arts manager and designer Lian Bell remembers her friend and colleague, theatre producer Aoife White, a mainstay of Pan Pan Theatre, who sadly passed away last month. 
Aoife White was the sunniest person I've been lucky to call a friend. If you met her, you liked her. It was as simple as that.
My first memories of Aoife are from sharing a dingy office in a crumbling old building in Dun Laoghaire at the end of the 1990s. It was winter. There were two creaking, beige, boxy computers between four of us. We did have a plug-in oil radiator each, thankfully, as there was no central heating. There were fingerless gloves and pieces of cardboard covering some of the broken windowpanes.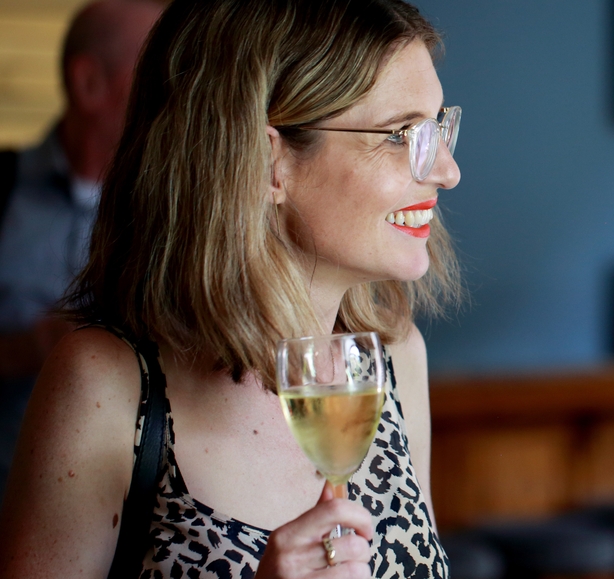 I'd begun working with the theatre company Pan Pan as a teenage volunteer about two years previously. I had somehow stuck around and was now being paid a little to do things that only happened in offices in the '90s: labelling and filing photographic slides, figuring out how the fax machine worked, stuffing mountains of envelopes to bring to the post office, transcribing recordings of talks using a cassette tape player you controlled with your feet. Aoife and I were helping prepare the 3rd edition of Pan Pan's International Theatre Symposium, an improbably ambitious programme of talks, workshops and performances, run by a company who (though I thought they were immensely grown up and accomplished at the time) were only in their 20s. In the excitement of the office acquiring its first scanner we scanned our faces, wearing red foam clown noses.
Aoife joined the company as the administrator in 1999, pretty much straight out of university in Galway, and within minutes was part of the family. Things just worked smoothly when she was around. She seemed to get things done with no fuss and no effort. Pan Pan's improbable ambitions never fazed her. She was small and blonde and always turned out in the most brilliantly cheerful outfits that she would declare proudly were a charity shop find or from Penneys. Most of all, Aoife was always, always smiling. In every memory I have of her she is smiling.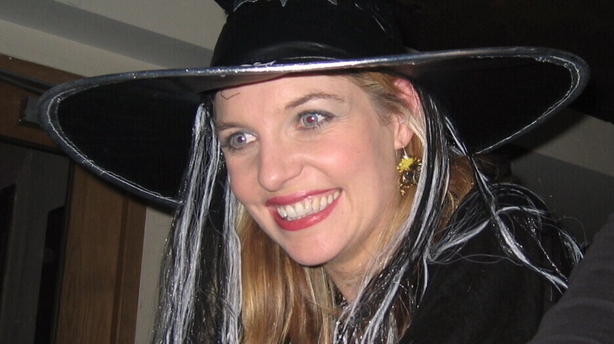 Working in theatre at that age meant that there was little or no line between our social lives and our work lives. Your friends are the people around you – whether you're sitting in a cold office, or in a dark theatre, or in a pub. There were house parties, and tours, and pints after work, and opening nights, and closing nights, and moments of 'everyone back to mine'. I can see Aoife beside me, drink in hand, laughing. Work was fun. It could be hard, but it was still fun. And Aoife was usually at the centre of the fun. As we got older, things naturally shifted and we cultivated richer lives outside of our work. There were fewer mad nights out. But working with Aoife, now that I look back, never stopped being fun.
Aoife loved music and I loved hearing her singing along happily and brilliantly off-key. She and her husband Brian Mooney, a musician, met early on through Pan Pan. There was always music playing in her home, in her car, in the office. Aoife and Brian had their two children, Lily and Danny, and as the recession hit and the arts were savagely cut, Aoife began to work part-time for the company. Still, the artistic output of Pan Pan never seemed to dip. The opposite: there were ever-more ambitious international tours as the backbone of what was always an outward-facing theatre company. In more recent years Pan Pan also took on a number of co-productions with independent theatre artists. Aoife just seemed to absorb the extra work without blinking. She was vital to the success of the company. I still have no idea how she managed to do all that as well as occasionally produce shows outside of Pan Pan. And keep smiling.
My best friend left me last night . Goodnight Aoife . pic.twitter.com/PRttvlT5TH

— brian mooney (@brianmooney123) January 28, 2020
As a producer Aoife's enthusiasm was infectious. She was a deeply and fundamentally kind person, and was relentlessly supportive of the artists around her. She always had time for you. Over the years I worked more from home and less from the office. Still, every time I dropped in she was there, the warm heart of the company, smiling, listening to music and ready to stop everything for a good gossip. Aoife was never judgemental, but she wasn't a pushover either, and she was a master of the good-hearted eye roll.
Aoife has left an unfillable gap in her own wonderful family. Messages have come in on social media since her death that also give condolences to the Pan Pan family. It feels strange but fitting to call it that. Aedín and Gavin, the artistic directors of the company, posted a message that goes some way to explain what has been lost: "She was the kindest producer, the sunniest manager and one of the most positive people you could ever meet. She was dedicated, efficient, diligent, discerning and fast. She was our rock."
After her removal on Thursday night, an assortment of Pan Pan people past and present sat together over pints of stout in a wonderfully shabby pub in Cabra (Aoife would have approved). Each of us there had been connected with the company in different formations over the decades, some who have drifted away, some who are still circling satellites, like me. Her absence was palpable, deep and painful. Yes, we are work colleagues, but in some ways we grew up together during all those years of work. A shifting, expanding family, and we've lost our laughing sister