'The artists of this generation have shown the way. Creative in their activism, unique in their perspectives and loud, very loud, when asked to be quiet...' Quarter Block Party Festival Director Caoilian Sherlock writes for Culture about this year's festival, which takes place from Thursday 6th to Sunday 9th February.
When we started booking artists and musicians for the first year of Quarter Block Party in 2015, the only contemporary music festival that filled the bill with Irish artists was Knockanstockan in Co. Wicklow. Perhaps they set a precedent because around that time it felt very important, both nationally and regionally, to support up and coming artists in our area. Harnessing a great vibrancy from the people that immediately surrounded us. Far from being restraining and negatively localised - I think it was an obvious retort to the first few years of austerity that had begun to settle in. As it still does today, austerity policies were affecting venues, festivals, arts centres and artists all across the country and we were all forced to react in clever and curious ways.
DEAD by Beauty & The Beast is a band, a show, a party, a workshop and a collaboration between the two choreographers Amanda Apetrea, Halla Ólafsdóttir and their friends.@Kino_Cork | Doors 10.30pm | Tickets €15 + booking fee from https://t.co/ClyHhRVVLP pic.twitter.com/AneGI3JS3N

— Quarter Block Party (@QtrBlockParty) February 3, 2020
When Quarter first began, it was a three-month art project/laboratory for artists based in a dank old basement on Camden Quay. It was at the beginning of this project that news of Savita Halappanavar's death became a huge and horrible news story and we left the basement soon after to join a vigil across the road at Emmet's Place outside the Cork Opera House.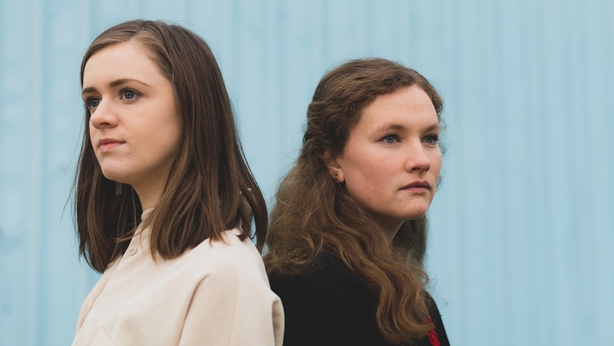 I don't think at the time we were politically active as a group of people, but something about this event, turned us, and many others into activists. Getting involved in the marches, for Marriage Equality and then the referendum to Repeal the 8th Amendment. In the depths of austerity, many of our friends were leaving to work in Canada, Australia, and China - but for those who remained there was an overwhelming sense that we had to change Ireland into something better. When we started organising Quarter Block Party, it felt like it was a part of that. Influenced by the artists that had set up Sample Studios out of the old FÁS building in the heart of Cork City, and the DIY attitude of festivals and venues that we had performed at across Ireland and in Bristol, Berlin and around Europe - we wanted to invite some of our favourite artists to come to Cork, at the end of the winter when it felt cold and dark - to bring some light.
As I said we had to be "clever" in the face of austerity, and I guess this could explain why we booked so many Irish artists. Less flights, accommodation, and costs - very boring.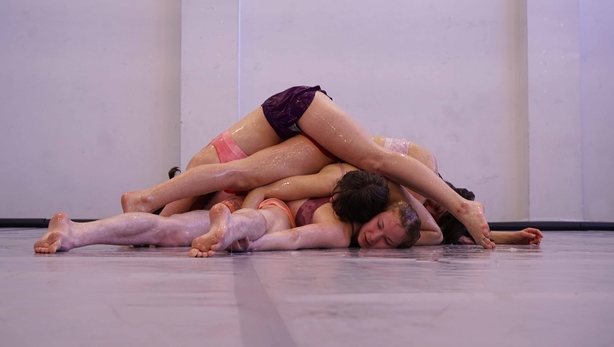 However, the "curious" part is how the many Irish artists were reacting to austerity. There are those who screamed and shouted, furiously giving Irish punk a major wake up. Producers who swapped and shared equipment and collaborated to help each other to create an Irish Hip Hop scene that is highly regarded at home as it is abroad. There's a confidence and swagger throughout Irish music in techno and house, experimental music, singer-songwriter, and especially in pop music. I think that three successive Irish governments have shown a lack of empathy and a brutish nature in cutting off the legs of a generation that came to adulthood at the beginning of this decade, before we could walk.
Watch: Quarter Block Party 2019 revisited
In response, the artists of this generation have shown the way. Creative in their activism, unique in their perspectives and loud, very loud, when asked to be quiet. Artists like Pillow Queens, Myles Manley, Spook of The Thirteenth Lock, Meltybrains R. Kitt, Junior Brother, Maija Sofia, Gash Collective, Alison Spittle, Kate McGrew, Hilary O'Shaughnessy and many others that we have been lucky to host at Quarter Block Party over the past 5 years. I expect Quarter Block Party 2020 will be a great celebration of some of these artists and their art, once again.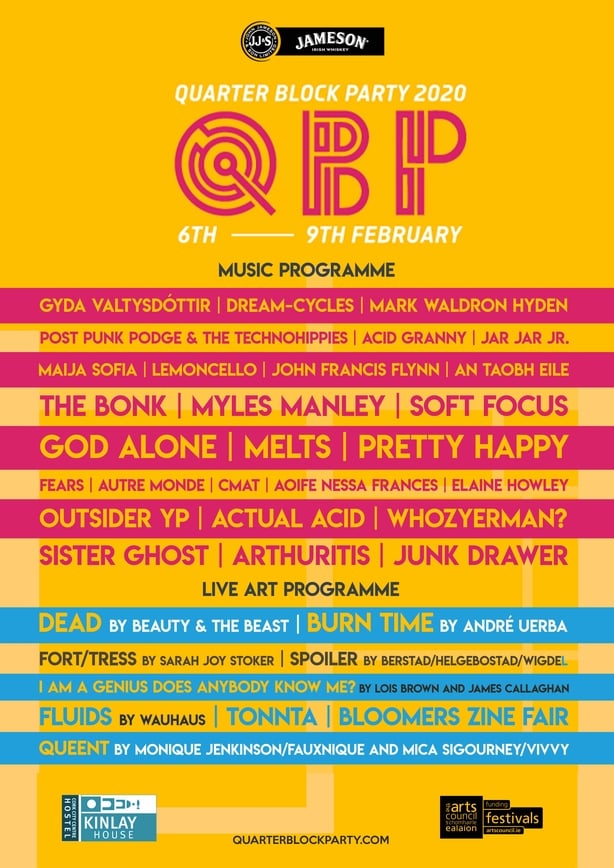 Quarter Block Party runs from Thursday 6th to Sunday 9th February - find out more here.