We're delighted to present an extract from This Is How We Dance, the new memoir by David Diebold.
From struggling actor to wannabe cook, aspiring filmmaker and national newspaper hack, David Diebold's unconventional life has placed him in some bizarre and precarious predicaments. He has blagged his way on stage with the Kirov Ballet for an entire run of Le Corsaire without ever having danced; fibbed his way into a busy kitchen and cooked for Senator Ted Kennedy; and completely cocked up a job as a stripping vicar. Strangest of all, perhaps, is the family backdrop to this rather odd journey...
Subtitled 'Fifty-two forays into flash memoir', these vignettes of life, love and loss are by turn soulsearching, searingly honest, and just plain strange.
---
The Writer And The Banshee
When I was young enough to be dragged giggling around the kitchen floor by our old Labrador, Saul, but old enough that I still now remember every detail, for a brief, magical time we lived in a strange little house at the top of a cliff. The wind howled almost perpetually around the eaves where it perched, its two dormer windows squinting at the horizon. If the wind wasn't making that lonely moaning sound, it could be so quiet you could almost hear your own heartbeat over the distant hiss of the sea, before the rat-a-tat-tat of the typewriter again from the shed where Dad worked.
He had put his career on hold for a year or two—as if I would have had a clue what that meant at the time. All I knew was that to get to our new house we had to drive forever, until the road ended in sand as though washed away by the sea, then a gravel lane you might miss that went up along the cliffs, to where the spray would occasionally shoot through blowholes from the sea below.
A tall boy with red hair opened the gate and handed over keys.
—You're the writer, he said, shy.
—You're Tommy, said Dad.
I still remember how goofy and star-struck Tommy appeared and how funny Dad thought it was. We crunched around the gravel courtyard as Tommy showed us the thatched turf shed and the little storeroom with its single window.
—Perfect, said Dad.
It was a cold house that always smelled like old paper. Aside from a single fireplace, heat came from oil-burning heaters that stank and made your throat burn. Dad spent most of the time out in the storeroom, where you could just see him through the window, hunched over his typewriter. Rat-a-tat-tat, then ding as the carriage reached the end of a line.
If Dad had a good day, we'd go for a walk, down the lane to the beach beneath the cliffs, where tidal streams carved up the sand in completely different ways each day. Saul would disappear into the distance until he was just a speck, then reappear wet and reeking of some dead thing. Once we found a glass bottle: Dad wrote a note to put in it before throwing it back into the waves.
On bad days, Dad would thunder around growling about freezing my ass off out there for nothing, then Saul and I would play in the garden on our own. You could make Saul sit and stay while you went to hide, but he'd always find you because there wasn't really anything in the garden to hide behind, except for half an old sea mine that we'd burn our rubbish in.
We lived so far from anything that you could hear a car coming for miles. Mostly though, if any came as far as our house, it would mean they had taken a wrong turning. Otherwise there was hardly anyone on our road, except maybe Tommy when he came to cut the grass.
Once, Dad wedged a length of pipe into one of the sea cliff blowholes along the road so that it sounded like someone wailing. This pleased him no end. When he heard that some of the old farmers in the local pub were talking about the Banshee out our way, it cracked him up.
Every day when Dad emerged from his little storeroom, I'd ask him if he'd finished. If it hadn't been a good day, he might say no, god damn it. Otherwise, he might say something like finished for today, anyway. Then we'd go and check on the Banshee pipe, or to where we could watch the spray shoot through blowholes, or to see how the tidal streams had changed direction.
Winter was hard. The stench of Kerosene from the heaters was so bad sometimes we'd just turn them off and bundle up. Dad visited his storeroom less and less, then took a few night shifts all the way up in Dublin, driving hours each way in the dark in his beaten up old Volkswagen. Christmas came and went and the streams down on the beach changed course a hundred times.
Occasionally, if I managed to pull myself up onto the window ledge with my forearms, I could peer in to Dad's storeroom and see his typewriter there with the empty kitchen chair in front of it, a single sheet of paper trapped in the roller. Once, I remember him opening the door and the wind sending a stack of papers flying into the air and him chasing them all over the courtyard.
I don't think we were happy about leaving when it was finally time to go. I ran around the outside of the house touching things one last time, rough lichens on a dry-stone wall, smooth rust on the surface of the old sea mine, flakes of paint on the frame of the storeroom window, Saul running behind me, barking the whole way.
We stopped just once as we drove out to the lane for the last time, so that Dad could go back and close the gate.
He said we couldn't have a dog where we were going, but there was an old man who lived on a farm who was really lonely since his wife had died: Saul would be very happy there. I still couldn't stop crying. Years later, I suspected that it had been a lie, that there had been no farm—but someone told me that there was, and that Saul had lived to a ripe old age.
We never went back to that cliff top house as a family, but I've been back to look at it with my kids. It's still there, unchanged, caught in time, though I didn't quite have the nerve to peer inside any of the windows.
As a young teenager, I found Dad's book in a drawer, buried under rejection letters from publishers. I couldn't bring myself to read it: I just ran my fingertips over the bumps on the back of each sheet, where some of the letters had almost punched through with the force of his typing, word after word, sheet after sheet, a neat stack of time.
When Dad died and I was asked to look through his little office for the few small things I might like to keep, what I really hoped I'd find was the book, but though I looked everywhere for it, I couldn't find a trace. All I found was a single black and white photo taken from a cliff-top house, of a vast beach carved up by tidal streams, and far in the distance, the tiny black spec of a dog.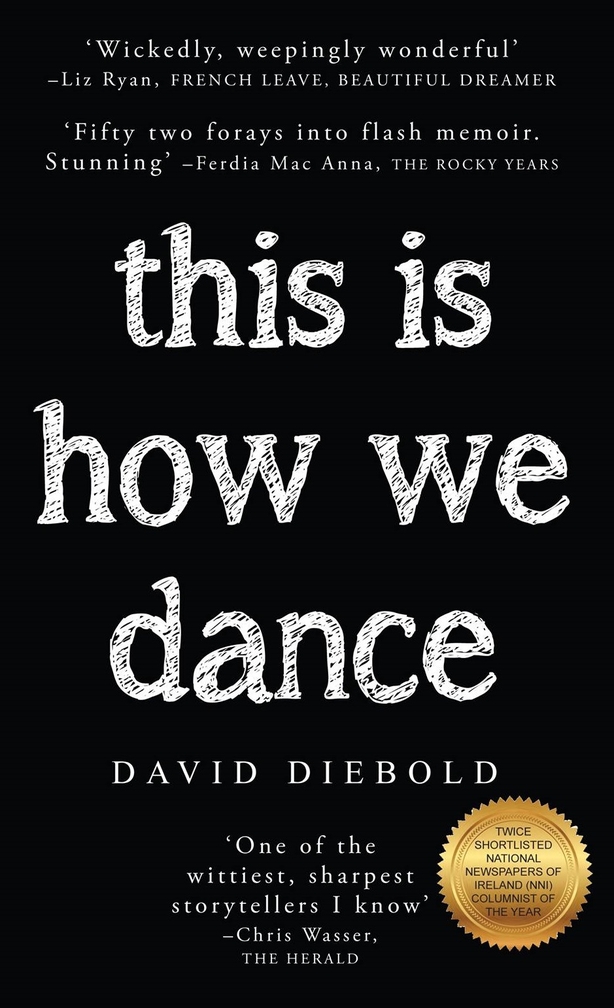 This Is How We Dance by David Diebold (published by Monument Media Press) is out now - find out more here.