Though our need to connect is innate, many of us frequently feel alone. International artist Nicola Anthony has worked with individuals in Wexford who feel isolated, displaced, or lonely, for her project A Desire For Closeness, to be presented as part of this year's First Fortnight festival, which challenges mental health stigma through creative arts. Below, Nicola writes for Culture about the genesis of the project...
For the past six months, people across Ireland have been sending me stories about a time when they felt alone.
My mission is to transform human stories into art. Especially those quiet, difficult to tell stories. I make sculptures and drawings using text - a story becomes my canvas, and a sentence becomes my pencil line.
You might think it is hard for me to prise stories of aloneness from people, but the stories keep fluttering in.
I am often asked why I am fascinated by life stories; I have sculpted the testimonies of Holocaust survivors and migrant workers across Asia. I gather insight from those who have crossed emotional or physical borders, the disenfranchised or the displaced. By giving them a voice I try to highlight the threads of commonality between people from all walks of life.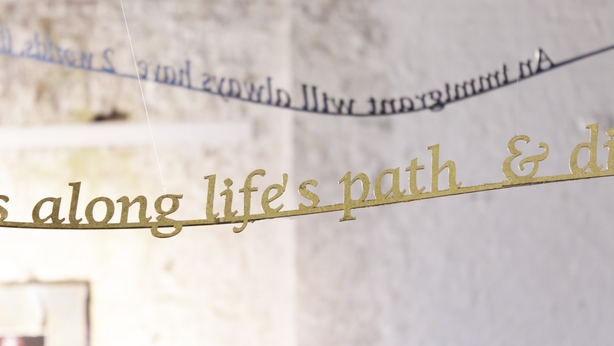 This year my sculpture We Are All Connected took excerpts from the memoirs of immigrants and coupled them with emigration stories from Irish people around the globe. I have been inspired by mythology about ancient river boundaries, and the emigration literature of Irish language poets portraying how Irish-speaking communities have experienced confluence, loss and displacement.
Throughout these projects, loneliness was a common theme and First Fortnight is the perfect platform to explore that further. I hope that audiences gain insight into the many ways that loneliness is experienced: People have expressed profound loss; paralysis; reclusion or rejection; a quiet yearning; reality-disconnect; depression; a drowning silence; helplessness or hopelessness.
It may not be the person who looks most alone who is experiencing the most paralysing isolation.
Viewing loneliness without stigma also gives us courage in situations where self-imposed loneliness is a positive. For example, people who find themselves in a bad crowd, anyone who wants to take a step back from toxic personalities or negative beliefs, and those who find they are in the wrong job or relationship. We all need the courage to risk being alone, to know that it is OK and that it will pass.
You might think it is hard for me to prise stories of aloneness from people, but the stories keep fluttering in.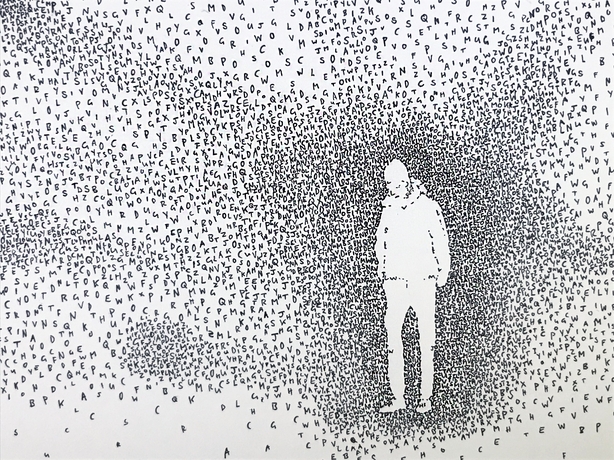 For the exhibition A Desire For Closeness, every story collected will be printed in a book. There's currently a national call-out for stories at humanarchiveproject.com, where you can anonymously bare your soul in as many characters as you need. It's the opposite of twitter: No judgement and no stigma.
Talking of tweeting... On my journeys to Enniscorthy I observed murmurations of starlings performing a mesmerising dance of togetherness over the River Slaney. This phenomenon is called emergent behaviour: Their apparently choreographed coordination is caused by thousands of individual movements and instinctive actions. Emergence also occurs in water molecules, resulting in its behavior as a liquid - flowing, eddying, tidal.
There are parallels with how humans behave in a crowd or as part of a society. This observation inspired the central sculpture in the exhibition, featuring birds filling the cavernous ceiling. Beneath sits a solitary bird.
Viewing loneliness without stigma also gives us courage in situations where self-imposed loneliness is a positive.
Each starling is made of words, kindly loaned by Louis De Paor, from his poem Fa´ilte Ui´ Dhonnchu´ which portrays crowds of people walking past a homeless Romanian woman. She is surrounded yet still incredibly alone. The original Irish of De Paor's poem becomes sculpture - the poem itself displaced, migrating, reassembled.
On my journeys, I follow the same river for hours listening to birdsong. I have been collecting bottles of river water to use in ink drawings which simulate droplets of dew being compelled together.
Being made of 60% water ourselves, this metaphor for society enchants me: Everyone is connected, part of Ireland, part of the world... but the river splits and divides; it crosses borders, emerging as streams, loughs and puddles; becoming gentrified and compartmentalised, purged and evaporated... it forgets that each droplet is part of the whole.
A Desire For Closeness is launched on 10 January 2020 at 6:00pm at Presentation Arts Centre, Wexford, as part of First Fortnight 2020 - find out more here.