Ahead of the world premiere of John Kinsella's 11th Symphony by the RTÉ National Symphony Orchestra on Friday 29 November at the National Concert Hall, an occasion which will also see Kinsella being awarded the National Concert Hall Lifetime Achievement Award, Séamus Crimmins considers Kinsella's work and formidable contribution to Irish music.
Music begins where the possibilities of language end - Jean Sibelius
John Kinsella (b 1932) retains a profound dedication to orchestral composition that has been refined over many decades. On November 29th the première of John's 11th Symphony will be given by the RTÉ National Symphony Orchestra conducted by John Deroyer. This is an event of national significance.
Listen: To mark the premiere of John Kinsella's 11th Symphony and his Lifetime Achievement Award by the NCH on November 29th, Athena Media has crafted his short documentary on John Kinsella, his work and life.
The importance of the occasion is further amplified, as John will receive the National Concert Hall's Lifetime Achievement Award 2019 in recognition of his unique contribution to Irish musical life. He is our most prolific and passionate symphonist and the first Irish composer to receive the coveted award.
Growing up in Dublin, John's interest in music developed under the guidance of his parents, particularly his father who purchased scores for him and introduced him to concerts. The family radio sat in the 'magic corner'. This was a place of wonder and learning and John recalls rushing home during school lunch breaks to listen to concert broadcasts, one of which included the Jupiter Symphony.
Listen to John Kinsella's Symphonies Nos. 5 & 10
Largely self-taught in composition, John's early musical growth was sustained mainly by intensive study of scores, attendance at live concerts, a close acquaintance with recordings and, being a keen amateur violist, chamber music. He was encouraged by Gerard Victory, Hans Waldemar Rosen, Albert Rosen, Proinnsías Ó Duinn, Colin Stavely and Brian Boydell among others. Works from this early period include his First and Second String Quartets (1960 and 1968), Chamber Concerto (1964), Montage and Montage II (1965 and 1970), Two Pieces for String Orchestra (1965) commissioned for their inaugural concert by the Irish Chamber Orchestra and A Selected Life (1973) for large forces based on verses by his brother, the poet Thomas Kinsella, written in memory of their friend Seán Ó Riada.
John's appointment as Senior Assistant in the Music Department at RTÉ (1968) furthered his familiarity with the latest developments in contemporary music through, for example, the International Rostrum of Composers and the Dublin Festival of 20th Century Music. It was an adventurous time for new music in Ireland.
Listen to John Kinsella's Symphonies Nos. 3 and 4
During a break from composition in the late 1970s John, disillusioned by the avant-garde, resolved to find his own instinctive voice, regardless of vogue. This was crucial given his love of symphonic scale and the hugely significant and ambitious work he was about to undertake. His Essay for Orchestra (1980), an early example of his bold new sound world would become the first movement of his Symphony No 1 (1984).
He speaks of the excitement and unending fascination with big structures, of adventurous possibilities, of balance and pace, of the need to shape and reshape and of the desire to create something of importance.
John received the Marten Toonder Award in 1979 and became a founding member of Aosdána in 1981. He succeeded Gerard Victory as Head of Music in RTÉ in 1983 and, among many successes, he oversaw performances of significant symphony cycles given by the RTÉ Symphony Orchestra, the emergence of the RTÉ Concert Orchestra from its near-exclusive studio attachment and, together with Colin Mawby, the creation of four new RTÉ choirs. I remain indebted to John for recruiting me to the Music Department in 1984 as radio producer of choral broadcasts. My time with the RTÉ Chamber Choir, Chorus, Philharmonic Choir and Cór na nÓg was one of the most fulfilling in my life - a constant thrill given the scale and quality of what was developed and achieved, up to the time of the 1990 Broadcasting Act. I recall with fondness John's encouragement and support, together with the insightful discussions that he led on editorial matters.
Listen: John Kinsella's Selected Orchestral Works
Since his retirement from RTÉ in 1988, John has devoted himself fully to composition and created a rich legacy of eleven symphonies, two violin concertos, a cello concerto, five string quartets, Cúchulainn and Ferdia - Duel and the Ford (written to mark the 60th anniversary of the RTÉ NSO in 2008) and many other instrumental, chamber, vocal and choral works. His music has been recorded by New Irish Recording Company, Chandos, Naxos and RTÉ Lyric fm and Irish Chamber Orchestra labels. In his doctoral thesis (2012) on John's symphonies 1 – 10, Séamas de Barra refers to the importance of this cycle 'not only for their intrinsic creative achievement but also in the significance of the series as a whole in the history of Irish art music'. He continues, 'Kinsella's compositional idiom is derived from a personal adaptation of serialism in which the technique of the note-row is manipulated to readmit the forces of tonal attraction. The result of these twin influences is an arresting individual approach to composition.'
There seems to be a thread linking the young John Kinsella whose imagination was fired by hearing symphonic works such as Beethoven's 7th or Schubert's Great C major and his own personal symphonic journey beginning in 1984. He speaks of the excitement and unending fascination with big structures, of adventurous possibilities, of balance and pace, of the need to shape and reshape and of the desire to create something of importance.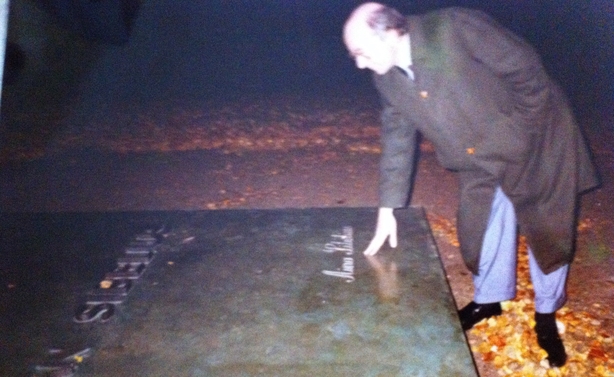 Most significantly his Symphony No 11 sees John in rapport with his idol Sibelius, in hommage; he believes it is like touching the garment of the prophet. And he adds that the summit of his life would be a performance of the Symphony No 11 in Finland.
Gentle and reserved by nature John's deep love of music and composition has created a lifetime's output for us which is characterised by rigorous self examination, passion, single-mindedness and originality. He has bestowed his unique talent to Ireland's musical and cultural life and he deserves our utmost admiration.
Séamus Crimmins is the former Director of RTÉ Orchestras, Quartet and Choirs, and the Founding Head of RTÉ Lyric fm. John Kinsella's 11th Symphony receives its world premiere on Friday 29 November at the National Concert Hall, with Kinsella in conversation with Crimmins in a pre-concert event at 6.30pm - find out more here.
The Lyric Feature on 24th November 2019 at 6pm on RTÉ lyric fm, entitled A Symphonic Life, offers an intimate portrayal of John Kinsella's process, the evolution of his compositions and commitment to the art form - listen back post-broadcast here.