A new golden age in Irish literature was celebrated at this year's An Post Irish Book Awards, with a host of Ireland's leading writers, publishers, booksellers and media personalities in attendance to see a diverse array of winners claim their awards. 
Joseph O'Connor, Vicky Phelan and Andrea Corr were among the winning authors at this year's awards ceremony, held in Dublin's Convention Centre and hosted by Miriam O'Callaghan and Evelyn O'Rourke.
O'Connor won the Eason Novel of the Year for his acclaimed historical tale Shadowplay, a bravura re-imagining of the real-life relationship between Bram Stoker and two stars of the Victorian theatre, while Phelan and Corr were awarded the RTÉ Radio 1 Listeners' Choice Award and Ireland AM Popular Non-Fiction Book of the Year respectively, for their memoirs Overcoming and Barefoot Pilgrimage.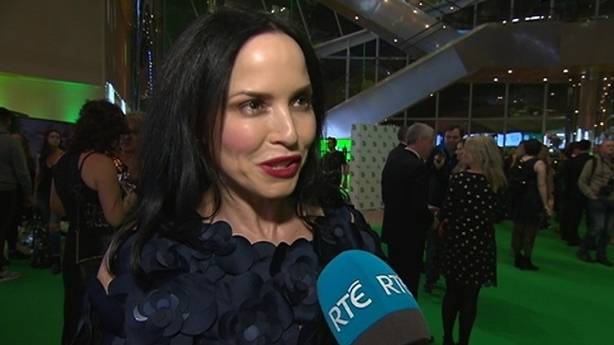 Once, Twice, Three Times an Aisling by Emer McLysaght and Sarah Breen was named National Book Tokens Popular Fiction Book of the Year, while former RTÉ Book Show presenter Sinéad Gleeson was awarded the Bookselling Ireland Non-Fiction Book of the Year prize for her debut essay collection Constellations. 
The Sunday Independent Newcomer of the Year award went to Anne Griffin for her bestselling debut novel When All is Said, while Jane Casey's Cruel Acts, the latest in her popular Maeve Kerrigan series, was named Irish Independent Crime Fiction Book of the Year.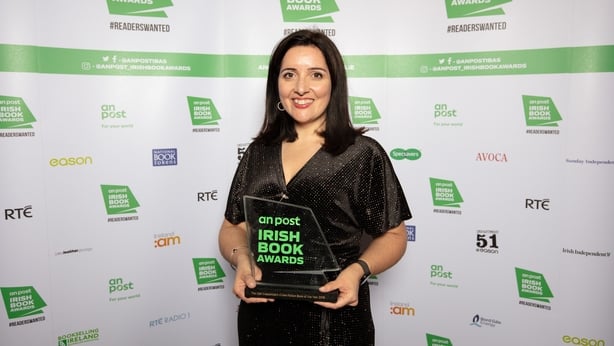 RTÉ's Joe Duffy and Irish Times Northern Correspondent Freya McClements.took the TheJournal.ie Best Irish-Published Book of the Year prize for Children of the Troubles, a book honouring the lives of the 186 children who perished in the conflict in Northern Ireland.
Elsewhere, former footballer Richie Sadler's memoir Recovering was named Bord Gáis Energy Sports Book of the Year, with the Avoca Cookbook of the Year prize going to Cornucopia: The Green Cookbook, produced by the team behind the popular Dublin vegetarian restaurant.
Acclaimed author and journalist Colm Tóibín received a standing ovation as he received the Bob Hughes Lifetime Achievement Award, in recognition of the central position he has occupied in the cultural life of Ireland for over three decades, with acclaimed works including Brooklyn, The Master and The Testament of Mary.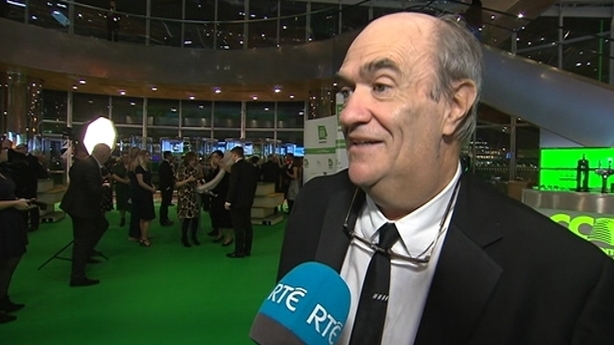 This year's International Recognition Award was presented earlier in the year to Game Of Thrones creator George R.R. Martin, who was also honoured on the night. 
Over 115,000 votes were cast by the book-loving public to select the winners in each category, and readers everywhere are now being invited to vote for their overall An Post Irish Book of the Year - cast your own vote here.
Commenting on this year's winners, Maria Dickinson, Chairperson of the An Post Irish Book Awards, said: "Many of our winning authors reflect on contemporary or historical issues within Irish society, while others amuse, inspire and enthrall through fantastic story-telling.
"Both the winning authors and all our shortlisted titles are a terrific testament to the strength and vitality of Irish writing – and long may this continue."
Highlights of the An Post Irish Book Awards will be broadcast on RTÉ One at 11.15pm on Saturday 23 November.
An Post Irish Book Awards - The Winners In Full
RTÉ Radio 1 Listeners' Choice Award
Overcoming – Vicky Phelan with Naomi Linehan (Hachette Books) 
Bord Gáis Energy Sports Book of the Year
Recovering – Richie Sadlier with Dion Fanning (Gill Books)
Avoca Cookbook of the Year
Cornucopia: The Green Cookbook – Tony Keogh, Aoife Carrigy, the Chefs of Cornucopia, Deirdre and Dairine McCafferty (Gill Books)
Irish Independent Crime Fiction Book of the Year
Cruel Acts – Jane Casey (HarperFiction)
Bookselling Ireland Non-Fiction Book of the Year
Constellations – Sinéad Gleeson (Picador)
TheJournal.ie Best Irish-Published Book of the Year
Children of the Troubles – Joe Duffy and Freya McClements (Hachette Books Ireland)
Love Leabhar Gaeilge Irish Language Book of the Year
Tairngreacht – Proinsias Mac a'Bhaird (LeabhairComhar)
Dept51@Eason Teen & Young Adult Book of the Year
Other Words for Smoke – Sarah Maria Griffin (Titan Books)
Specsavers Children's Book of the Year – Senior
Shooting for the Stars - My Journey to Become Ireland's First Astronaut – Norah Patten, illustrated by Jennifer Farley (The O'Brien Press)
Specsavers Children's Book of the Year – Junior
123 Ireland! – Aoife Dooley (Little Island Books)
Sunday Independent Newcomer of the Year
When All is Said – Anne Griffin (Hodder & Stoughton)
National Book Tokens Popular Fiction Book of the Year
Once, Twice, Three Times an Aisling – Emer McLysaght and Sarah Breen (Gill Books)
Listowel Writers' Week Irish Poem of the Year
Salt Rain – Audrey Molloy (from Mslexia, September 2019)
Writing.ie Short Story of the Year Award
Parrot – Nicole Flattery (from The Stinging Fly, Issue 39, Volume 2, Winter 2018-19)
Ireland AM Popular Non-Fiction Book of the Year
Barefoot Pilgrimage – Andrea Corr (HarperNonFiction)
Eason Novel of the Year
Shadowplay – Joseph O'Connor (Harvill Secker)