Philip Boucher Hayes reveals what he learned while researching his new documentary 'Hot Air: Ireland's Climate Crisis' that goes out on RTÉ One tonight as part of RTÉ on Climate.
Vinny Hyland had briefed me that we would be greeted by an underwater desert. I had assumed he was exaggerating for effect, but he was absolutely true to his word.
Some 30 years ago he had filmed the Atlantic seabed off the Kerry coast at Derrynane. It teemed with all kinds of life - flatfish, lobsters, crabs and more vegetation than you could ever hope to name.
We dived in exactly the same place he had filmed in 1990 and the change in almost three decades was profound. Flat, barren, featureless and strewn with plastic. Where once there was an abundance of aquatic life, now there was next to nothing.
The Intergovernmental Panel on Climate Change explains that it is virtually certain that our global oceans have warmed and that coastal ecosystems are affected. Some marine ecosystems are impacted by overlapping impacts of fishing and climate change.
In the documentary 'Hot Air' you will see a shoal of triggerfish, a species associated with much warmer waters, happily swimming in November seas off Kerry.
I had been looking for TV-friendly evidence that the climate crisis was not some abstract concept happening in far-flung corners of the world. And here it was. Now, not 50 or 60 years from now, but very much in the present.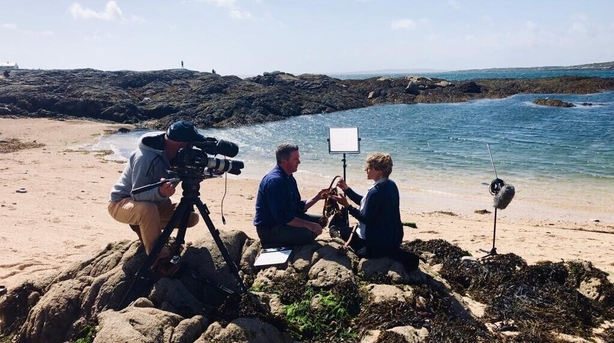 For years the narrative around the climate crisis has been one of personal responsibility. If we all made changes in our domestic lives then the problem could be addressed.
That is true, but only partly so. If at the same time everyone globally made all the changes that are within our power, it would still only get us a third of the way to the emissions reductions required.
The most meaningful reductions are only in the gift of governments and large corporations. So I wanted to make a programme that set out not what you could for your country, but what your country and companies should be doing for you.
"The possibility for ours to be the greatest generation, the one that turned around a planet-sized existential threat, is still there"
Climate science is complicated and hard to get your head around. Who can honestly say what a 30% reduction over 2005 GHG emission levels achieved by 2030 actually involves? 
So I sat down with one of Ireland's leading climatologists, the recently retired Prof John Sweeney, to translate the science into plain English.
Hopefully, we have created a programme that explains clearly the level of effort actually required to keep the planet liveable - exactly what Ireland has to do to play its part in keeping warming below a 1.5 degree increase, and the gap between that and what the government has done to date.
I'm conscious that sounds far from easy-going television to sit down in front of at the end of a long day. But if the climate crisis makes you want to throw your hands in the air and walk away in despair, 'Hot Air' will show you that the problem can actually be effectively addressed.
It won't be easy, it will require levels of shared sweat and toil not seen since 1945. But the possibility for ours to be the greatest generation, the one that turned around a planet-sized existential threat, is still there. We just have to choose to take action.
RTÉ has let me make this programme at a critical moment. There is an abundance of goodwill towards the aims of the school-climate-strikers, but no clear roadmap of what we do next. 'Hot Air' takes that momentum and translates it into the practical steps that the science says need to be taken.
And we have sweetened the pill by making a programme that is stunningly beautiful to look at. It is a love letter to our captivating island and a painful illustration of what we stand to lose.
This was RTÉ cameraman Nick Dolan's last job before retiring. It is the kind of swan song we all wish we could end our careers on.
Director Garry Keane, potentially in line for the Oscar shortlist for his last project, 'Gaza', has shaped a programme that turns the prose of climate science into something lyrical.
This will be the most important television programme you watch this year. 
'Hot Air: Ireland's Climate Crisis' is on RTE One at 9.30pm on Tuesday 12 November as a part of the #RTEonClimate week.