Artist Sarah Browne writes for Culture about Public feeling — an artwork about health and austerity that is shaped by fitness choreography.
Some people feel comfortable in art galleries; other people know how to carry themselves in a church. This public artwork, rather than being staged as an exhibition or a play, takes the form of a series of fitness classes in Tallaght and Clondalkin Leisure Centres this November.
Each class — a circuit class titled FALLOUT, an aquafit class titled RESILIENCE and an online spin class titled BREAKDOWN — is delivered by a working fitness instructor, and accompanied by a scripted soundtrack. There are no spectators and no recording, only participants, and you are invited to move and sweat in rhythm with spoken language. A selection of everyday objects replace typical exercise equipment.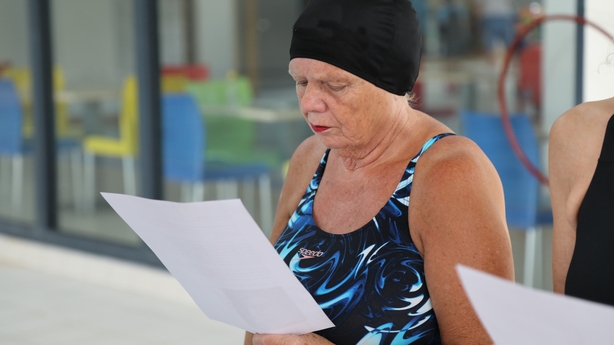 The project is situated in South Dublin County, where in 2018, it was found that while self-reported health has stabilised since the end of the recession, not everyone has benefitted equally: stress and mental ill-health remain higher in areas of greater deprivation. Carer burden is now the single largest factor impacting on wellbeing, and half of households in Tallaght include a person with chronic illness.
Public feeling invites participants to remember those who are absent, as well as sharing an experience together.
Ultimately my role in Public feeling has been that of a director who brings people together in a shared space, in order that the project holds traces of the conversations I've had in hospitals, cafes, community centres, the lobbies of government buildings and gym car parks. Public feeling is animated by the experiences of the brilliant people who have worked with me on it, as we've used the leisure centres for reading and writing workshops as well as physical movement.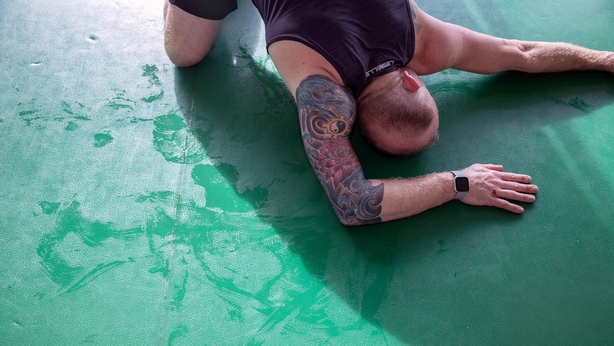 Lynn Ruane's call to action, Rich in Resilience, forms the core of the RESILIENCE aquafit class, led by the tough and joyful Eleanor Young. Colm Keegan's newly commissioned poem, Body As, punctuates the FALLOUT circuit class, which is coached by Gareth Francis of Kickstart Fitness. Both pieces are voiced by their writers, and are expertly woven by sound designer Bee Akkerman through existing and newly created music, all still conforming to the requirements of a fitness class. The classes have been tested with self-described fitness geeks as well as the gym-phobic, and Gareth and Eleanor adapt their classes for different fitness levels. While not everyone is well enough to work or to 'work out', Public feeling invites participants to remember those who are absent, as well as sharing an experience together.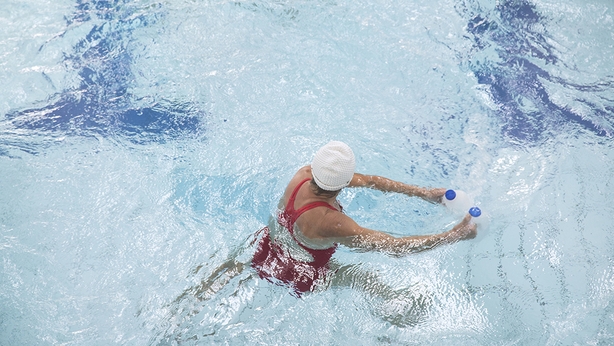 As much as bodies can hold onto trauma, there is the possibility of learning and practicing different ways to move. Certain gyms and leisure centres, as much as sea-swimming spots and well-cycled tarmacked hills, hold the energy accumulated through the repetition and effort of so many individual bodies. Some of the experiences that move through these places are unique to the person—remembered on a home screen, or held in a tattoo or a keychain memorial. Other experiences are more easily shared, due to the conditions of the time and place we find ourselves surviving.
Public feeling proposes that 'feelings' – like joy, shame, anxiety and depression – are not only individual emotions, but also have a shared social dimension, and asks how we can occupy the everyday space of the gym or leisure centre to re-imagine and re-work these collective experiences.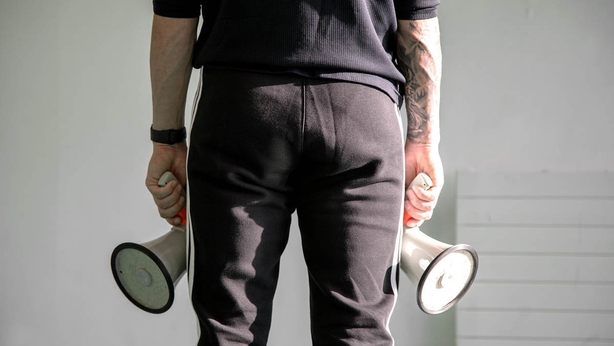 The Taoiseach ran for leadership of his party on the basis of a claim that 'welfare cheats cheat us all' and is photographed in post-workout exercise wear. A gym owner and retired mixed martial arts fighter is elected as a local councillor in Tallaght (Paddy Holohan). A retired Olympic boxer who's now an addiction counsellor is also a local councillor, in Clondalkin (Kenneth Egan). The gym might be thought of as an offstage space outside of politics, but maybe it can also be a concentration of it: what values are being trained into muscle memory? Which bodies are self-consciously worked and cared for, and by whom? How have these relations changed or intensified in the last ten years of austerity?
Find out more about Public feeling and how to participate here.