Ahead of the new series of The Works Presents, John Kelly writes about the privilege of interviewing well-known people and how he's conscious that someone watching could be inspired by a response to a question.
I've always said that interviewing people is a huge privilege. To sit down with someone for a long, concentrated period of time is a rare enough occurrence these days, and so I'm especially blessed to find myself in these one-on-one situations with people in whom I'm already deeply interested.
Even when my guest is someone I've known for years, a filmed interview creates a scenario that cannot be replicated anywhere else – not only are there no interruptions (at least there shouldn't be) it also gives me the licence to ask questions I would never ask in the pub. Did I ever ask Seamus Heaney about poetry? No. Only in interviews.
Yes, of course, an interview is an artificial set-up with the interviewer and the interviewee each having a specific part to play but this, perhaps surprisingly, can sometimes bring out the best in everyone. Whenever this happens then something very useful may well be achieved. And that's exactly what I aim for – something useful, both now and for the future.
While the interviews I conduct for The Works Presents are usually with well-known people, they are decidedly not "celebrity-interviews." Nor are my guests participating in order to sell or promote anything in particular – they are simply willing to meet, talk, explore and perhaps even explain – even though no artist has an obligation to do any such thing.
My guests however tend to be people who are generous with their time and their gifts and my only hope is that, between us, we produce something constructive. I'm always acutely conscious that somebody watching one of our programmes might well be encouraged, inspired or even transformed by something that is said in response to a question.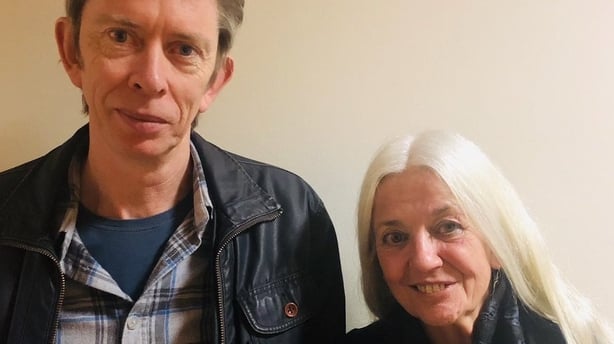 My guests for this short pre-Christmas run of programmes are as follows – Paula Meehan, Dorothy Cross, Moya Brennan, Bronagh Gallagher and Lisa Dwan. These are all artists with fascinating insights into their own disciplines, and with a marvellous ability to talk about what nowadays tends to be called their "creative journeys."
How did Lisa Dawn end up dancing with Nureyev when she was only twelve years old? And how did that contribute to her becoming a leading interpreter of Beckett? How did a group like Clannad come up with a sound that would take them all around the world? And how much of it was simply a random matter of what instruments just happened to be lying around the house?
When Paula Meehan discovered her close family connections to the notorious Monto area of Dublin, how did this new information feed into her poetry? How did Bronagh Gallagher approach her role in that still shocking scene in Pulp Fiction? And why does Dorothy Cross believe a shark to be as much of a treasure as a Vermeer?
Everybody I've interviewed for this series (and indeed for previous series) are the sorts of people I'm reluctant to leave when the interview is done. I know exactly how fortunate I am just to be around such inspirational presences, if only for a day. I'm also extra lucky as an interviewer in that I'm not talking to politicians or the heads of corporations and my job is not to grill.
My job is simply to facilitate great artists in communicating something about their art, and about art in general. Just like all my guests and, of course the people who watch this kind of programming, I still believe very deeply in the importance of the arts to all of our lives. And so I very much hope that do we justice to these inspirational people and their mighty creative spirits, and that the finished series turns out to be, in its own way, inspirational and, I'll say it again, useful.
John Kelly is presenter or The Works Presents, the first episode is on tonight (Thursday 7th November) at 11.05pm on RTÉ One.