Irish actor Johnny Vivash writes for Culture about his new movie Deathcember, 'a cinematic Advent calendar of horror' consisting of 24 short films by 24 international directors. taking a look at the dark side of the festive season, which receives its world premiere at this year's IFI Horrorthon Festival in Dublin. 
Landshut hosts LAKFF, one of Germany's largest short film festivals; it's a staggering feat of programming, housed in the town's omniplex and utilising the majority of the cinema's screens. Back in March 2017, I was attending said festival with a short film called Eddie; myself, director John Cook Lynch and writer Jon Williams-Knobbs had made the journey to represent the film.
Watch the teaser trailer for Deathcember
As with most festivals, it's a fantastic place to meet fellow filmmakers, actors and programmers from other festivals. Post-screening and at one of the festival's bars, the celebratory party was in full swing - it was here we met Dominic Saxl and Ivo Scheloske, two of the guys behind Deathcember.
There was much talk of festival highlights, genre movies and so forth. Sometime in the wee hours, the guys pitched the idea/ project they were hoping to embark on, we loved it, its originality and the fact that no one had ever attempted anything around this theme before - thankfully our director John had something he thought might fit. The beer flowed, and plans were hatched...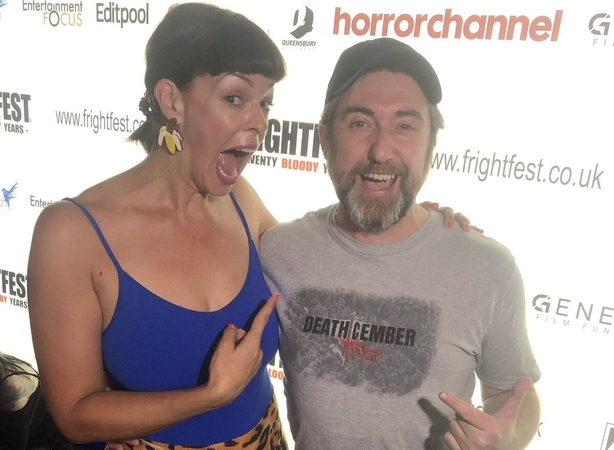 In the groggy cold light of day, heading to Munich airport the following morning we wondered if such an undertaking could happen, it was a hell of a lot of cat wrangling, pinning down 24 directors on a number of continents (and a few on standby), green lighting all the scripts and importantly finding the revenue to fund the project. We crossed our fingers and hoped it might work out. Cut to February 2019: after a number of emails between Dominic, Ivo and John, the budget was in place and a date was set, and we were filming our Deathcember segment, Cracker...
Cracker, in which a terrified family is traumatised by a round of Christmas cracker pulling, was shot over two days at SLV studios in London. On day one, all hands (led by Art Director Jasmine Schofield and Assistant Director Steve Parsons) were on deck to piece together a 1950s Christmas dining room fit to play out the film's tense and mysterious post-meal parlour game. 
One of the greatest things about our team premiere last weekend - and about creating #DEATHCEMBER itself - has been the feeling of having a truly international family come together🎅😻 With directors, cast & crew from Germany, Belgium, France, Ireland, the UK, the USA & more! 🖤 pic.twitter.com/a336ni7w0O

— Deathcember (@DeathcemberFilm) September 8, 2019
Despite taking place in a single location, we still had a lot of shooting to fit into day two. Our stellar cast (Amy Newton, Leila Wetton, Jennie Lathan and Alan Mandel, as well as myself) turned the screw of narrative tension to perfection. Meanwhile behind the camera, our Emmy-winning cinematographer Franklin Dow brought the vintage Christmas scene to life with photography worthy of a classic Technicolor melodrama. 
However, despite its distinctive look and setting, the true cachet of Cracker comes in its final extraordinary moments, with a piece of practical FX work that is best left as a surprise. Suffice to say the effect - achieved 100% practically - took up a whole third of the shooting day, not to mention a whole host of pre-shoot planning and testing. It was one of those things that either work spectacularly or fail miserably but thankfully for us it turned out to be the former. The result? If you can imagine something that is in equal parts a homage to Douglas Sirk, Alfred Hitchcock and David Cronenberg, then you might be getting close!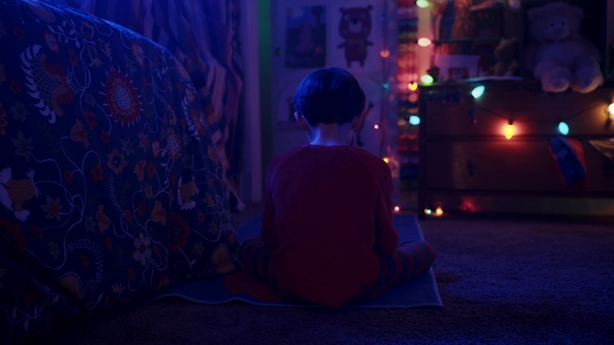 Cracker is only one of Deathcember's 24 funny, scary, weird and gory segments. Together they form what we're calling 'the ultimate advent horror anthology movie', and I couldn't be more delighted to be back in my home town of Dublin for the world premiere. Do come and join us if you can.
Only a single question remains: This December, will you dare to open the door?
The world premiere of Deathcember takes place at IFI Horrorthon in the Irish Film Centre, Dublin on October the 25th, with the producers, director John Cook Lynch and actor Johnny Vivash in attendance - find out more here.