Acclaimed playwright Billy Roche writes for Culture about his latest play, A Love Like That, which receives its world premiere in his native Wexford this week, ahead of a run at this year's Dublin Theatre Festival. 
It's Gethsemane for me now – waiting in the wings for showtime, although of course there is still work to be done: rewriting, recapping, revamping, reviving. Or so I tell myself anyway.
The truth of the matter is that any one of the actors probably knows more about this play now than I do; or if they don't, they very soon will. My new play A Love Like That comes to my hometown of Wexford to preview and then it's off to The Civic Theatre for The Dublin Theatre Festival. It's a sterling cast: Leslie McGuire (The Bill/ Shameless) Jane McGrath (Red Rock/ Moonstone), Peter Gowan (The Pillowman), Geoff Minogue (Fair City/ Clean Break), Lalor Roddy (Hunger/ Michael Inside) and a great director, Andrew Flynn, who all come under the banner of Decadent Theatre.
So, there's no need to worry. But I worry anyhow. I need to think of something else.
We need your consent to load this rte-player contentWe use rte-player to manage extra content that can set cookies on your device and collect data about your activity. Please review their details and accept them to load the content.Manage Preferences
Listen: Billy Roche talks A Love Like That on RTÉ Arena
I'm in the Dun Mhuire Hall where this Wexford leg begins: it is an old Parish Hall which once played host to showbands and bingo and amateur dramatics. In fact, I made my acting debut here, as a nervous eighteen-year-old, in Arthur Miller's The Crucible. I played an 80-year-old man (and the less said about it, the better).
I danced here to the great showbands: The Miami, The Sands, The Greenbeats, The Arrows. My musical hero on the showband scene was Billy Brown, who was the lead singer with The Freshmen. I'd watch his strange, twisted, tortured gestures as he'd lose himself in song, and I'd vow to be like him someday. I bumped into him once, many years later, in a Dublin bar. I was tempted to go over and say hello to him but I lost my nerve. In fact, it was he who came to me in the end, to let me know that he was following my career with fascination as I metamorphosed from singer to actor to novelist to playwright. I don't know if he knew it or not, but he is mentioned in my first novel Tumbling Down as Davy Wolfe, my alter ego, goes to a dance in the afore-mentioned Parish Hall. Davy, like me, was in awe of him.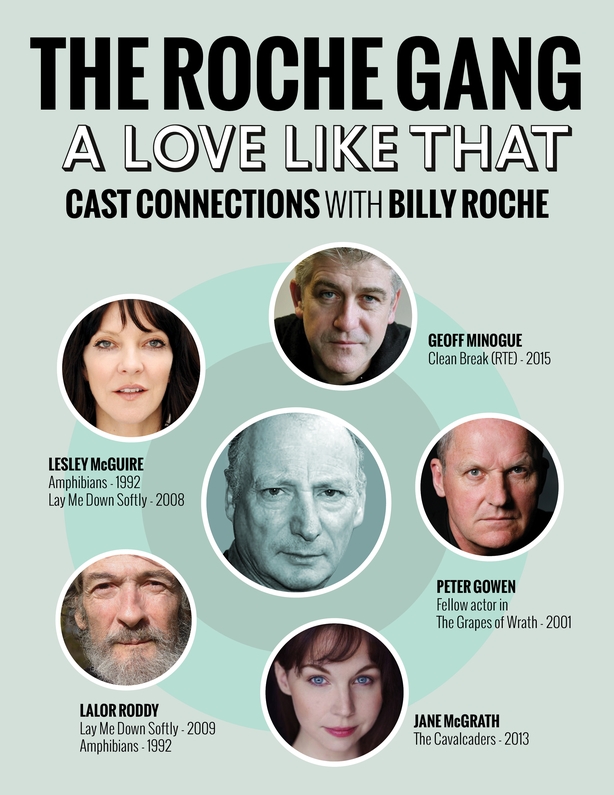 Meanwhile, on this day of days, as Billy Brown sang my praises, the little Capricorn goat in me was hatching a plan to work with him someday. But alas it never came to pass. He, I'm sorry to say, died shortly after that and I never saw him again. But I feel his spirit close-by me now as I wait in the shadows of the Dun Mhuire Hall. And oh to be back there once again, in a time I yearned to outgrow. Cara Mia Mine!
Billy Roche.
Decadent Theatre presents A Love Like That by Billy Roche at the Dun Mhuire, Wexford, Fri 27th and Sat 28th September and the Civic Theatre, Dublin 1st – 5th Oct.