Author Mark O'Connell has been announced as the winner of this year's Rooney Prize for Irish Literature, for his book To Be a Machine - the first time the €10,000 award has been made for a work of nonfiction.
Announcing the 2019 winner at Trinity College, Dublin, on Monday night, prize jury member Prof Michael Cronin said: "In his book which takes a personal look at the transhumanist movement – a movement which hopes through technology to enhance human capacities and eventually overcome human mortality – Mark O'Connell shows himself to be a writer of the first rank. His faultless characterisation, his deep interest in the humanity of his transhumanists, his engagingly precise but poetic style, his richly insightful observations on questions which are literally life and death issues, marked out him as a writer of unquestionable promise."
We need your consent to load this rte-player contentWe use rte-player to manage extra content that can set cookies on your device and collect data about your activity. Please review their details and accept them to load the content.Manage Preferences
Mark O'Connell, winner of the 2019 Rooney Prize for Irish Literature, talks to RTÉ Arena
Subtitled Adventures Among Cyborgs, Utopians, Hackers, and the Futurists Solving the Modest Problem of Death, To Be a Machine was published by Granta in 2017. The book explores the philosophical and scientific roots of transhumanism; a movement that believes we can and should use technology to control the future evolution of our species. The book won the prestigious £30,000 Wellcome Book Prize in 2018.
"It's a delight, and a real surprise, to be chosen as the winner of this year's Rooney Prize for Irish literature," says Mark O'Connell. "It's especially thrilling to be the first writer of non-fiction to be awarded the prize. I'm deeply grateful to the prize committee and to the Rooney family for this wonderful honour."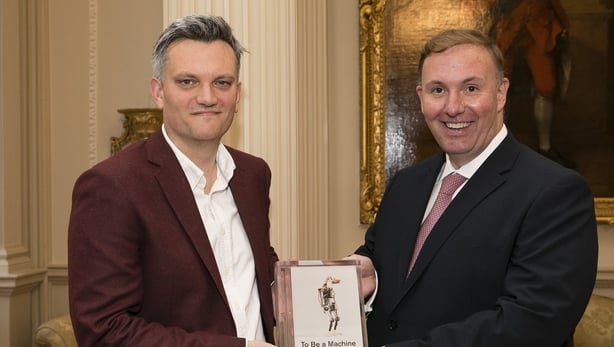 The Rooney Prize for Irish Literature was established by former US ambassador to Ireland and President Emeritus of the Pittsburgh Steelers, the late Dan Rooney, and is administered by the Oscar Wilde Centre for Irish Writing at the School of English at Trinity. The prize is awarded for a body of work by an emerging Irish writer that shows exceptional promise - previous winners include Kevin Barry, Colin Barrett, Doireann Ní Ghríofa, Sara Baume and Anne Enright, among many others.