First a taxi, followed by a plane, then a train which led to a bicycle and umbrella in the rain.
How suitable, I thought, life imitates art. Sold out?! "There's a standby list," the woman at the box office said. "I can put your name on that. But there are already four people in front of you" she warned. I failed at my first attempt, but I would be back tomorrow. Luckily I had a friend's couch to sleep on.
Woody Allen's new film, A Rainy Day In New York, can not be seen in most English speaking countries. Predominantly due to legal action taken by the director against Amazon, who financed its making as part of a five-picture deal they later reneged on after a change of management. This had its roots in the resurgence of a decades-old accusation originally brought by his former partner, Mia Farrow, during a bitter child custody battle.
The lawsuit has not prevented the movie's release in various other locations across the world, including much of Europe - this is why I found myself in the Netherlands last week, specifically to see it at the movies - a charming hundred and seven-year-old, four-screen Art Deco picture house on Haarlemmerdijk. It was actually showing everywhere across Amsterdam, art-house cinemas and multiplexes alike, so the last thing on my mind was an advance purchase.
Still, what's twenty-four hours? It's been fifty years since Woody Allen made his first film, 1969's Take The Money And Run, and thirty-odd years since his work became a regular part of my life. Thanks to the onset of buyable videotapes of his back catalogue and a constantly expanding filmography at the picture houses - the man is a workaholic if nothing else - Woody Allen pictures became the backbone of my passion for cinema. It's because of him I tracked down the likes of The Sorrow And The Pity and La Grande Illusion - "That's a really funny movie when you're high." - An Annie Hall reference I didn't get until I actually saw Jean Renoir's film in a class and realised it was set in a World War I prison camp. "This is not a subject for levity. What are
you laughing at?" the lecturer asked me. "A joke I heard ten years ago. I just got it."
Like any filmmaker, some of his oeuvre stands up to repeat viewing, some of it doesn't. I could not contemplate living without watching the likes of Bananas, Annie Hall, Manhattan, Broadway Danny Rose, Hannah And Her Sisters, Radio Days, Crimes And Misdemeanors, Sweet And Lowdown, Midnight In Paris and Wonder Wheel again and again when the mood takes me. Wonder Wheel was a particular loss to its audience, as it slipped through the release cracks due to the timing of its release. It ran for one week in Dublin at a couple of cinemas. To see it in 4K on a laser projector was a revelation - one of the best looking movies I've ever seen, and far better than its begrudging reviews.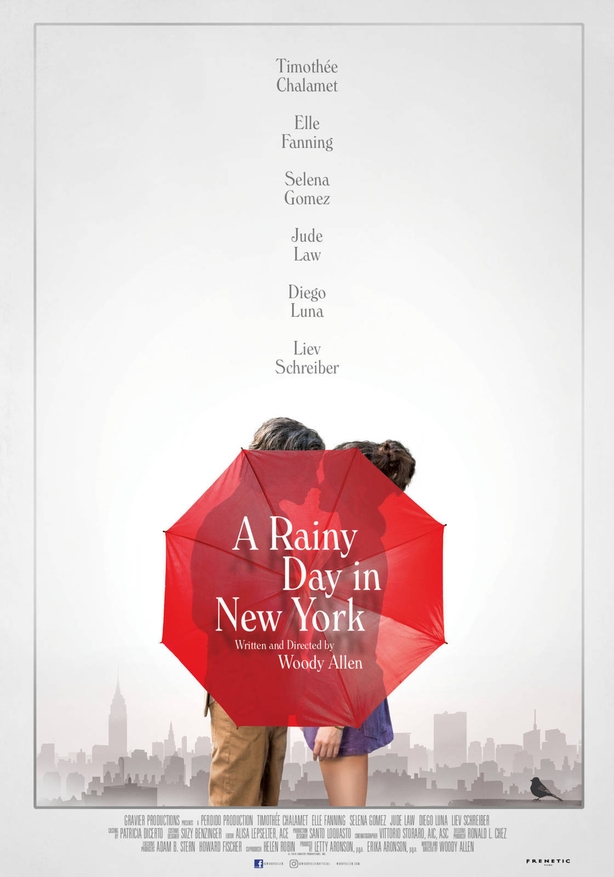 So how does A Rainy Day In New York fit into all this? Well, it was a sunny late afternoon when I finally caught up with it. Sold out again - but this time I had a ticket. The audience was made up of one Irish movie buff, a brace of blonde dutch housewives, and a smattering of new-to-the-scene Timothee Chalamet fans, who may be watching their first Woody Allen picture. If that was the case, would they watch another? I reckon so, as though it may fall under the slighter Woody pictures, it was a hell of a lot of fun, wonderfully cast - particularly Elle Fanning and Liev Schreiber, who channels David Mamet in his brooding film director role. Plus New York looked fabulous, with the legendary Vittorio Storaro returning (after Wonder Wheel) as cinematographer.
Worth the trip? Absolutely. I mean it was a walk in the park flying to the Netherlands after having already flown to New York to see the man in person. He's already finished shooting his next film in Spain, Rifkin's Festival, starring Christophe Waltz and Gena Gershon. It would be lovely to simply sit in screen one at the Irish Film Institute and watch it. Should that not be possible, forget the umbrella, grab the sunblock, it's hello San Sebastian!