How to Square a Circle, Aisling Ní Cheallaigh and Ronan Brady's brand new blend of circus and theatre, is coming to the Dublin Fringe Festival from September 18th - 21st. We caught up with the two performers to find out more...
Following international tours with Fidget Feet Aerial Dance and THISISPOPBABY, Aisling Ní Cheallaigh and Ronan Brady's stunning new production, How to Square a Circle, is set to explore the limits of the human body at this year's Dublin Fringe Festival.
With gravity-defying acrobatics and aerial dance sets, the two performers are determined to prove that just because something seems impossible, doesn't mean it's not worth trying - a concept that they are both all too familiar with.
"I lied to a lot of people," smiles Ronan, describing how he left a full-time job as a secondary school teacher for a life of spectacular stunts. "I still tell some people that I'm on a career break because it's easier for them. They assume that it's some mid-life crisis - and maybe there's something in that, who knows? - but people seem to worry for you."
"When they see the shows they stop worrying," adds Aisling, a self-confessed 'nerd' with a degree in Medieval History who once planned to study Latin at Trinity College before she fell in love with aerial acts. "Once they see the show, they say 'oh that's what you've been doing, sure that's brilliant'. 
"What we do is brilliant," nods Ronan. "To call it a circus show is not doing it justice. There's physical theatre, there's dance, there's music, the lighting is stunning, there's a whole visual package."
We need your consent to load this Instagram contentWe use Instagram to manage extra content that can set cookies on your device and collect data about your activity. Please review their details and accept them to load the content.Manage Preferences
Having left their nine to five lifestyles behind them for an adventure in flexible feats, these two know better than most what it is to throw caution to the wind and follow a passion simply because, well, life is too short not to.
"How to Square a Circle presents an impossible task," explains Rory. "We're two people who weren't involved in the circus, never had any background in it, but we got into it and started training and pushing each other anyway.
"We applied to the Arts Council for funding for the show, not expecting to get it, and then we got it and stumbled our way through this process. We don't know how to be circus artists, there's no building in Ireland you can go to to get a job in the circus - you just have to create your own work and carve out your own opportunities."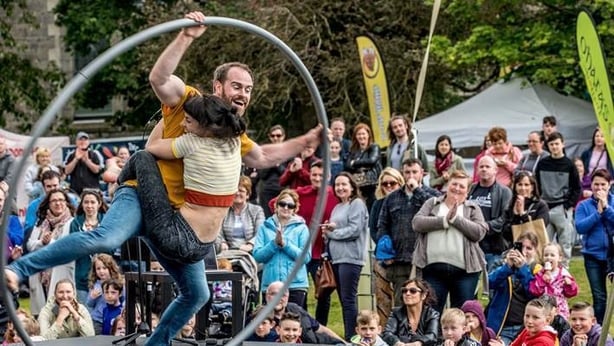 Watching the acrobatic duo describe their love for performance, it seems that they were made for a life spent walking the tightrope. However, joining the circus is no easy task, especially when you have to take training and insurance into consideration.
"The circus industry is under attack in this country due to insurance," says Ronan. "There are training facilities in Dublin, Belfast, Cork, Galway and Sligo, and they've all been growing."
"It's been exploding in the last few years," agrees Aisling. "So we've had an influx of people able to access training for it. Now there are schools all over the country, but they are all going to have to close down if the insurance crisis doesn't get sorted."
"We need the government to regulate the industry, it's a bit of a free-for-all at the minute," says Ronan.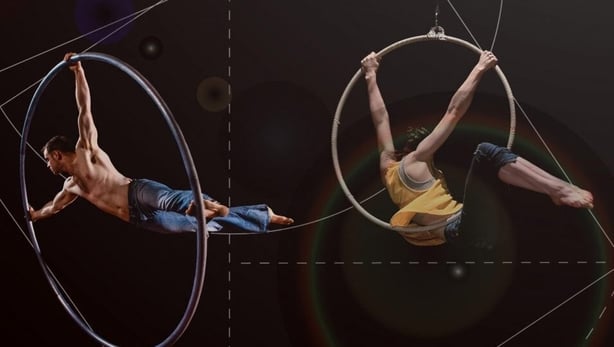 You can watch Aisling and Rory perform How to Square a Circle at The Lír Theatre, as part of the Dublin Fringe Festival, between September 18-21st before they bring the show on tour to Tallaght, Westport, Galway, Cork, and Portugal this Winter.
Tickets for How to Square a Circle are on sale now from €11 from local box office & at howtosquareacircle.com - Fringe dates available from www.fringefest.com.